Educating With Nature
By Annie Buckle
Last year, we received a request by Great Rollright Primary School to help them realise their ambition of transforming a newly acquired piece of land into a Forest School haven for their students. After almost a year of planning and organising alongside our dedicated partners, the Berkley Reafforestation Trust, that dream has now become a reality with the completion of their Forest School just before Christmas.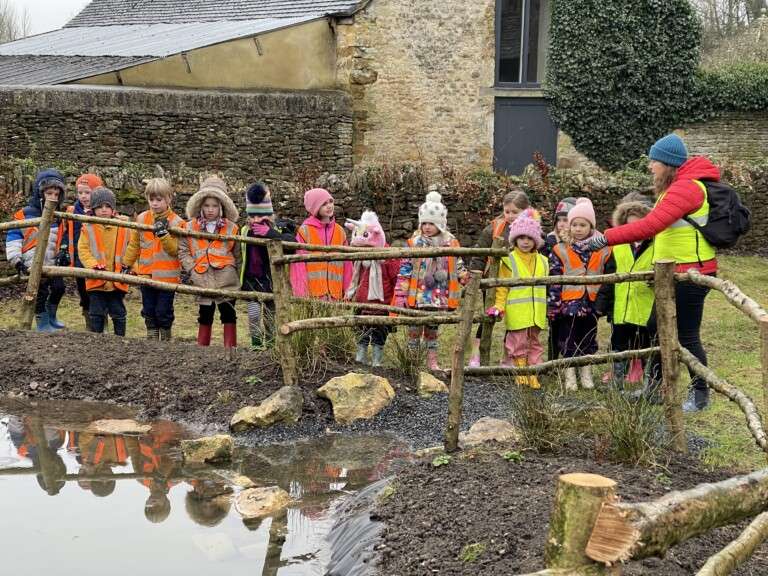 Forest School offers an alternative approach to teaching, as part of or in addition to more conventional educational frameworks. The key difference with the Forest School approach is that pupils determine their own focus of study depending on their interests, abilities, and knowledge. This is referred to as a 'learner-led' approach and the staff are referred to as 'practitioners' instead of teachers, as they offer support and advice instead of directing or instructing the pupils. Although core curriculum topics such as maths and the sciences are utilised within Forest School activities, they are not identified in a structured or compartmentalised fashion as conventional subject areas and are instead incorporated in a more holistic manner.  
Research has recognised the benefits that a Forest School can offer children by enhancing mental and physical development, including increased academic achievement, improved memory function, fine motor skills, and behaviours, greater teamwork and social cooperation and reduced anxiety levels. Although unpublished, my own research found children who attended Forest School were more caring towards nature compared to children who did not attend Forest School. Perhaps more surprisingly, my research also found these feelings of care were more prevalent in the parents of Forest School children too, even after accounting for their attitudes prior to their children attending such activities, which suggest the children were influencing their parents' attitudes as a form of successive transfer.
Connecting with nature in general has its own benefits to human health, including increasing life expectancy, lowering anti-social behaviour and even improving socio-economic standards. With such an emphasis on climate change and environmental damage, increasing our awareness and care for nature can only be a good thing, not only for the planet but also for ourselves.
And so we return to Great Rollright, and their patch of land situated down a quiet lane with beautiful views of the stunning Cotswold countryside. Previously used for sheep grazing, the field was mostly grass thick with thatch and a small clump of nettles. However, it did benefit from a thick, if not slightly overgrown hedge on one side, filled with mature ivy to provide nectar for bees and other insects and some brambles which would offer excellent blackberries in the autumn for the children to pick. A row of tall, high canopied conifers stood adjacent, providing shade from the sun but not blocking out the light and the site sloped gentle towards a traditional stone wall at the bottom.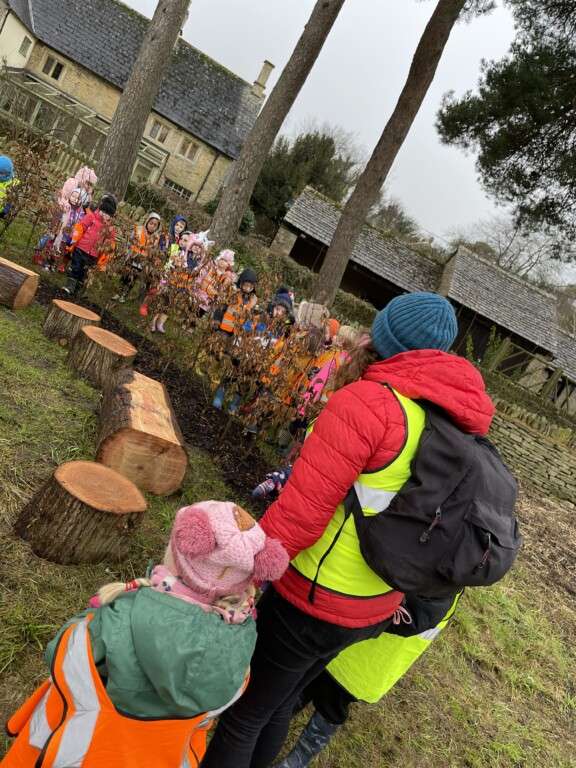 We set to work designing a space that would make the best use of these attributes and include new features such as a pond, firepit area and a collection of fruit trees. It is surprisingly difficult to design a Forest School as the very nature of this concept is holistic and spontaneous so to designate certain areas for specific tasks such as fire building or pond dipping seems to contradict these principles. It is therefore important to be reminded that just because something is designed in a certain way does not mean it must subsequently be used according to that design; they have the freedom to choose how they use the features away from the constraints of the initial design.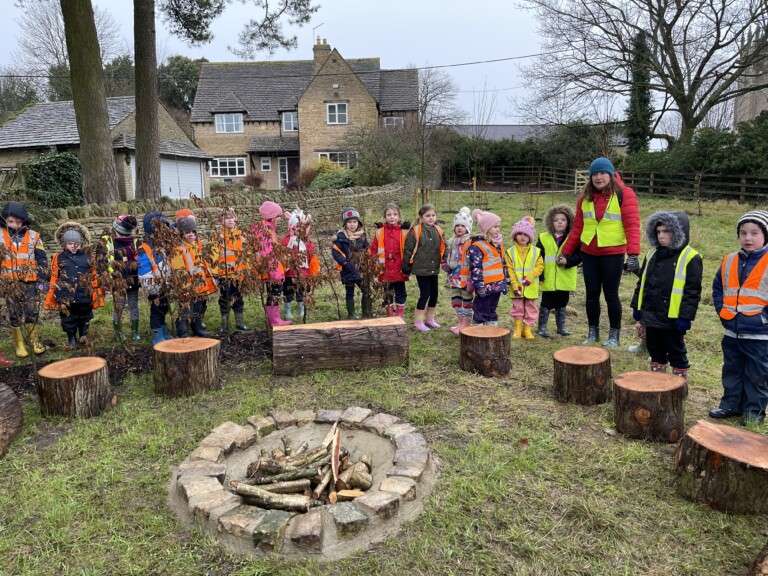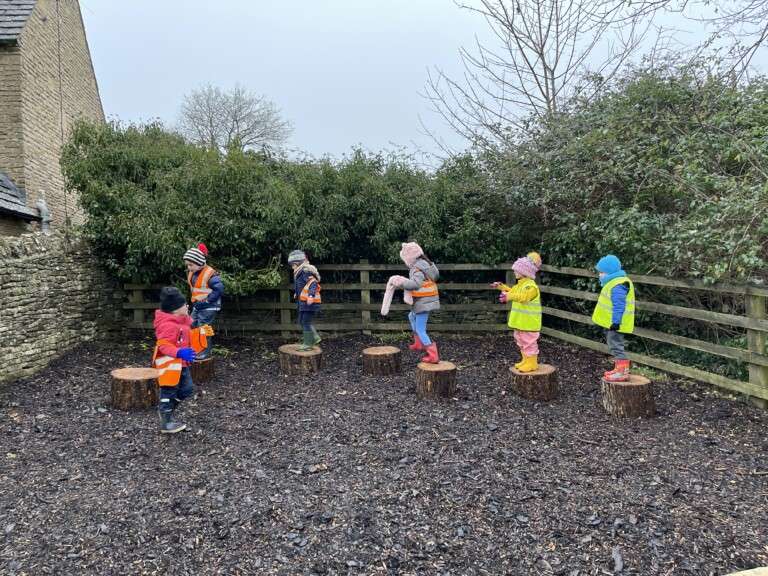 During the construction, the team encountered curious passers-by who stopped to enquire why we were making a mess of the field. As with baking a cake, we have to break a few eggs first in order to achieve our goal! Digging a hole for the pond and tracking bark chippings up the site to form a seating area inevitably made the site a little muddy and to our surprise, the soils under that thick blanket of grass turned out to be a rich dark brown, much like a delicious chocolate sponge! We have no doubt the fruit trees and other planting will thrive here. Come spring, the newly sown grass and wildflower seed mix will begin to cover the earthy mound left over from the pond excavation and the track marks will be a distant memory. By summer, flowers will be blooming, and the new fruit trees will be in full leaf, the pond will no doubt start to attract some amphibious life, and insects and birds will be flitting happily across the site, hopefully accompanied by some inquisitive and eager children.