Design Tips for Spring!
By Ruby Simpson
Spring feels like it's fully arrived – bulbs are bursting into flower, April showers are in full swing and the days are finally stretching out and giving us more hours of daylight to fit gardening into!
I had a glorious day in the garden this week when I decided to get on with tidying it up and planning new ideas for the coming summer. I mowed the lawn, cut back my herbaceous to make way for the new shoots, planted some veg seeds, and then, as usual, got totally carried away with something I hadn't even considered doing before that very moment. This time it was reshaping and re-designing one of my borders.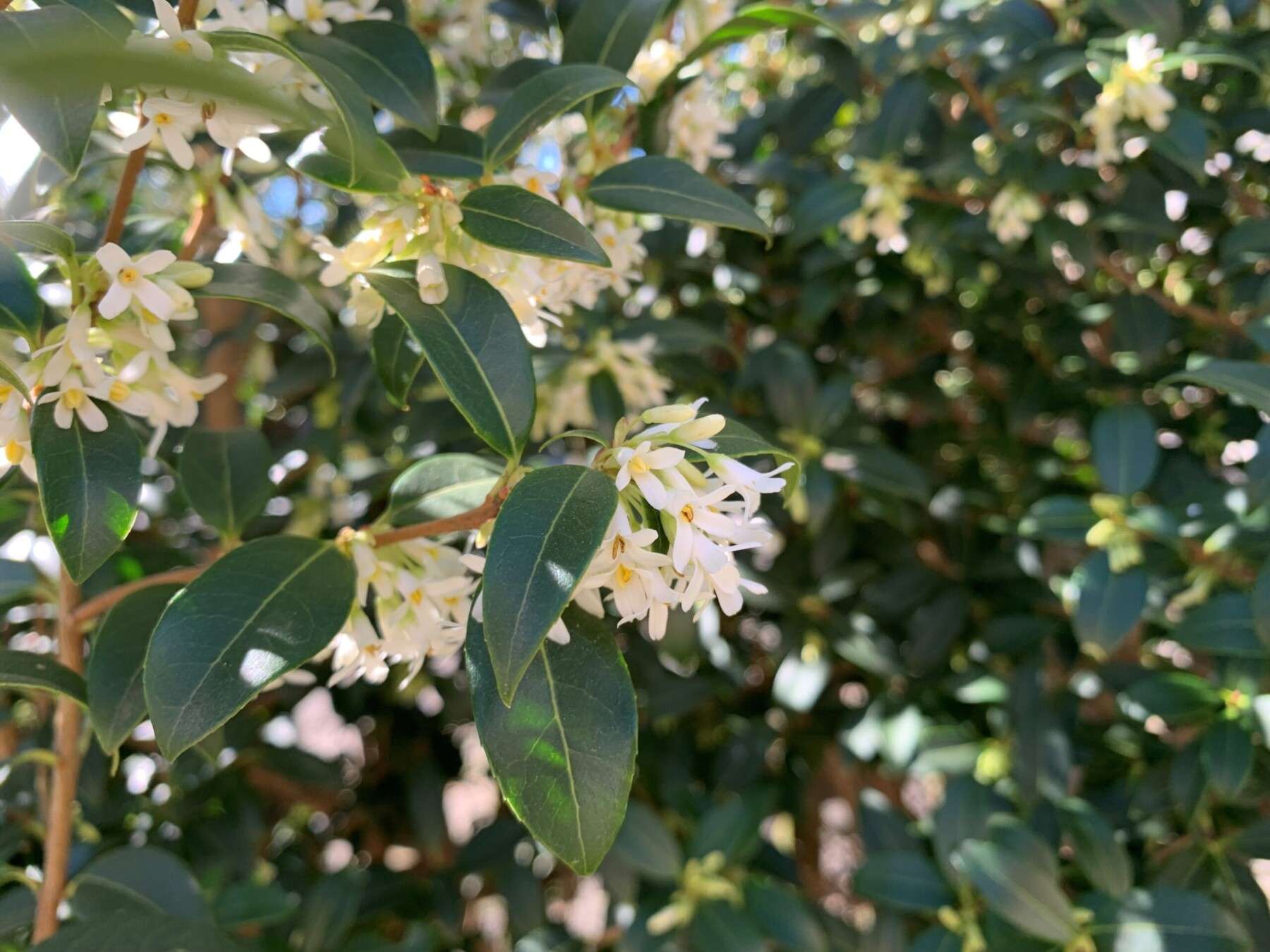 While digging up a dead Euphorbia, I started thinking about what I could replace it with. An hour later, this had evolved into completely reshaping the border, creating a 'secret pathway' out of stepping-stones through the border for my kids to sneak through, removing some plants that were past their best, and then getting completely stuck on what to replace them with! I had managed to give myself a larger border, but despite being a planting design specialist, I am awful at making decisions in my own garden because I know there are so many options to choose from – I'm like a kid in a sweet shop!! I thought it might be useful to share how I am going to think through what to do next, in the hope it might help guide others who want to make changes in their garden this year.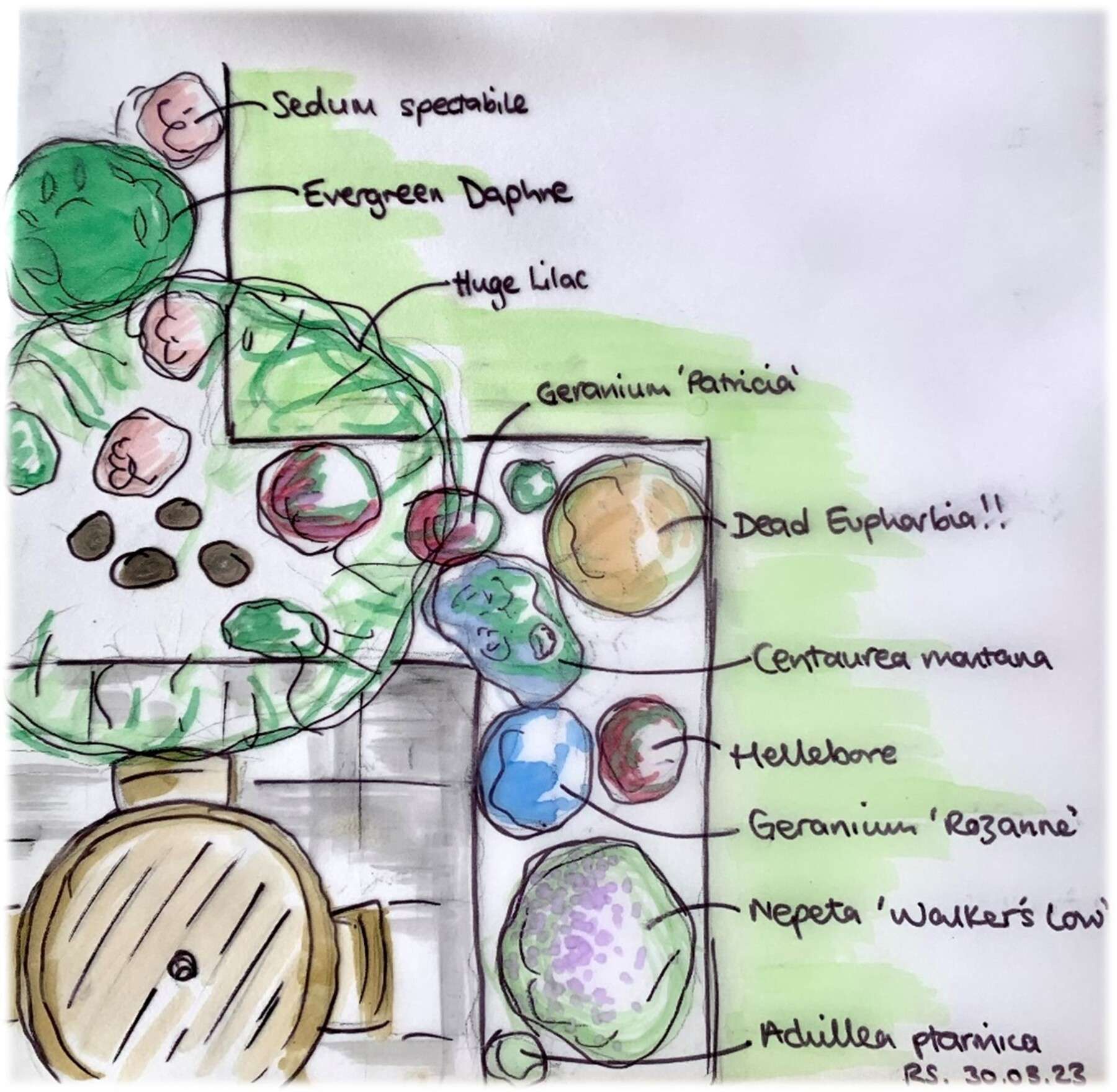 Firstly, I changed the edge of my border from straight lines and defined corners to a sweeping curve. This made an astonishing amount of difference. Just by altering the edge of a border and cutting and filling using the existing lawn, it made a huge adjustment to the feel of the garden. It now feels more natural and open, but the size of the lawn remains pretty much the same and I haven't changed any hard-landscaping in the process.
The border is east facing so gets morning sun, then gradually less throughout the day – but it's not deep shade. I want to include evergreens for structure, as well as add more flowers for each season. In the corner against the fence, I already have a huge Lilac and an evergreen Daphne. To add more structure but to ensure my view of the garden isn't cut off, I think I will include some Hebe 'Green Globe', a variety that makes cute little hummocks. I'm also considering some Liriope muscari (Lily turf), which has thick, evergreen grass-like foliage and purple flowers, as well as Sarcococca 'Purple Stem' for evergreen foliage and fragrant winter flowers.
Now for my favourite bit – the herbaceous plants! In that border, I already have (and intend to keep): Centaurea montana (blue, spring flowers), Nepeta 'Walker's Low' (pale purple, late spring, early summer flowers); Allium 'Purple Sensation' (purple, early summer flowers); Achillea ptarmica (white, summer flowers); Sedum spectabile (pink, summer and autumn flowers); Geranium 'Patricia' (pink, summer flowers); Geranium 'Rozanne' (purple, summer flowers); and various Hellebores (pink, purple, white, winter flowers)! So, to spice things up a bit, I'm thinking the peachy colour of Geum 'Mai Tai' would be a beautiful addition to the early summer purples, as well as Digitalis 'Sutton's Apricot'. The deep pink of Knautia macedonica will bring depth to the mid to late summer pinks and purples, and I think I should definitely include something like Salvia 'Caradonna' or Penstemon 'Raven' for a deep purple to set off the pinks, and last into the autumn. Despite the fact I'm pretty sure this is already too many options for the space, I want to include some Anemone 'Wild Swan' for lasting autumn flowers to take it through to winter. If I run out of room, I can integrate some of these into the surrounding borders to create a bit of flow and continuity, and 'knit' the new planting into the garden around it.
At this time of year, there are so many bulbs flowering, and it is easy to buy them 'in the green' (as a plant, not a bulb). In this corner, I think some Anemone blanda and Narcissus 'Thalia' would work really nicely for cool blue and white spring colour, and maybe even a few clumps of Iris reticulata 'Pauline', which is a lovely deep pinky-purple. Pauline also happens to be the name of my Grandma, and I hold both my grandparents responsible for my love of plants and gardening, although I haven't yet come across a plant called Eric – suggestions welcome!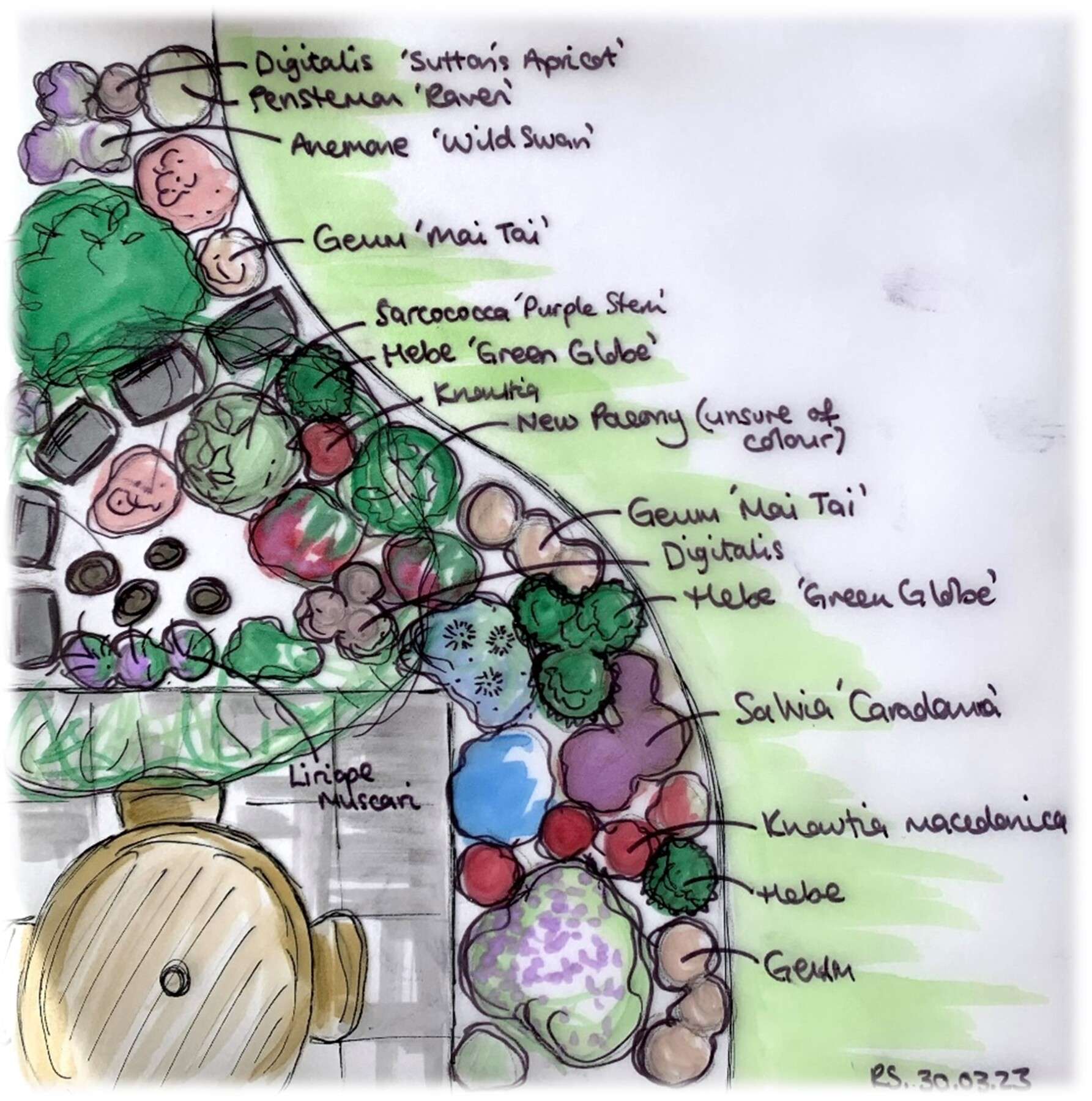 If, after reading this, you still don't know how to begin – put a plant palette together first. Limit your colour choices and make sure they complement each other, as well as checking you have evergreen structure and interest for every season. Then do a quick little sketch to help you visualise the layout. If you have the space, try to plant in groups of odd numbers like three or five, and create a bit of repetition to give maximum impact!
I hope this blog has been inspiring and will help your 2023 garden projects! If nothing else, it's certainly helped me work through my thoughts for the border improvements in my own garden.
Happy planting!!