Nicholsons Lockhart Garratt Return to Chelsea Flower Show
Nicholsons Lockhart Garratt are to return to RHS Chelsea Flower Show to build the most magical garden "Connected by EXANTE" for Finnish designer Taina Suonio.
We could hardly believe our luck when we received the invitation to join forces with Taina at Chelsea in 2022. Our beating heart is to lead on sustainability, not only in garden design but also construction techniques. We have a growing awareness that the extensive use of concrete and hard landscaping materials is not only unsustainable in terms of carbon usage but also does not enhance biodiversity.
Gardens designed with a heavy hand, in terms of hard landscapes, can take hundreds of years to balance the carbon cost of creating such spaces whereas well considered softer landscapes enhance the environment, not only in terms of carbon sequestration, but most importantly in terms of nature recovery and biodiversity gain.
Taina is an ambassador for sustainability and so it is no surprise when we opened her design pack to find the most magical green oasis surrounding an oak tree studio.
We will be running this garden through our carbon calculators but feel sure that it is probably the most environmental garden we have ever seen in design stage and look forward to being part of a sustainable construction team at this prestigious RHS show.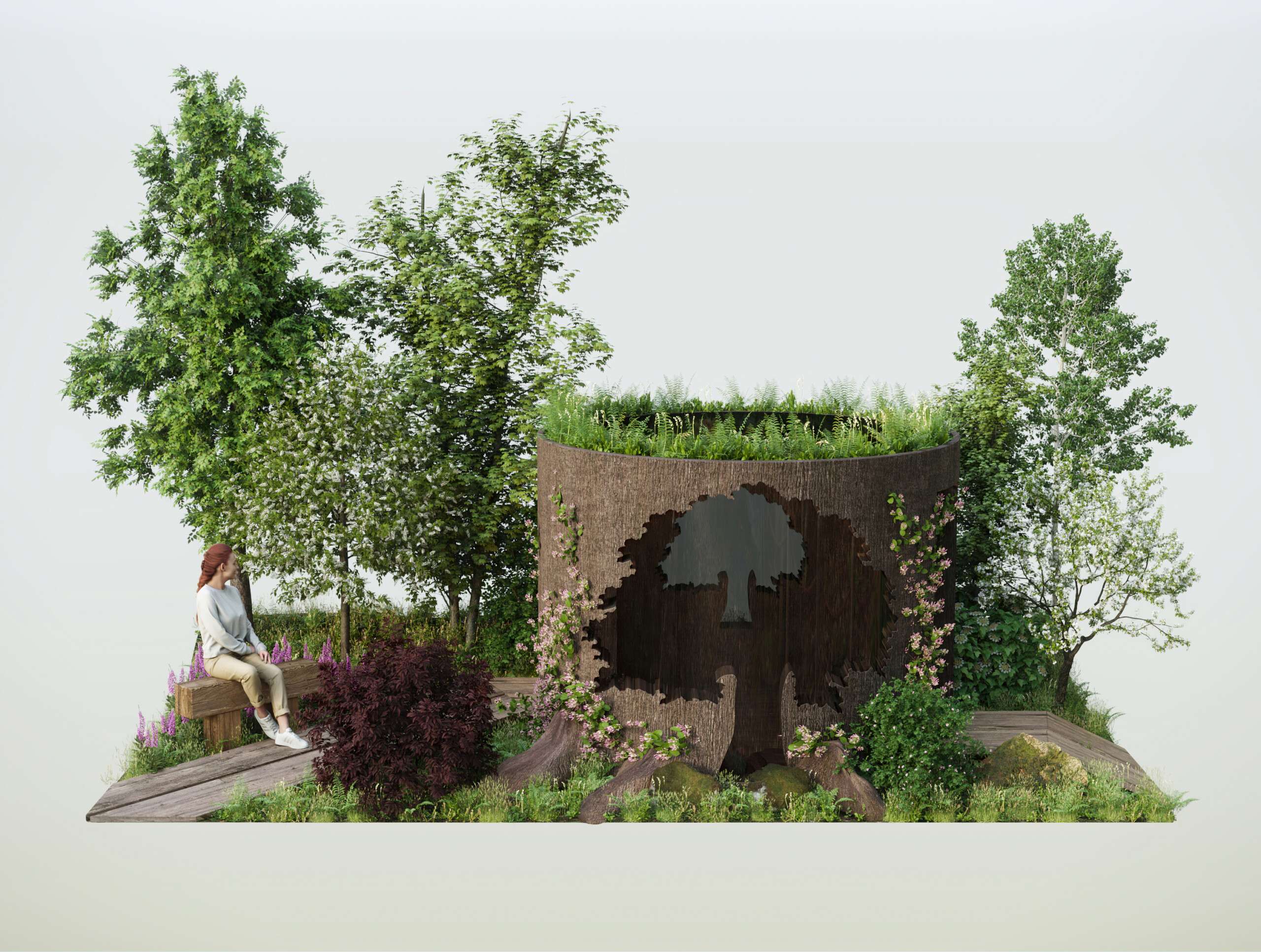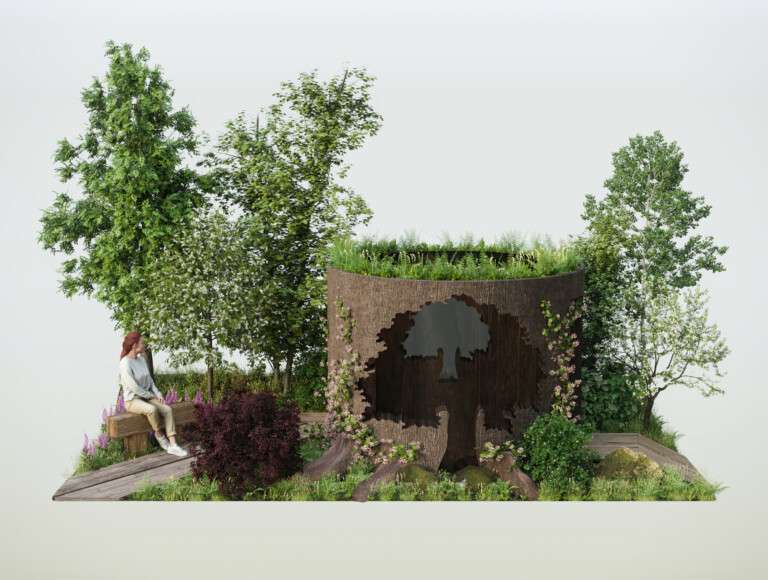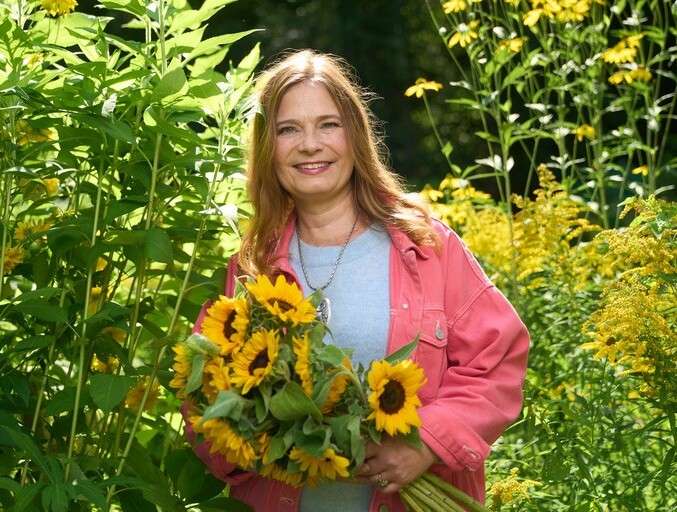 We have harnessed the skill and talent of co-worker Jonathan Blackburn, a friend of the Nicholsons garden team over many years, to help execute the specialist oak feature in the centre of the garden.
The planting will be carefully sourced from UK nurseries and the majority from our own nursery on our 23-acre site at North Aston in north Oxfordshire. We are proud to have gained plant healthy status and grow all of our plants in peat free compost.
The Chelsea team will return having built David Harber and Savill's garden last year but this will be a very different experience in the more intimate surroundings of Ranelagh gardens with a no-dig policy.
We are most excited by Taina's planting palette with a strong emphasis on green. Always a calming backdrop and allows us to enjoy the more subtle details of foliage shape and texture.
Nicholsons is motivated by having a positive impact on communities and we were even more compelled to be involved in this project once we learned the garden will be rehomed at the UCLH cancer ward. This is a demonstration of the vision of EXANTE, the sponsor of the garden, and their ability to connect people. Having just celebrated their 10th birthday, EXANTE felt that the seasonal nature of plants and wildlife were an excellent representation of the cyclical nature of their field of expertise – financial markets. As vital as the connection with nature is for people, the ability to connect different people and markets globally with their high-level customer service is for EXANTE, who look forward to the sanctuary that Taina's captivating design will bring to the visitors to the Chelsea Flower Show 2022.
Richard Holt, Senior Landscape Contracts Manager comments "As somebody that has been involved with landscape construction their entire working life there is no greater honour than to be asked to build a garden at RHS Chelsea. This garden is especially exciting for me as it reflects the sustainability and 'gentle' touch philosophy we hold dear at Nicholsons, and to be designed by such a well-respected, environmentally credible designer is a real testament to our company culture and values.
I am very much looking forward to this journey and the fact that the garden will live on at UCLH cancer ward is just fantastic and surmises the whole ethos of this project."
ABOUT NICHOLSONS LOCKHART GARRATT
Nicholsons Lockhart Garratt's head office is situated at their 22-acre nursery at The Park in North Aston, Oxfordshire, with a second office situated in Corby, Northamptonshire. Nicholsons Lockhart Garratt employs over 200 qualified and professional staff to manage their annual turnover of over £12 million.
Nicholsons was established in 1979 offering a forestry consultancy and contracting service in the wake of the Dutch Elm Disease. From 1992, Niel ran the forestry business and by 1997, Liz joined the team establishing the garden design and landscape contracting business.
Following a merger with Lockhart Garratt in January 2022 Nicholsons Lockhart Garratt now offers a unified range of environmental, landscape, planning and forestry services – all under one roof.
Their core business is focused on landscape services from garden design and construction through to planting and maintenance by highly trained individuals.
Having developed from a family background, they understand the importance of working as a team. As winner of Oxfordshire's Large Business of the Year Award 2019, they ensure that every member of the company feels supported and encouraged in their work. Working with natural resources daily allows them to understand that these are precious commodities, therefore Nicholsons Lockhart Garratt focus their energy into education outreach projects e.g., establishing Forest schools in the UK and the formation of Maasi women's tree growing project in the Mara Kenya. In a world of increasing complexity, it is vital to have clear aims and aspirations. As a team, they are motivated to achieve these.
Nicholsons Lockhart Garratt's focus is on building long-term relationships with their clients, offering independent, innovative, solution-focused advice on all aspects relating to the natural environment.
The directors want to guide the business to become one of the most trusted and respected multi-disciplinary consultancies and contractors in this dynamic sector.