Peat Free on The Production Nursery at Nicholsons
At Nicholsons, we have been aspiring to reach peat-free production for more than a decade and have been in awe of institutions like the National Trust who have insisted on peat-free supply for many years.
Research by DEFRA in 2018/19 showed that across the UK on average, plant nurseries have only reduced peat usage by 1%. For bagged compost sales, consumption across the UK has reduced by just 12%. Nicholsons are proud to now be 100% peat-free in our own nursery production, stocking only 100% peat-free bagged compost and using only 100% peat-free loose compost on our larger sites.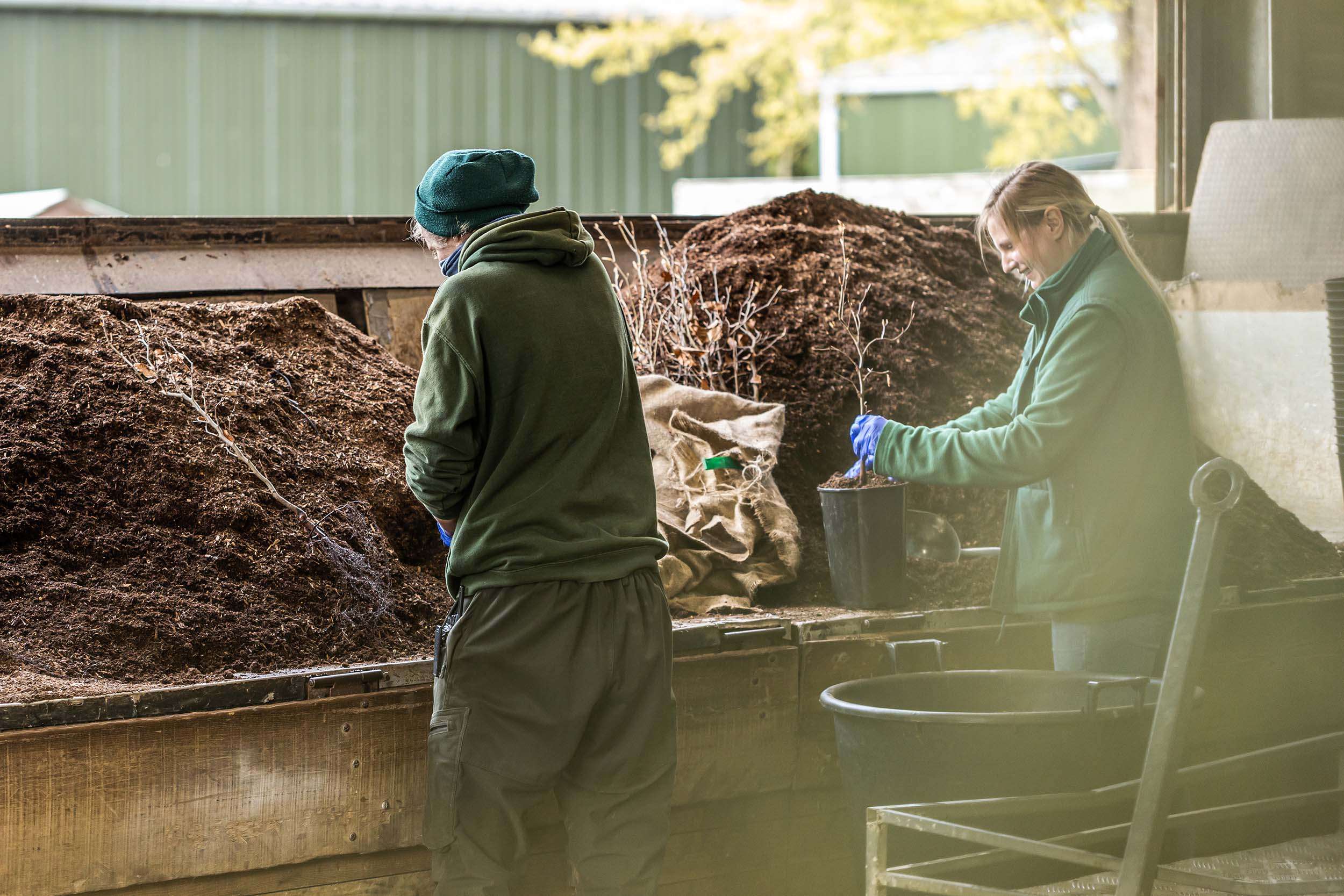 Why is using peat to grow plants so harmful to the environment?
Peat is partly decomposed plant matter that builds up slowly over thousands of years. Peat forms in blanket bogs, lowland raised bogs, lowland fens and upload flushes, mosses, swamps and fens – a multitude of different landscapes, covering 10% of UK land.
Losing just 5% of UK peatland carbon storage would be equivalent to the UK's entire annual greenhouse gas emissions. Globally, peatlands store half a trillion tonnes of carbon – that's twice as much as the world's forests. Unearthing this carbon to use the peat in our gardens is simply not sustainable.
Peatlands are like rainforests and up until very recently, humans have been busy destroying them. The UK peatlands are now largely protected, but the horticultural industry simply imports from Ireland and Europe instead, damaging these incredibly valuable ecosystems to meet demand.
Some peatlands are as deep as 10 metres and have taken thousands of years to form. It can take over a year for peat to build up by just 1 millimetre.
Peatlands are a natural form of water purification and flood protection. Acting like a huge sponge, they soak up and retain water in the landscape, holding back potentially dangerous flood waters.
With this emotive information, why did it take Nicholsons so long to kick the habit?
Most UK growers have found it challenging to remove peat from their production lines, and it is considerably harder to grow containerised nursery stock in peat-free media. Although we started growing some species in peat-free media 10 years ago, it has taken us a decade of research and development – alongside commercial trials – to have full confidence in the substrates available and to be able to go entirely peat-free across all plant lines.
It has never been an issue of cost for us as Nicholsons have always put the environment first, however it has been an issue of quality. The initial alternatives to peat would not hold moisture or nutrients in the same way and the growing crop was significantly compromised by using peat-free growing media. We began reducing the percentage of peat in our growing mixes to lower our impact while we sought suitable alternatives, trialling various species in different media mixes to determine which species were unaffected without peat, and which ones we would need to spend more time with to find a peat-free mix that produced a high-quality plant.
What do we use instead of peat?
We have now developed our own special blend of growing media, manufactured from completely renewable, sustainable ingredients such as conifer bark, coconut coir fibres, green compost and slow-release fertilisers. The moisture-holding capability of peat-free media has improved considerably since the early days of seeking alternatives.
We challenge you to notice the difference in our products grown here on the nursery. This lengthy project guides us clearly in the direction of ensuring our whole business has a positive impact on the environment. This initiative has taken ten years of hard work and trials to replace this valuable product in our production whilst not affecting the quality of our first-class trees. The climate solutions are there – we all just need to aim high and work hard to attain the end goal.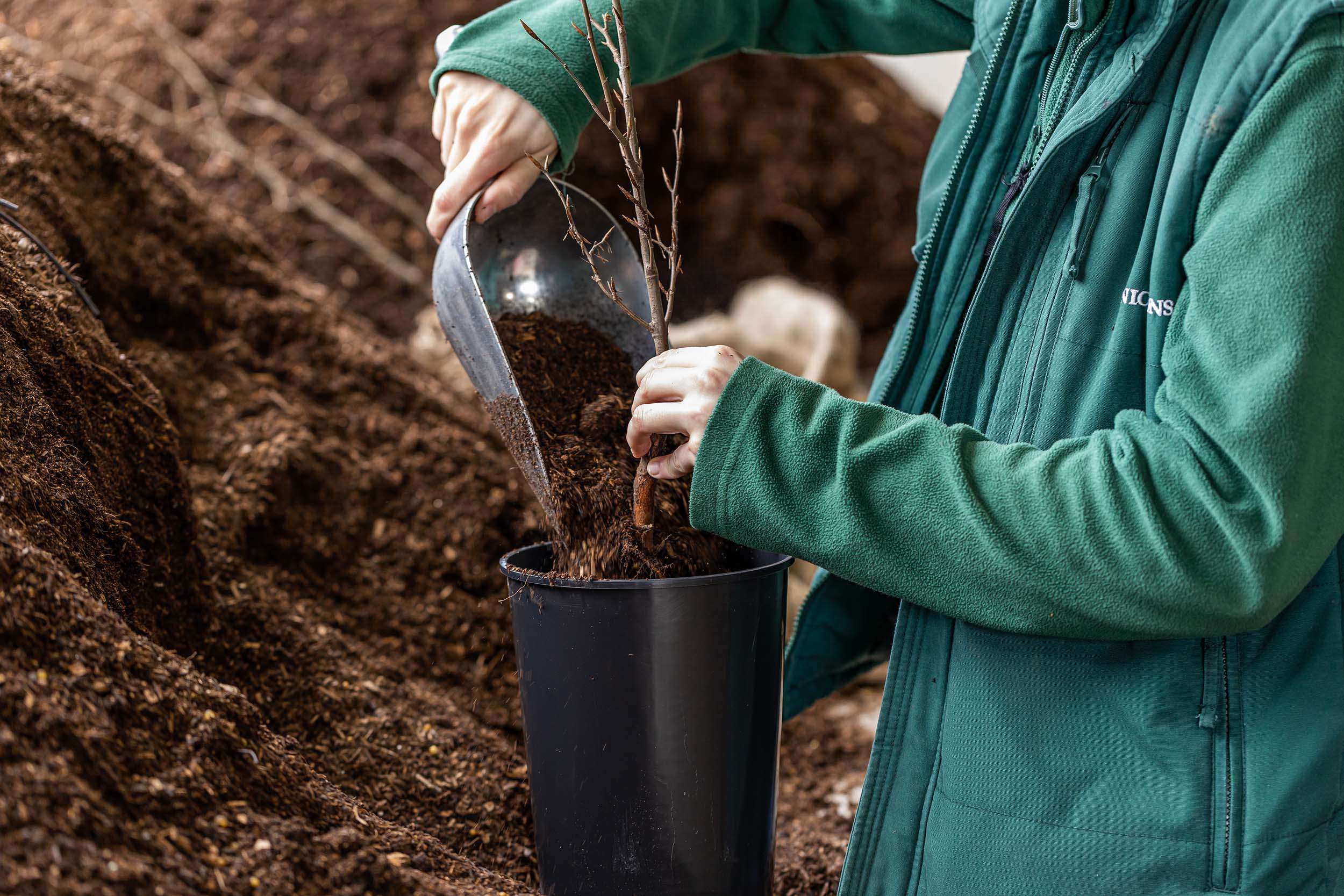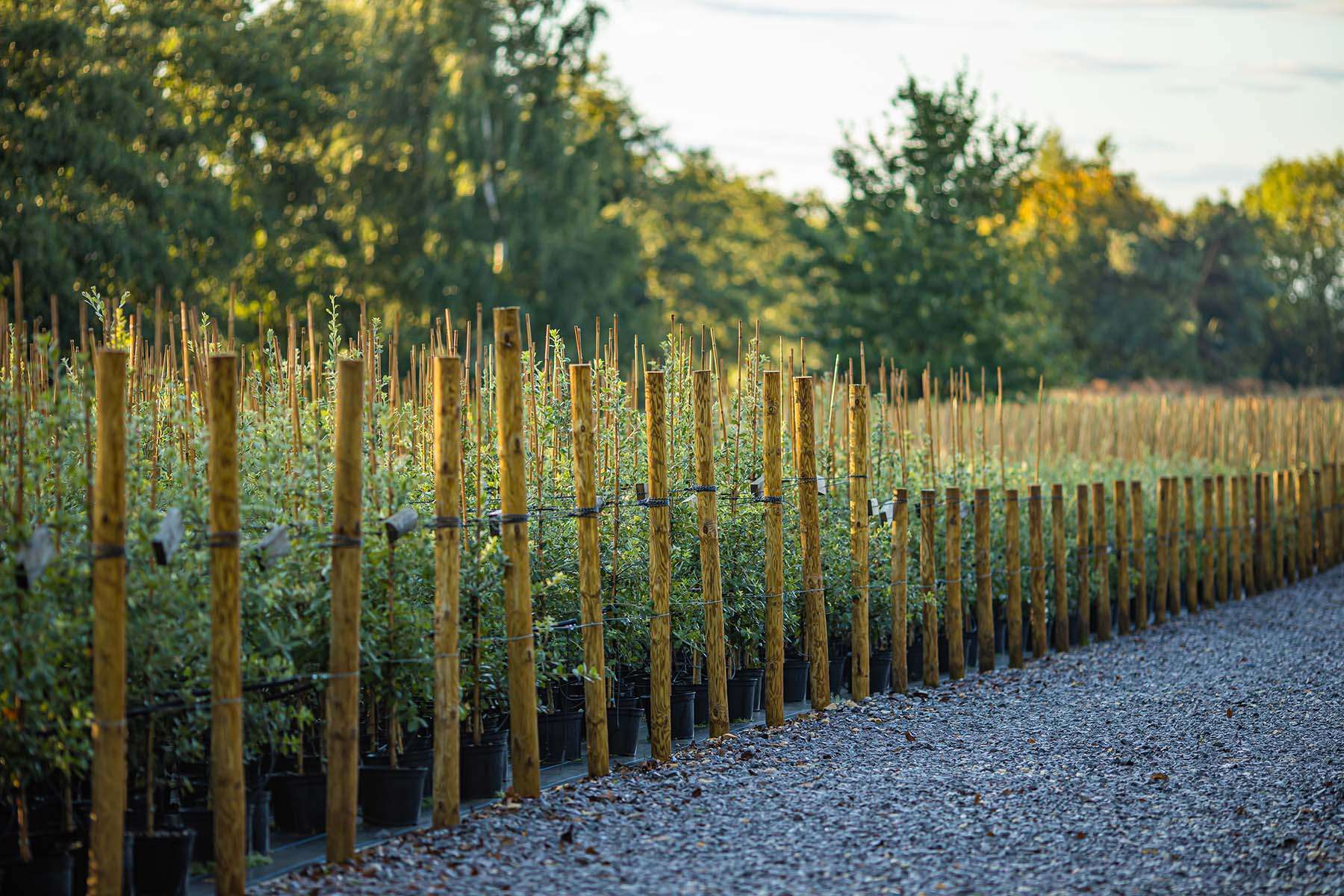 What next for Nicholsons?
We have two main focuses in our retail and production areas.
Firstly, we are working to buy stock in from peat-free suppliers. We have already made some progress in this area, but there is still a lot of work to be done throughout the industry to reduce peat use and ultimately eliminate it from all production. It is fair to say that the challenge still continues for us where we trade plants and our mission is to challenge suppliers on their peat usage and their plans for reduction. Our supplier accreditation requirements now focus not only on plant health, but also prospective suppliers' use of peat. It is this internal pressure – as well as the external pressure from media and consumers – that is likely to have the biggest and fastest effect.
Our second focus is to go plastic free for our peat-free compost sales! We know that compost bags are not effectively recycled and are looking at ways to create a compost refill station.
In the coming weeks we will be asking you to help us by replying to a survey with your thoughts on this. This is our 2021 challenge!