The Garden in Winter
By Libby Reeves
As I look out of the office window, the beech hedge is almost white with frost, and my fingers are just starting to thaw from being outside in temperatures getting close to -6 degrees. It sometimes feels like the garden is a forgotten pastime better suited to later in the year, but it is worth wrapping up warm and going for a walkabout to see some of the cold season treasures.
When colour and flowers cannot be relied upon, structure becomes far more important. The natural shape of deciduous trees becomes more obvious, and when the frost hits the stems, this can look very architectural. Hornbeam (Carpinus betulus) has a lovely oval habit when allowed to grow naturally, and field maple (Acer campestre) has wonderfully ornate branches which look incredible when covered in snow. Frost and snow will naturally set a garden in a different light. Often viewed on a bright, crisp morning, frost on dormant plant matter has a beauty of its own. The white of the grass blends beautifully with an evergreen hedge such as Portuguese laurel (Prunus lusitanica) and the red stems of this plant give some added colour.
There are always signs of our garden fauna over winter. Dew on spiders' webs is particularly noticeable, and birds will venture closer to the house and the inhabitants, looking for tasty morsels that become scarcer at this time of year. A fluffy robin is always following me around the nursery, hoping I will move a pot or two so they can inspect the underside. A bird feeder can be invaluable for our feathered friends, as can a regularly de-iced bird bath.
There are several advantages to leaving the herbaceous border standing over winter. Firstly, the dried seed heads of Sedums, Verbena, and Echinacea (to name a few) are beautiful. They provide a monochrome of the shapes that were there over the growing season in different shades of brown. With some evergreen plants growing in between, this then looks like a shadow of what has been and what is to come. The standing plant matter provides a habitat for over-wintering invertebrate, which would otherwise find themselves homeless. Finally, the standing plant matter will protect the underlying soil, slowing leeching and helping to prevent erosion. There is plenty of time to cut back and tidy in early spring before the new season's growth.  
Grasses create height, movement and texture in a border, and many of these will continue to do this over winter. There are many options with different blade thicknesses, colour, ultimate height, and flower heads. My favourites include Stipa tenuissima, which is fine and delicate, Stipa arundaceae which has an orange/red tinge and Pennisetum 'Little Bunny' which is low growing, with little, tufty flower heads. Our hellebore collection is currently in flower. These little herbaceous gems are almost evergreen, showing some large, dark foliage through most of the year before flowering over the colder months. The lack of leaves on the trees allows the understory to get more direct sunlight, causing them to flower for our benefit.
Hydrangeas fit nicely into the category of delicate seed heads that look beautiful in frost and against an evergreen backdrop. Hydrangea paniculata 'Limelight' has a conical-shaped flower head that does well in this situation. The coloured stemmed dogwoods and willows (Cornus alba Siberica and Salix alba 'Britensis') add lovely colour when their leaves drop. Prune them back hard in late winter to get an abundance of new stems for next year. Viburnum x bodnatense is a winter flowering shrub with small, highly scented flowers that appear on bare stems before the plant gains leaves in spring.
There are some beautiful features on some of the ornamental trees in our gardens in winter. Birch trees (Betula sp.) are well known for having lovely bark, often white or grey. Betula albosinensis 'Fascination' has a deep red bark when young that turns creamy with age.  Betula nigra, or the river birch, has a grey, flaking bark that grows well in wet soil near to water sources. Prunus serrula (Tibetan cherry) and Acer griseum (paperbark maple) are also known for their textured, red/brown bark that only improves with age.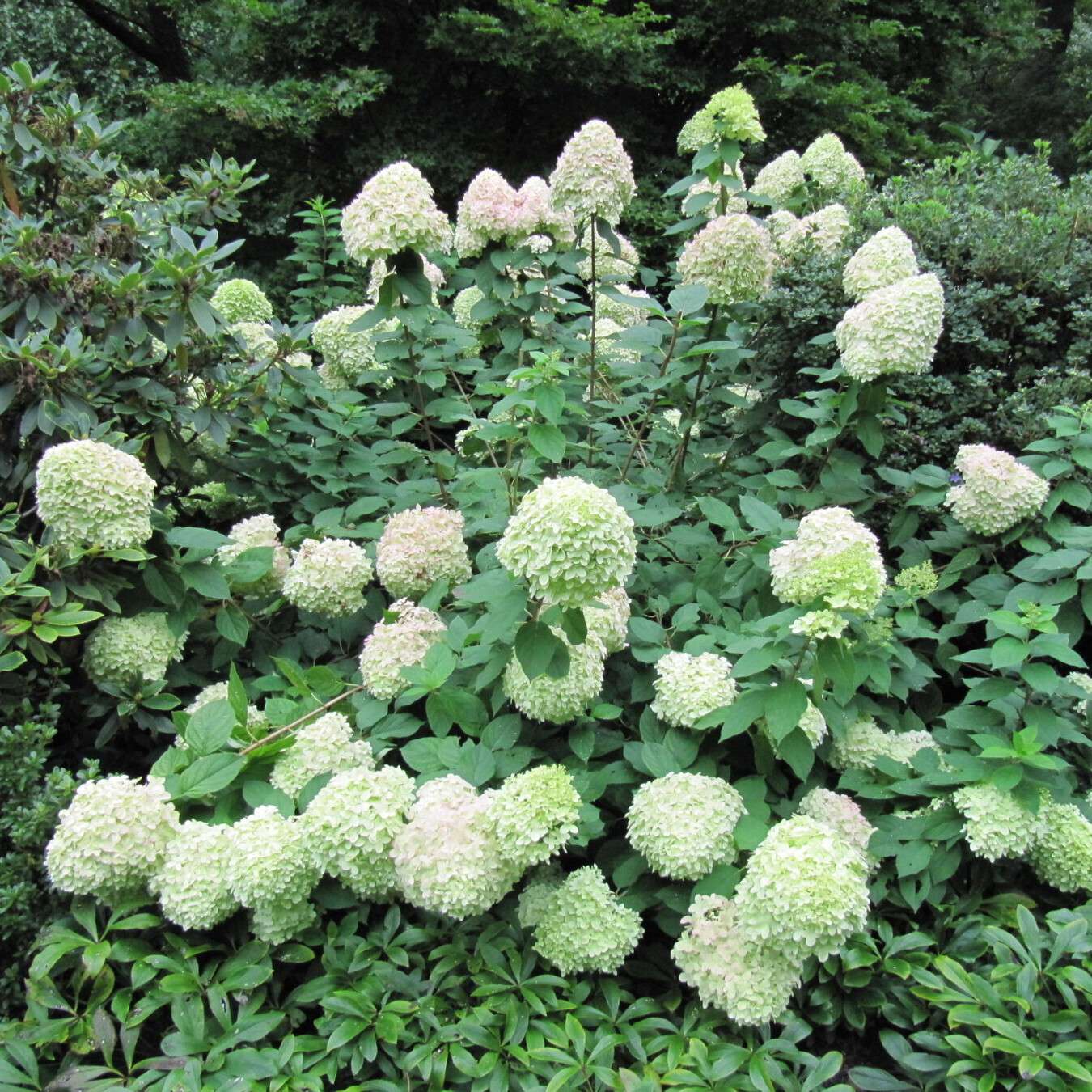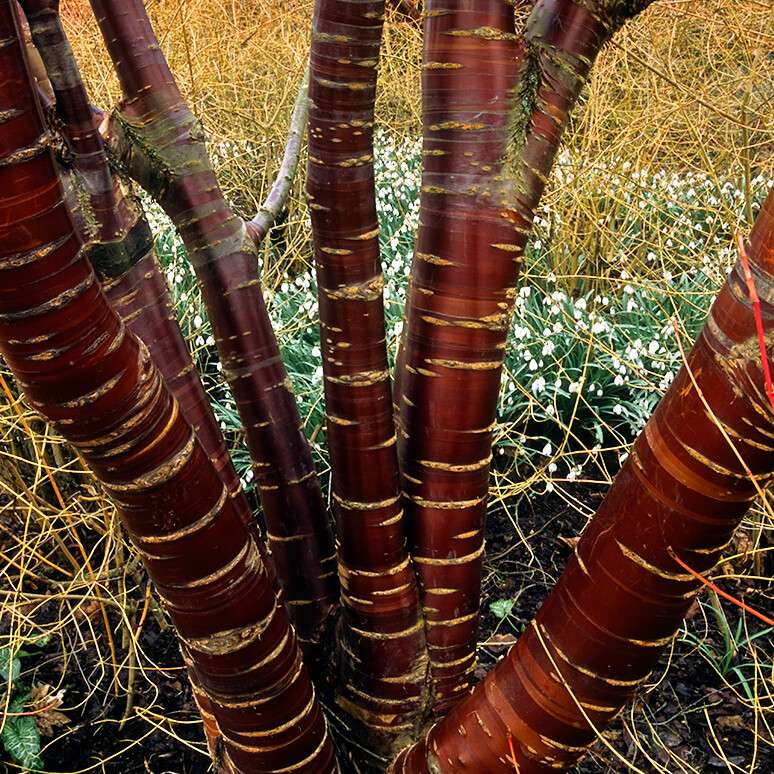 There are several species of trees that flower in winter. Parrotia, willow (Salix) and hazel (Corylus) are just a few examples. The long catkins of hazel almost look like dangly earrings in the hedgerows, and the buds of willows are starting to swell and look more like bunny tails. There is also the winter flowering cherry (Prunus x subhirtella Autumnalis), which has a beautiful, delicate blossom lasting several months over the winter. The bark of this tree is also subtly pretty, and the autumn colour on this tree makes it a year-round stunner.
Winter tends to be a quieter time regarding the work in the garden. The reworking of the herbaceous borders completed in the autumn and the regular hectic mowing and weeding schedule is halted. The colder temperatures lighten the pressure of garden pests and diseases are generally less prevalent. Winter pruning starts soon, however, to give plants a good framework for putting on new spring growth. Avoid doing this on frosty days or when it is raining. It is a good time to do some planning. Trees and shrubs are best planted now, so they can start getting their roots down before the summer droughts. The kitchen garden is also a consideration to decide which varieties you plan to grow, cleaning the glasshouse to get ready for planting seeds for early crops.
We can dream of warm, sunny spring days; of bright flowers, juicy fruit and tasty vegetables, but winter has its own charm, and we should appreciate the garden throughout the year.