Nicholsons announced as winners for Pro Landscaper Business Awards 2023
On Friday 21st April Nicholsons were excited to attend the 2023 Pro Landscaper Business Awards where we had been shortlisted for 3 awards.
We are proud to announce that not only did we win 'Landscape Company Over £5m Turnover' but we were unveiled as the 'Supreme Winner'.
Judges said "Nicholsons had a clear vision and approach to staff training, CSR, technology use and future growth plans, with excellent initiatives".  They referred to Nicholsons as an "impressive company which places much emphasis on sustainability as part of its delivery". 
Managing Director Liz Nicholson comments:
"We are so thrilled to have our work recognised in this way.  We are, of course, proud of our design and build capabilities, and we feel we are increasingly known in the industry as pragmatic solution thinkers dealing efficiently with complex projects.  What I think we are particularly proud of is our work in the sustainability sector.  Our industry needs to take better account of the environment in terms of reduced carbon emissions and the urgent need for increased biodiversity.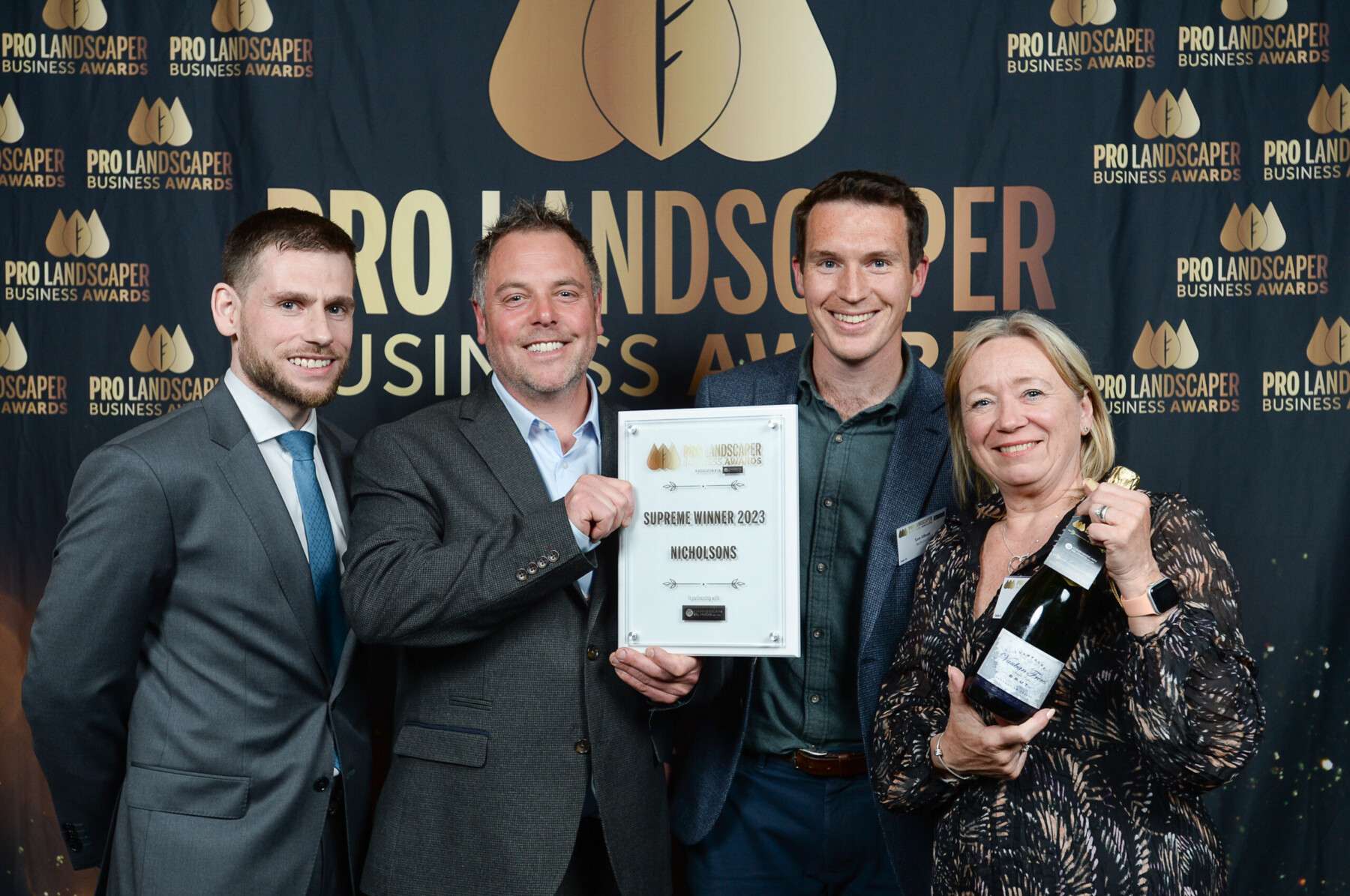 We have worked hard with the Royal Horticultural Society to develop a green design metric that helps all designers across all companies in the UK deliver robust design that protects our environment.  It is this work that will have the greatest impact on the future, and this is where we are most proud. 
Do please be contact if we can help support your project from a sustainability design point if view.  Our landscape architecture team are accredited for Building with Nature projects and our ecologists have a forward thinking enterprising approach to building fantastic habitats as part of the landscape".
A massive congratulations to all of the Nicholsons team.  We all look forward to building on our success and continuing to enhance the organisation, the industry and our planet.
The annual Pro Landscaper Business Awards are the only industry awards which recognise and celebrate how well companies run their business.  Commitment to the landscaping sector, sustainability, corporate social responsibility, profitability and client/supplier relationships are all areas reviewed as part of identifying the shortlist and overall winners.
Judges Comments
"A really strong entry all round, with lots of evidence top support each answer; this is a company that the landscaping sector should be really proud of, with a great focus on staff, sustainability, the future and customer satisfaction – well done team Nicholsons"

Stuart Dantzic, Managing Director, Carribean Blinds
"Not only has Nicholsons introduced initiatives and practices to be more sustainable, but it now has clear goals to reduce its footprint further and help others to do the same.  A really impressive plan for 2023 and beyond"
"An impressive company which places much emphasis on sustainability as part of its delivery.  Even better if their future plans were to include the ambitious SBTI as part of their strategy to achieve net zero"
"A brilliant example of how every great business should be run and clearly a very successful business for others to aspire to"
"The organisation has some excellent initiatives and has grown well"
"A clear vision and approach to staff training, CSR, technology use and future growth plans"