Colour in the Garden: June
By Ruby Simpson
June is here! And because we have all been busy celebrating the Queen's Platinum Jubilee, I thought why not go for a red(ish), white and blue(ish) theme? I have included some Roses in the mix, as June is the month of the Rose. Not only that, but it's the 60th Anniversary of David Austin Roses. Such a lot to celebrate! So, pour yourself a glass of Prosecco, find your favourite chair, and get reading.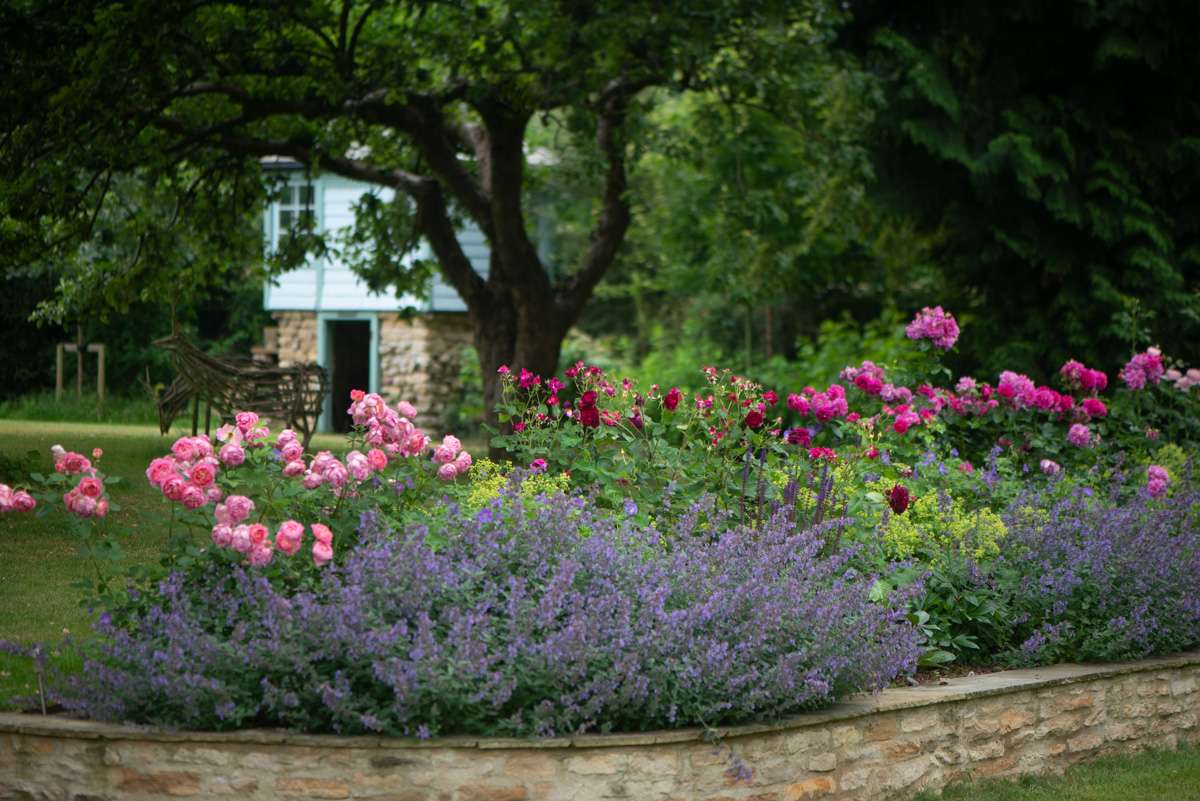 Roses
There are hundreds of roses to choose from, and I have so many favourites, but sticking to the red(ish), white and blue(ish) theme, as well as taking into consideration the availability of roses we currently stock in the plant centre, I have managed to narrow it down. Starting with the beautiful Rosa 'Gertrude Jekyll' – large, pink blooms, good for repeat flowering and a strong, old rose fragrance. This shrub rose can be grown in borders or pots, or as a hedge, as well as being great for cutting! Rosa 'Susan Williams-Ellis' is a pure white, repeat-flowering shrub rose with medium size blooms and a medium-strong old rose fragrance. The most wonderful thing about this rose is that it so far seems to be free from disease – what a bonus! Rosa 'Thomas À Beckett' is crimson red, with large blooms and a medium old rose scent, another good one for repeat-flowering! All Roses mentioned are happy in full sun or partial shade, all aspects (N, S, E & W facing), and most soil types.
People tend to be a bit scared of roses because they have a reputation for being difficult to care for. David Austin Roses have a lovely, easy-to-follow guide on general rose care, with further details if you want more in-depth instructions! But very simply – cut them back in late winter, feed late March, followed by a mulch of small bark chippings, then feed again late July to encourage repeat flowering and deadhead as you go to encourage more flowers (as is the same for many plants). See, not that scary at all really! For pest and disease control, either remove by hand, or use an organic spray to help control the problem. There are varieties of rose that are supposedly more resistant to disease, but this isn't a guarantee – after all we are talking about nature. Nature will do what it's going to do, and maybe there's an argument for us to leave it be…?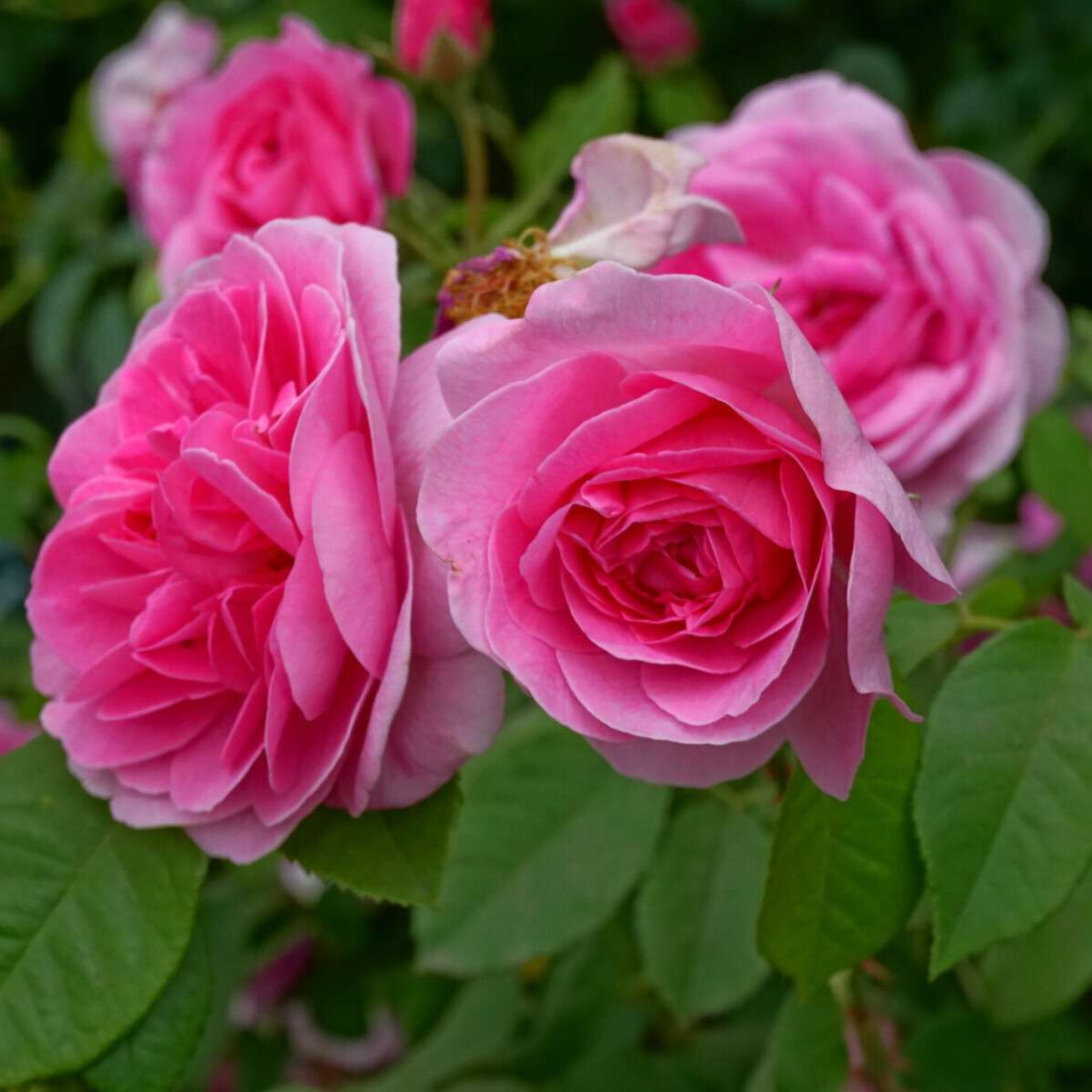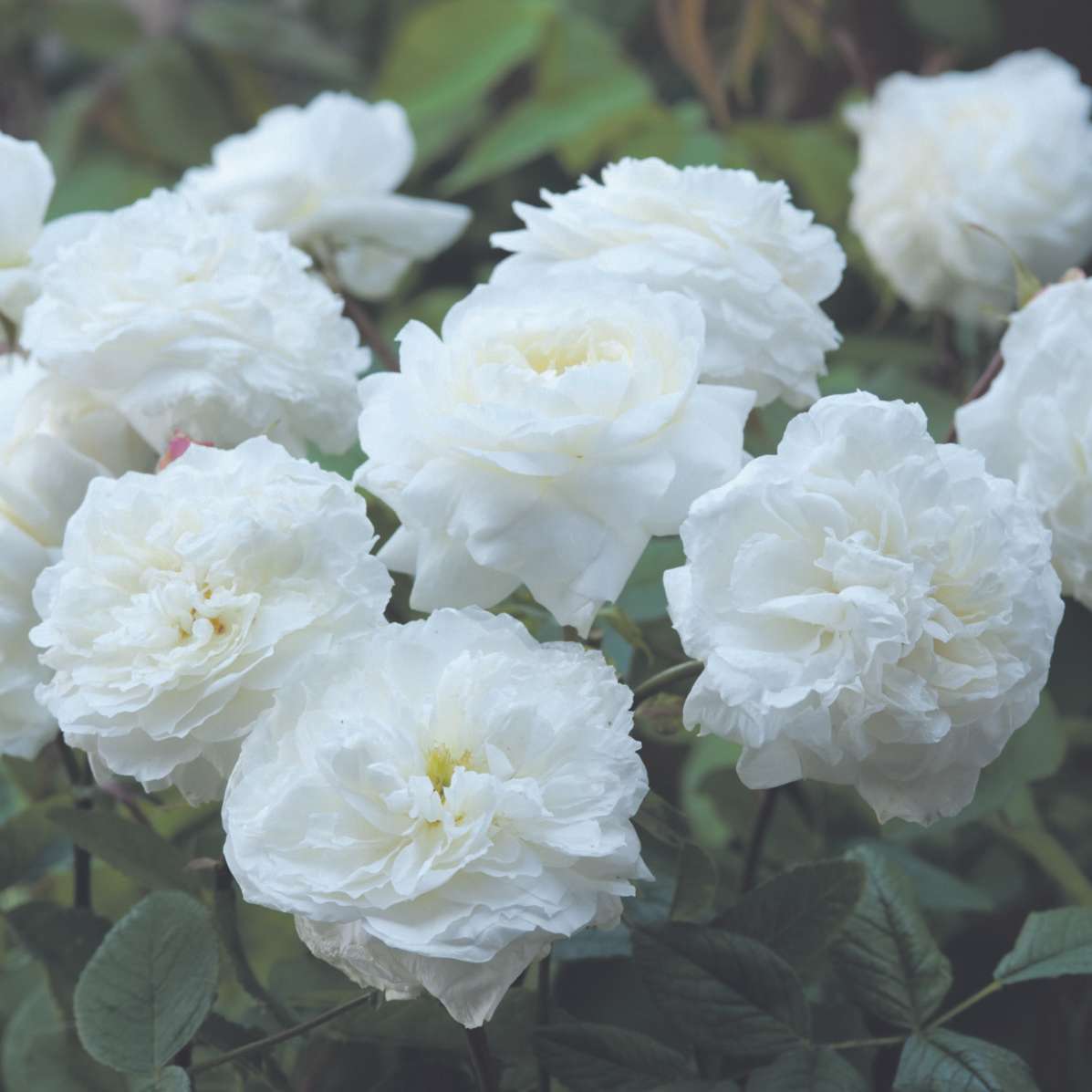 Rosa 'Susan Williams-Ellis'
Herbaceous perennials to plant with roses
There are so many gorgeous plants that looking stunning when planted with roses. The classic mix of roses and lavender will always look beautiful, and Nepeta 'Walkers Low' will give you a similar look too, plus the bees love Lavender and Nepeta. Scabiosa 'Blue Butterfly' is another bee-tempting flower, and the lilac-purple flowers go fantastically with deep pink and bright white roses as well. Geranium 'Rozanne' will flower for weeks and weeks and be very happy in sun, or in a slightly shadier spot. Astrantia 'Claret' is also happy in sun or partial shade, is good for pollinators and is a lovely deep pinky red colour. Iris 'Sable' and Salvia 'Caradonna' both have fantastic dark purple flowers and are perfect placed in the middle of a border in between roses. Cerastium tomentosum (Snow in Summer) has lovely silvery foliage and is covered in bright white flowers for what feels like months! The one in my garden started flowering weeks ago and is still going strong now. This is a lovely low growing, spreading alpine (but isn't a brute!) and looks lovely planted at the front of beds, or on the edges of pathways.
Shrubs
What a fabulous month for flowering shrubs! My all-time favourite shrub, Philadelphus 'Belle Etoile' is starting to flower. I physically can't walk past one without stopping to bury my face in the delightfully scented flowers – in my opinion the best of all the flower fragrances! I would always suggest planting this somewhere that the flowers can either be sniffed at every opportunity or planted near a seat so you can bask in the heady aroma. It also only grows to around 1.2m tall which is a bonus, as it fits in gardens of various sizes. The other shrub I have included in this month's palette is Weigela 'Bristol Ruby' which, as you would imagine, has beautiful ruby-red flowers and fits nicely within our red(ish), white and blue(ish) Jubilee palette. It likes a south or west-facing position and grows up to around 2.4m, so best at the back of a border. It's not too fussy about soil, and flowers for ages – a good all-rounder.
There are so many amazing shrubs for June colour – I couldn't fit them all in my palette, but a few of my other favourites at the moment are: Calycanthus floridus (dark maroon-red, unusual flowers, 2.5m tall); Deutzia 'Mont Rose' (pink flowers, 1.2m tall, tolerates light shade); Sambucus nigra 'Eva' (very dark, dissected foliage, 3m tall, pale pink flowers, good for wildlife).
So, I hope I have given you enough inspiration for your June garden, and I hope you have enjoyed your glass of celebratory Prosecco! I'll be back in July with my next palette.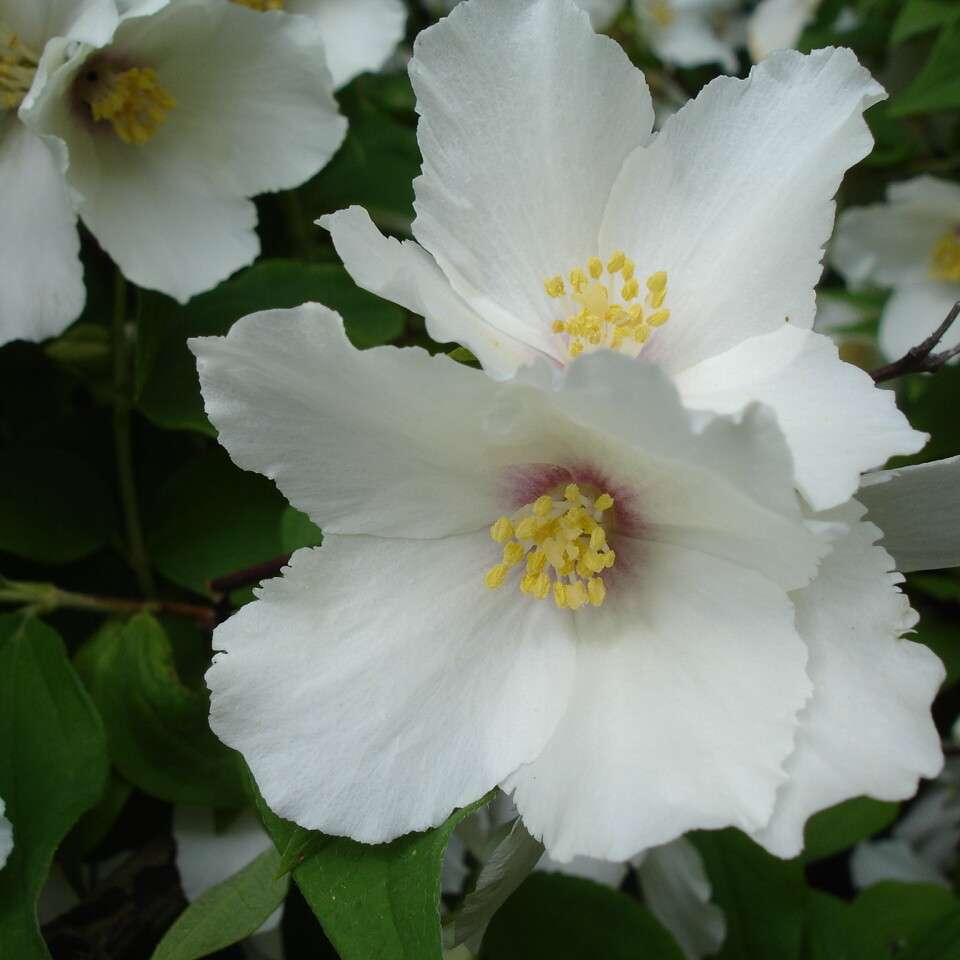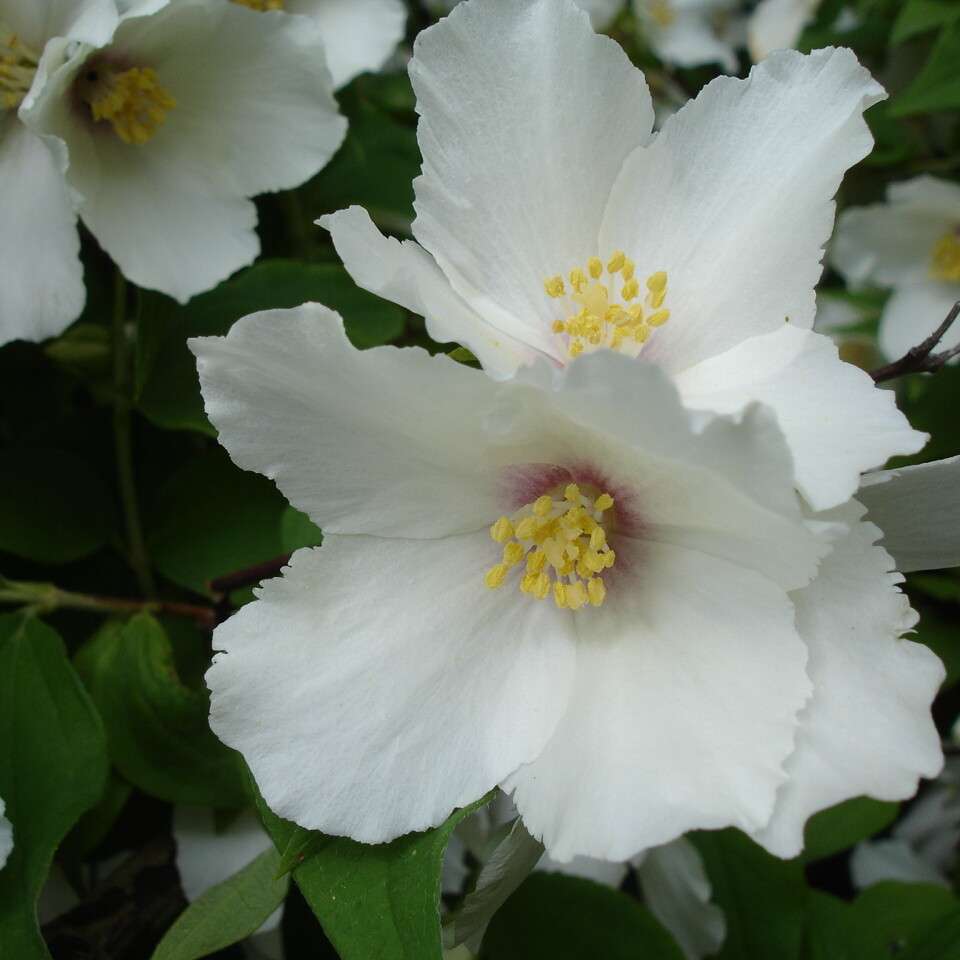 Philadelphus 'Belle Etoile'
PLEASE NOTE: We may not have all of these plants in stock at one time. Please speak to our plants sales team by calling us on 01869 340342 (option 1) or emailing plantsales@nicholsonsgb.com.