COURTYARD RENOVATION
Nicholsons was asked to green the shared outdoor spaces of the global head offices of RES, the world's largest independent renewable energy company. Stylish contemporary planting and furnishings draw staff out of their offices to interact, reflect or simply relax.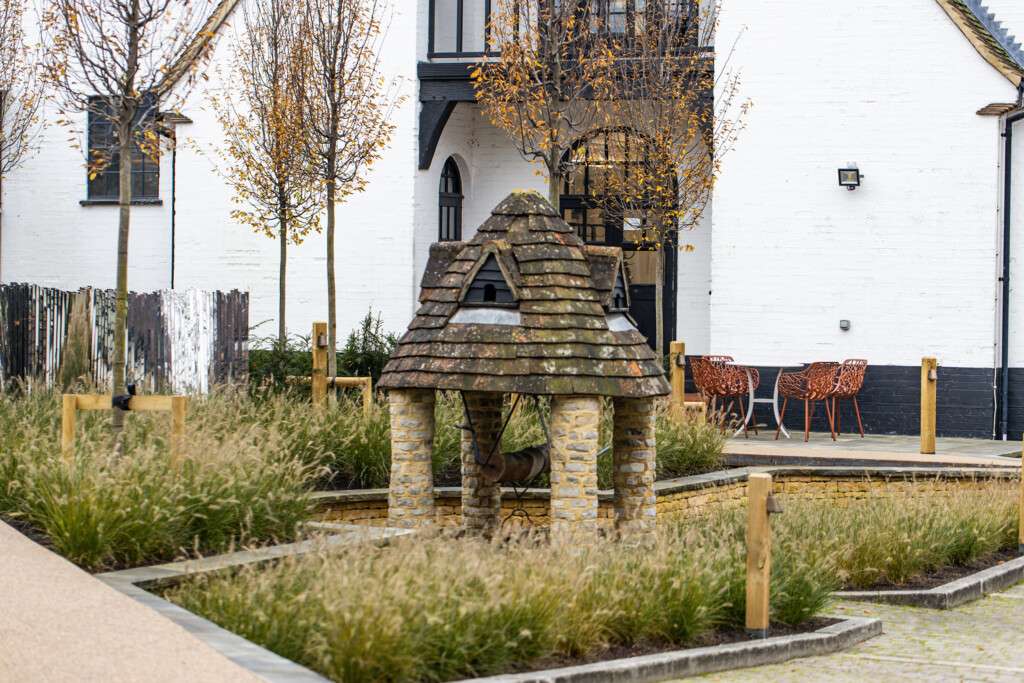 The courtyard to the offices of this renewable energy company in Hertfordshire was a sea of mossy gravel and grassy patches, whilst the approach to the entrance was a bland series of ramps – ill befitting a green company in an historic building. Nicholsons transformed the courtyard, with planting of ornamental grasses and table-top tree set along bound gravel paths, all arranged around a central fountain. Contemporary furniture is placed within these patterns, providing a soothing setting for lunches and informal meetings. At the entrance, employees and visitors are guided along cobbled paths lined with grasses, set around an old covered well.
Nicholsons have given us a front entrance and courtyard that reflects our green credentials, brings cheer to our colleagues and visitors as they arrive at work each day, and provides an outdoor haven in the courtyard where they have space to think, relax and simply enjoy the company of their colleagues outdoor in a stylish setting.
Rob Armstrong
Head of Communications & Marketing at RES
Start Your Process
Start your process by filling out the form below. Or give us a call on 01869 340342
"I am thrilled with the garden – thank you to all – it has been so efficiently organized."
"Please pass our thanks on to all of your colleagues who oversaw and implemented Jon's excellent vision with such great care and attention; every single person we've met wearing the 'Nicholsons Polo' has been unbelievably polite, professional and generous.

The business you've built is truly impressive in every way, it really should be used as an example of excellence for MBA graduates to study."
"I just arrived home this morning and just wanted to say WOW!!, lots going on but what an amazing surprise and transformation, it is looking fabulous fabulous fabulous. Thank you thank you thank you!!"
"From the start – brilliant throughout. Minimal disruption and you took the time to look after our property. You have done a great job and we are looking forward to the coming months to see the impact on the garden. We hope to continue working with you, an absolute pleasure to deal with"
Nicholsons is accredited by the following official organisations:
Approved contractors of the Safe-contractor scheme, Nicholsons are also accredited with CHAS and Arboricultural Association. The Company are also members of BALI and recently won awards as Cherwell Employer of the year 2016, Cherwell Established Business of the Year 2014, as well as being finalists in the Oxfordshire Business of the Year awards in 2013 (Energy and Environment Award).