GARDEN CONSTRUCTION
Nicholsons offers a highly qualified team of landscape construction specialists who can build many forms of garden to your specifications. Please contact our contracting team for more info.
Garden Construction
Our construction teams work closely with both our in-house design team and many other renowned designers. We collaborate to finalise plans and set up projects, giving the customer a seamless and effective journey.
Our team of professional contracts managers lead our landscape construction specialists to execute the highest level of craftsmanship. Our ethos is being kind, hard working and striving for excellence in all we do.
Our portfolio includes many forms of paving, dry-stone walling and retaining walls, water features, timberwork and drainage. We can cater to suit the needs of your landscape.
Nicholsons have been building quality gardens for over twenty years – celebrating craftsmanship and excellent horticultural knowledge.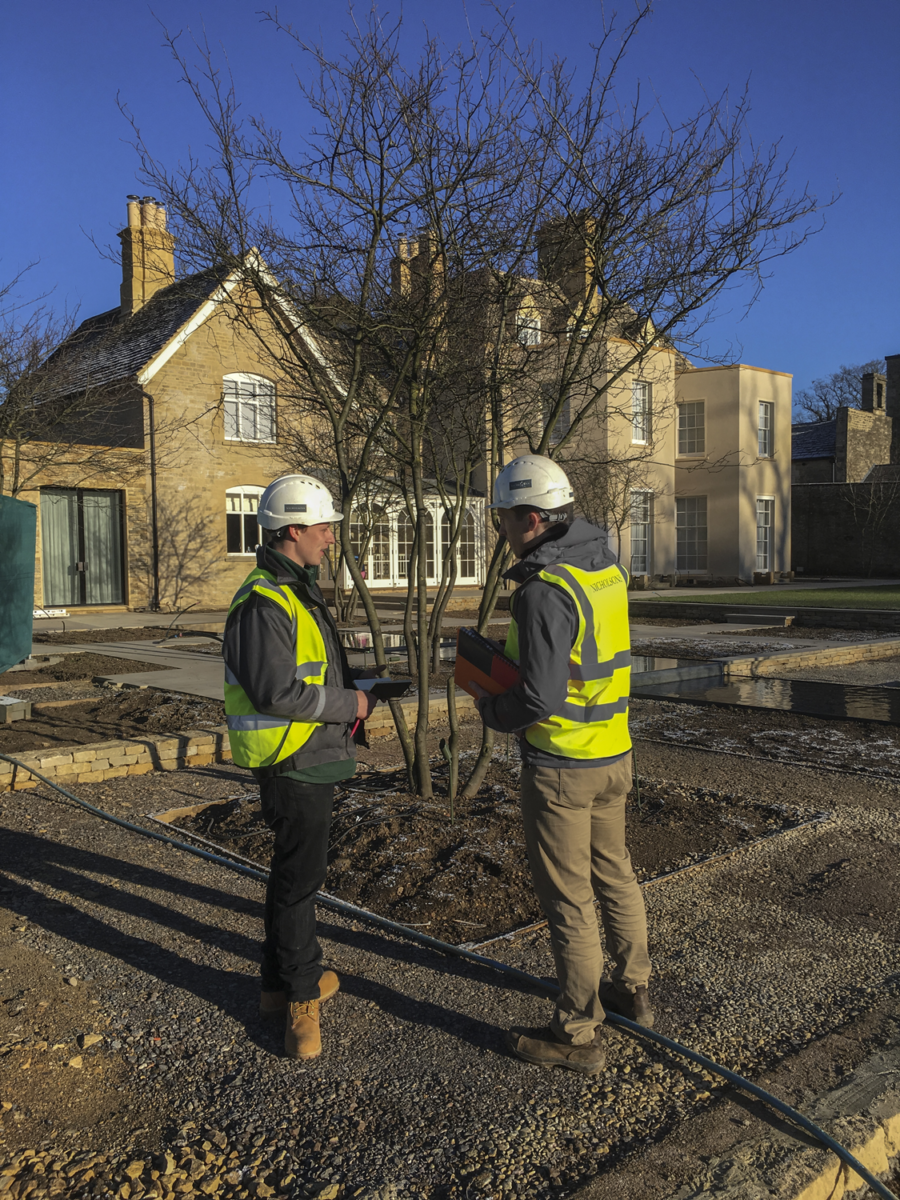 Construction Portfolio
Family home near Stow on the Wold

Oli Ong

2019-08-19T13:57:07+00:00
These works are now complete and we have a fantastic garden. Thank you.
We have enjoyed the whole process of working with Nicholsons, from the design and pricing phase with David and Richard to the discussions during the build with Mat and the team.
The team under Mat have done a fantastic job. Mat is a great leader and very comfortable dealing with the client while also getting the best from the team. He coped admirably with our strange questions and requests and our enthusiasm for but ignorance of gardens. He is communicative and attentive while also setting a great practical example on the ground to the team.
The team themselves were a joy to have around. They were tidy and consistently hard working in often miserable conditions. On top of that, they were always prepared to listen to our requests and offer a smile when we stopped to enquire about things. I think you are lucky to have staff like Graham, Nick and Ash and Chris (who joined them for the final week).
Nicholsons is accredited by the following official organisations:
Approved contractors of the Safe-contractor scheme, Nicholsons are also accredited with CHAS and Arboricultural Association. The Company are also members of BALI and recently won awards as Cherwell Employer of the year 2016, Cherwell Established Business of the Year 2014, as well as being finalists in the Oxfordshire Business of the Year awards in 2013 (Energy and Environment Award).