UK Vintage Climbers
By Will Beament
Climbing plants are wonderful for softening harsh surfaces or fences and are often under-utilised in garden designs. They are particularly useful if you are limited on border space but have some vertical surfaces that are in need of inspiration. Many climbers are well suited to growing in containers and can be used to brighten up a terrace or other areas of the garden where planting directly into the ground is not possible. Here are 9 iconic vintage climbers to consider using in your garden.
1. Climbing Roses
Roses are a classic choice for the garden and there are a vast number of varieties, all with a sizeable array of properties and catering to a spectrum of tastes. Roses are always a fantastic choice for pergolas and can often spruce-up a timber structure, lifting its visual impact from lackluster to spectacular. Some popular choices include 'Gertrude Jekyll' for a vibrant injection of pink and 'Iceburg' for a cool white haze. Their aesthetic is particularly effective in a more formal setting, especially against a backdrop of dark, evergreen hedging or topiary.
2. Clematis
There are many varieties of clematis. Some grow rigorously and others are more suited for pots and containers. Due to the nature of larger varieties, their structure can be fairly dense and this is often utilised by growing against screening or fencing where there is a requirement for softening less subtle features. These plants are another versatile species that cater to a range of needs and tastes. They are particularly effective on ornamental arches, providing a spot of colour and vegetation whilst, at the same time, not completely engulfing the structure. If you are planning on growing clematis over an arch, make sure you choose a variety that is suitable for this purpose.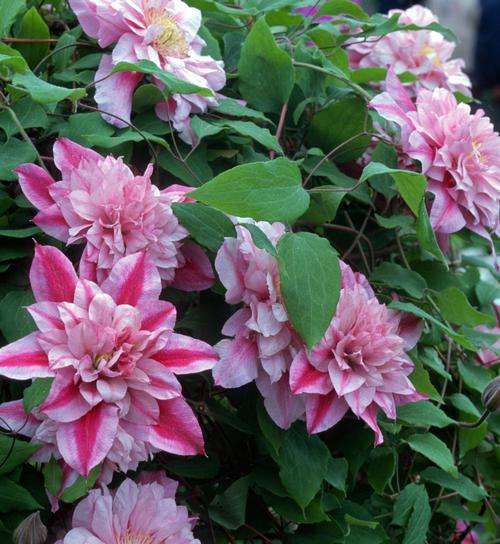 3. Hydrangea
Climbing Hydrangeas are able to tolerate more shaded conditions and will often be found thriving in sheltered areas as well as more exposed locations. Being in shade works to the plant's advantage, highlighting the plumes of white flowers that stand in contrast to mostly darker surroundings – a perfect plant for bringing gloomier areas to life! A note of caution: climbing Hydrangeas tend to grow densely and spread far – be prepared for total coverage of whatever you grow this against!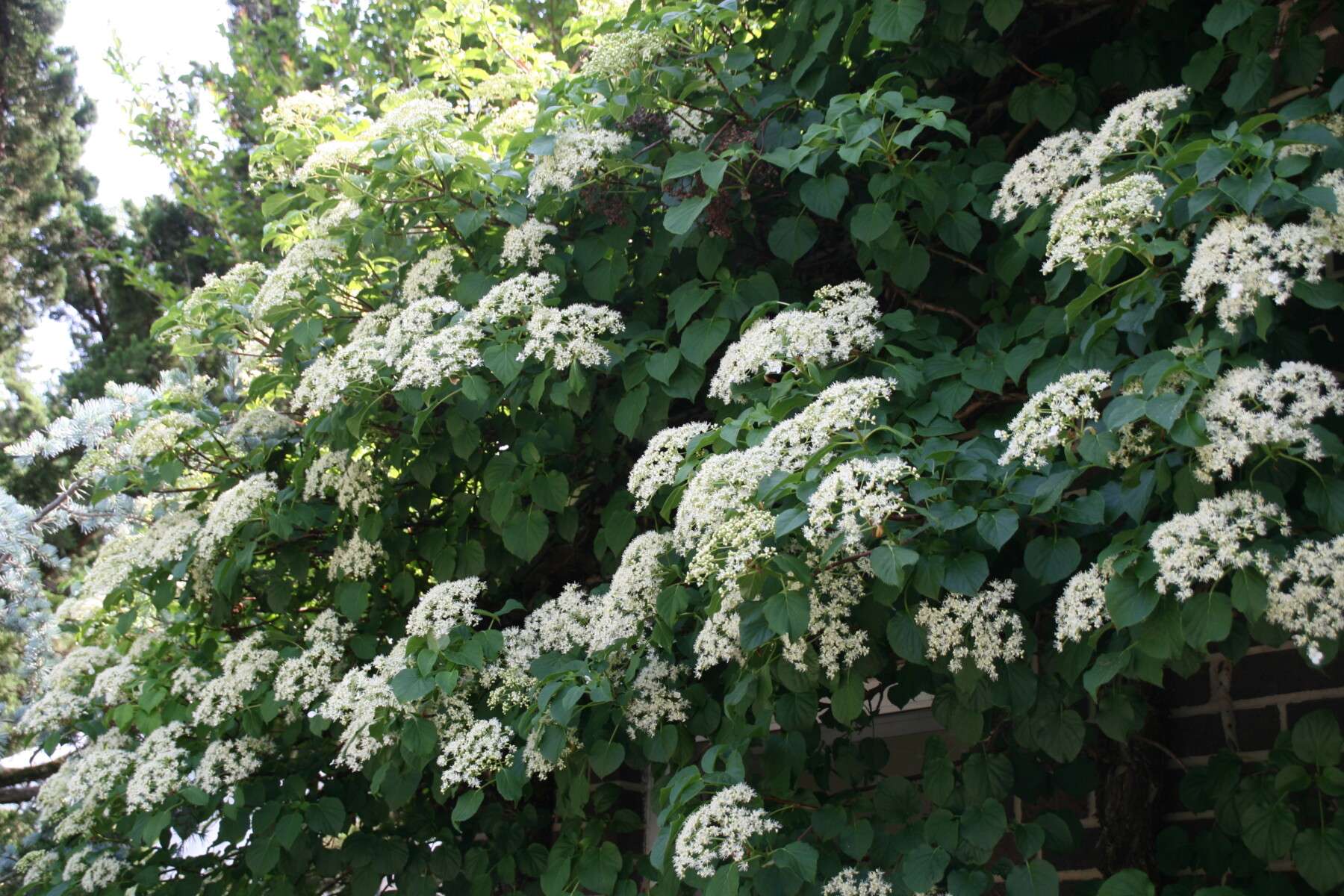 4. Wisteria
Wisteria is a quintessential feature of British villages, often spotted adorning the front of older cottages. The aciniform flowers contrast beautifully against the common backdrop of sandstone found in many rural areas and the robust, often contorted structure of the stem adds charm and character to any property. This plant thrives in direct sunlight which means that when spring comes around and their racemes come into bloom, the forms radiate rich colours of lilac, purple and pink.
5.
Trachelospermum jasminoides (Star jasmine)
Contrary to the title, one could argue against the 'vintage' classification of this species and instead brand it a more contemporary plant due to its rising popularity in recent times. However, jasmine has an extremely versatile aesthetic and can work well in both modern and classic settings. The main attraction of this plant, beauty aside, is its intoxicating scent. It is therefore ideal placed near any terrace or seating area – a bonus if you are a wildlife lover as it is extremely popular with bees and butterflies. Furthermore, jasmine is a highly manageable plant and is perfect for smaller gardens. Please note, this is a tender plant so is best planted in sheltered spots.
6.
Vitis vinifera (Grape)
Grapes can be traced in Britain all the way back to the Roman occupation. There are often a great number of misconceptions with the process of growing grape vines and it is not as complicated as one may think. In reality, provided certain conditions are met, it can be relatively straightforward – especially if you live in the south of the country. Well-drained soil, direct sunlight and occasional maintenance is all that is required to grow a healthy vine. Moreover, the outcome completely outweighs the effort if one considers the potential for its visual impact…picture creeping vines draped on a veranda or over a dining area – it certainly evokes romantic imagery when one thinks of all the possibilities!
7. Pyracantha
All on this list grow attractive flowers – which are undoubtedly beneficial to insects, but what about other wildlife? Pyracantha's foliage bears deep red or fiery orange berries (depending on the chosen variety), and these berries provide much-desired sustenance for birds and other animals looking to survive the winter months. The species can be trained up walls and show an effective display of colour across all seasons with summer blooms, autumn berries and green foliage across the colder months.
8.
Lonicera periclymenum (Honeysuckle)
Honeysuckles (Lonicera periclymenum) are native to Britain and are another fantastic option for wildlife. Their 'trumpet-like' flowers emit a sweet floral scent, irresistible to many insects. Again, this species also grows berries which means that it's a perfect plant for anyone looking to increase the ecological value of their garden – which is certainly recommended!
9.
Lathyrus odoratus (Sweet peas)
Sweet peas are a charming addition to any border during the summer months. Their pastel colours are best mixed and matched to create a rich palette of tasteful tones. A regimen of pruning and harvesting flowers is recommended to lengthen the blooming period and ensure one gets the most out of this plant. These flowers are often abundant in the summer and can make a stunning, fragrant feature in vases around the home. They also make for a striking feature in a potager, winding around a stylish obelisk frame or rustic hazel tripod.