Shrubs From Our Childhoods: A Trip Down Memory Lane
By Lorraine Spooner
It is amazing how our human minds work. Our memories can be sparked by little things that trigger our childhood past, evoke a special moment in our lives and transport us back in time, through sensory perception of sight, smell or touch.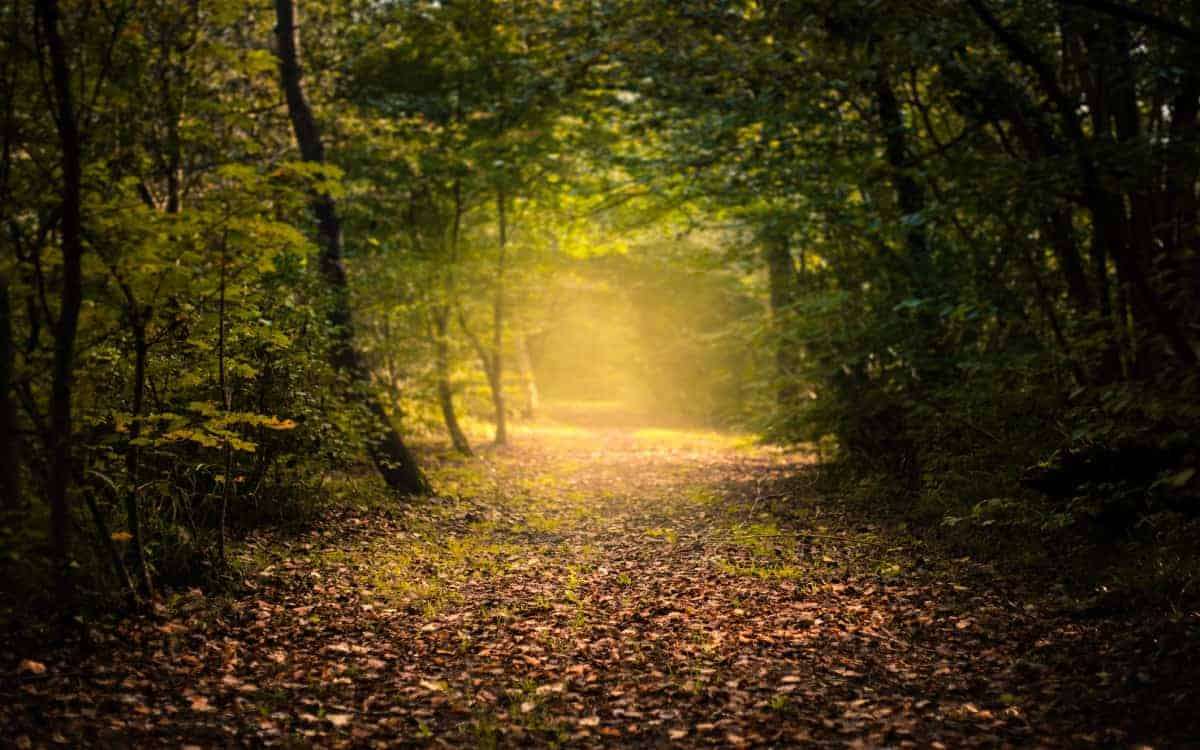 Using my Nicholsons' colleagues as a source of inspiration, I have produced a short-list of shrubs which have held a special meaning to them – many recalled a strong fragrance, others the appearance of a flower's shape or colour, which has remained dormant in the back of their minds, until rekindled in the present day.
I was fortunate to grow up on a farm, surrounded by acres of cereal crops, each field framed by a myriad of colourful wildflowers; we enjoyed the beauty around us as carefree children roaming the woods and hilltops day after day, the sun on our young faces, in a time when life seemed to move at a slower pace.  However, it was my grandparents' home in Kent that I recall most vividly; the orange blossom fragrance of two enormous Choisya ternata (pictured right) either side of an entertaining area seemed to be ever-present and would waft through the windows, to be enjoyed long into the evening.  This evergreen shrub, with its dark green foliage and white star-shaped flowers in late spring, prefers a sunny position, but plant where the amazing scent can be best enjoyed.  This, and the cultivar 'White Dazzler', with scented foliage as well as flowers, are both in stock in a 10 litre pot size.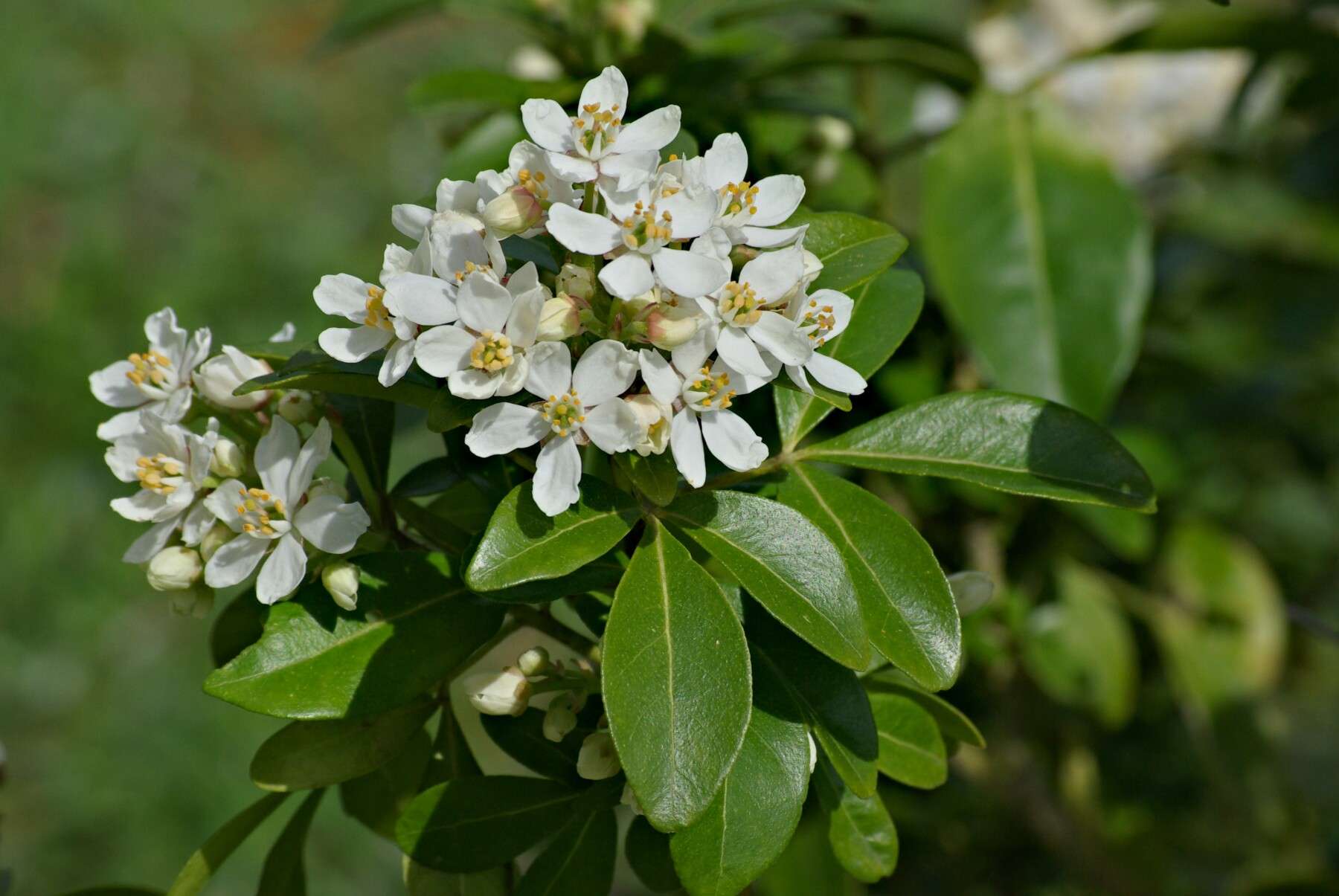 Another highly fragrant shrub is Philadelphus and this was one that our Retail Plant Manager, Vicky, mentioned as particularly reminiscent, as it was used in her mother's wedding bouquet.  Our designer, David, also recalled the scent from the giant specimen in his mother's garden, which flowered around the time of his birthday in late June, recalling happy times of watching Wimbledon, with strawberries and cream.  This deciduous shrub with pure white cup-shaped blooms, often with a maroon central blotch, such as in the cultivar 'Belle Etoile', or with double flowers, as in 'Manteau d'Hermine', conjures up the heady scent of Mediterranean orange groves, and no doubt inspired its common name of Mock Orange.  These latter two are available in a 3 litre pot, and 'Virginal' is available in a 20 litre.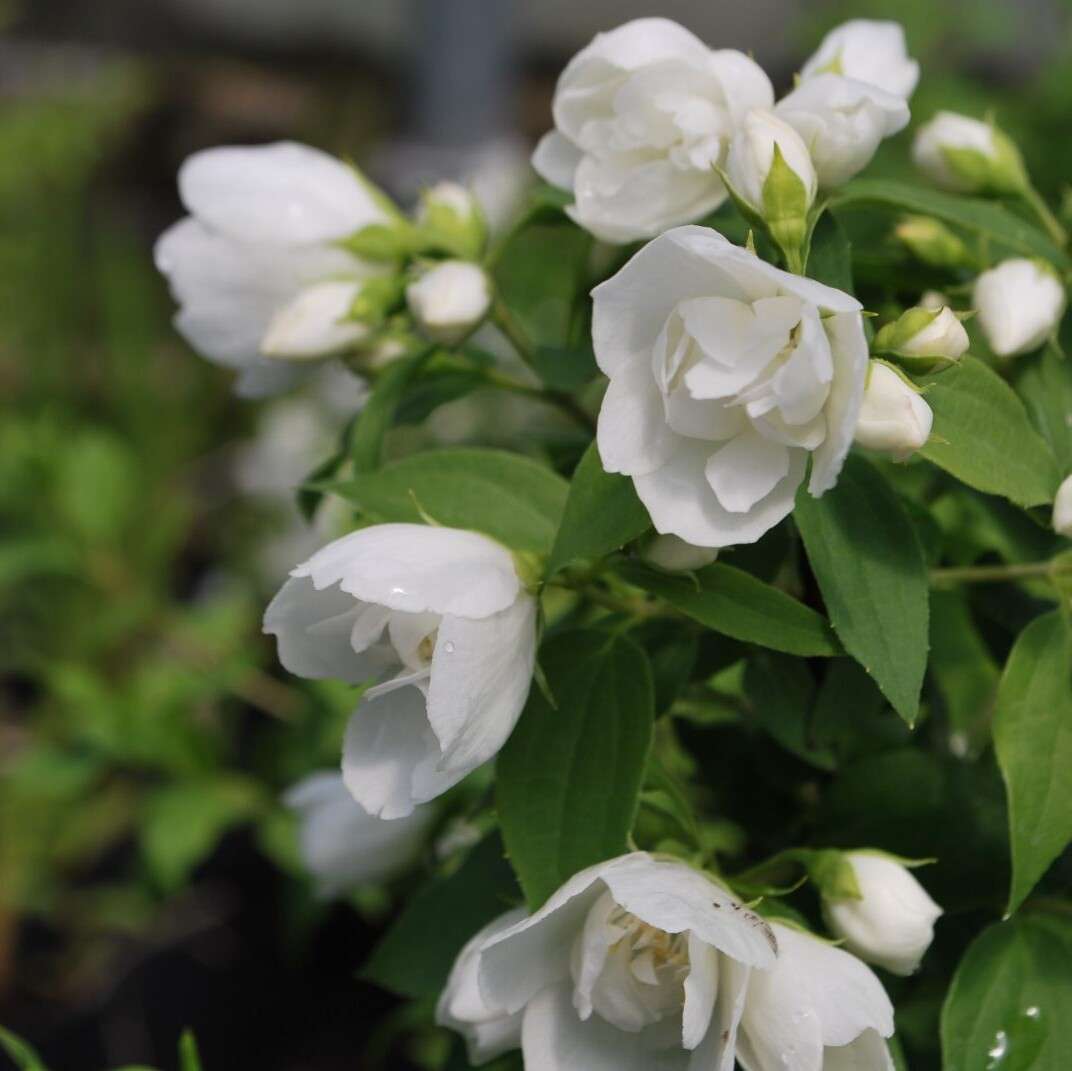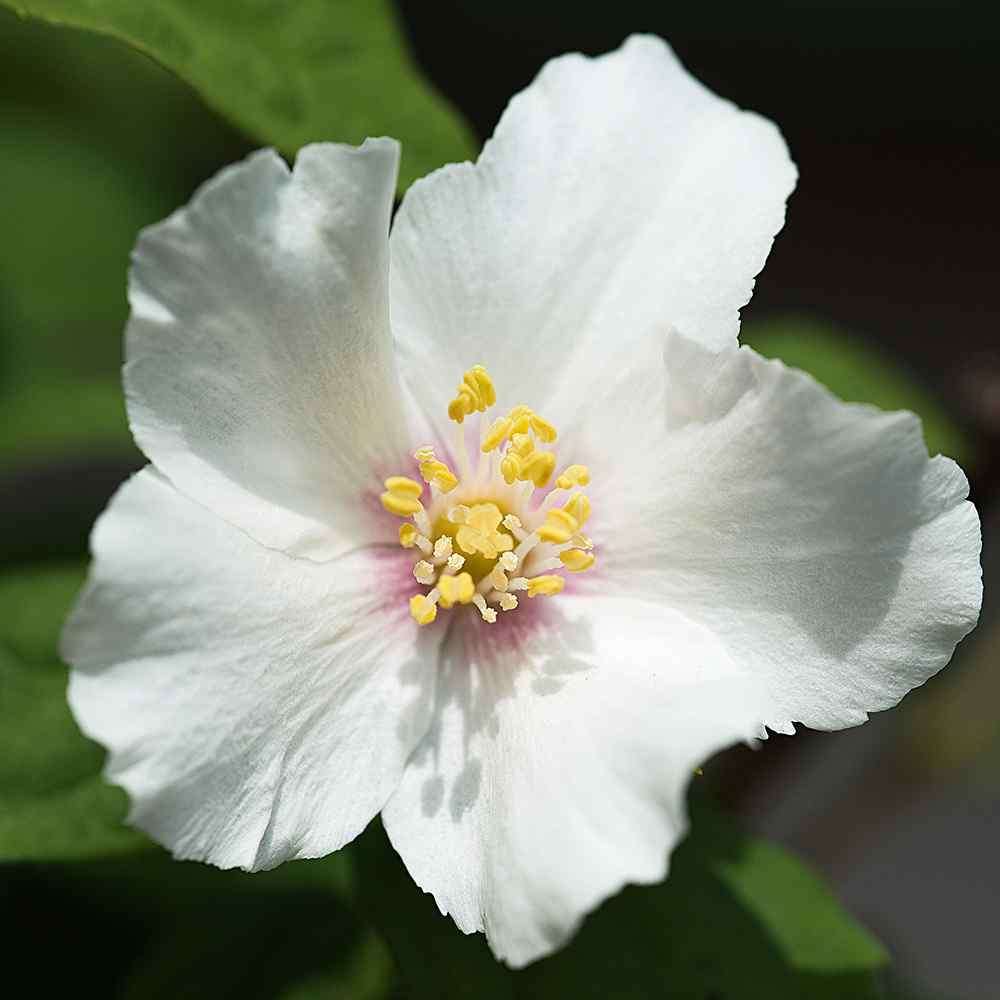 One of the most popular shrubs to be mentioned and familiar to many was Buddleja davidii – a prolific self-seeder, the proof of which can be seen in railway sidings countrywide, where it seems capable of growing in the most inhospitable places.  However, its appeal for many is the wildlife it attracts to the garden, in particular butterflies, which smother the flowers in summer.  There are now cultivars with flower colour ranging from deepest purple to pure white.  Regular deadheading can prolong the flowering period well into September and hard pruning will ensure these shrubs remain at a height where butterflies can be best appreciated. For a rather more unusual species, Buddleja globosum has dense rounded heads of scented orange-yellow flowers at the tips of the branches in early summer and was recalled by Liz as growing in a farmyard in her idyllic childhood surroundings.  Buddleja 'Empire Blue' and 'Indigo Buzz' are available in a 3 litre pot size; 'Pink Delight' and 'White Profusion' are available in a 10 litre.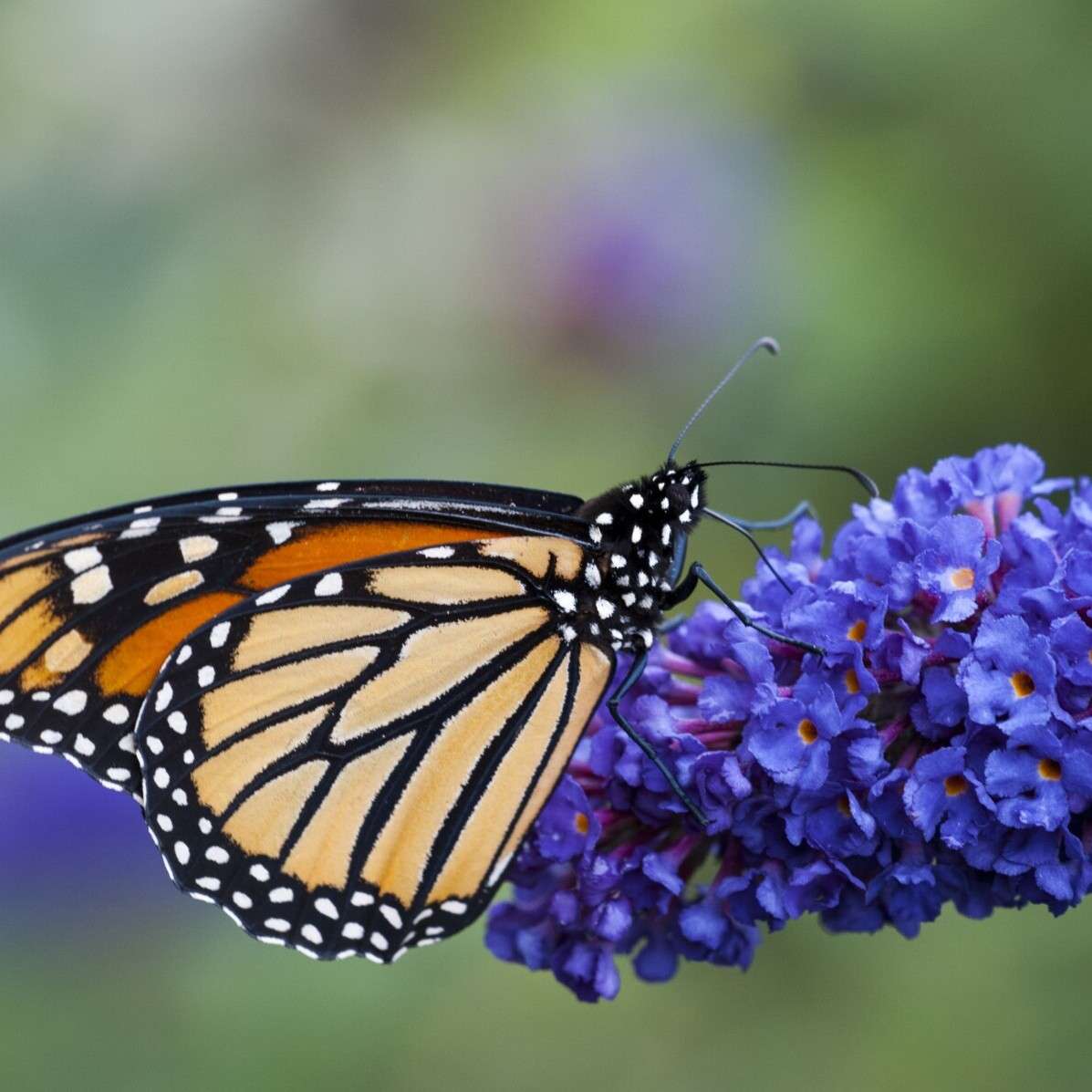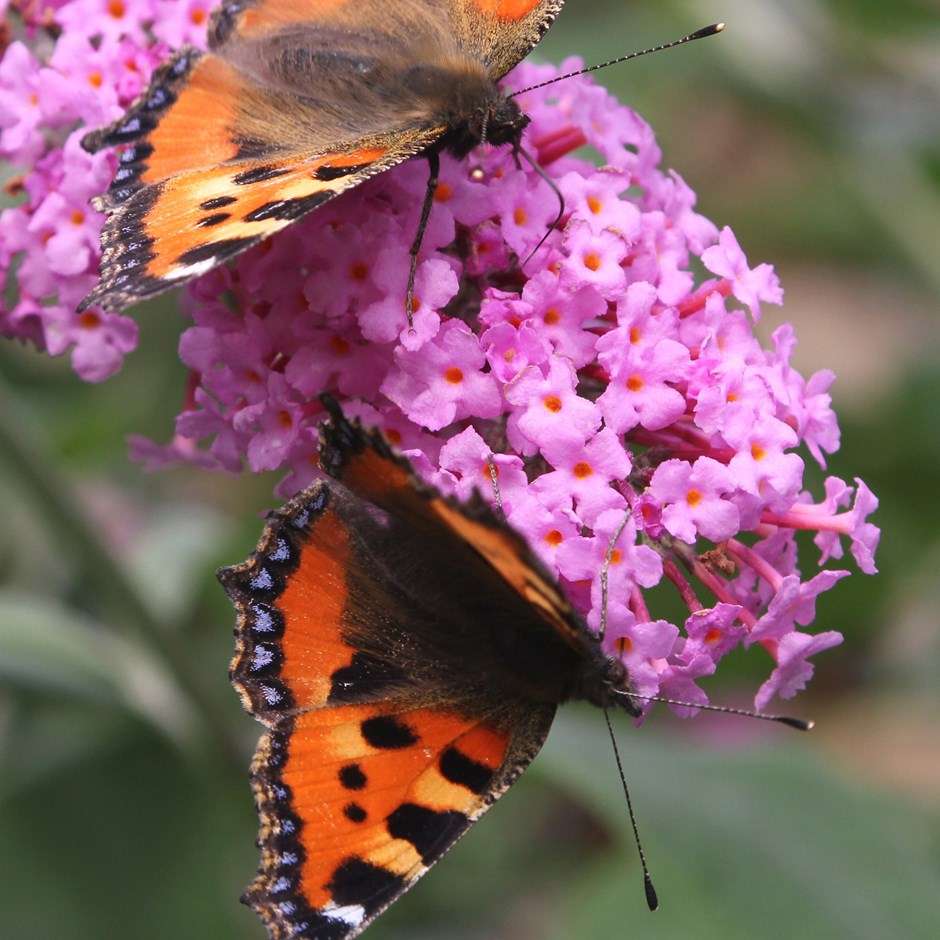 The introduction of cultivars such as 'Annabelle' and 'Limelight' have brought Hydrangeas back on the garden design scene, but it is the old-fashioned mop heads and lace caps, cultivars of Hydrangea macrophylla, which were most widely grown in our parents' and grandparents' gardens.  Mopheads have full, round heads of large petals and lace caps have flattish flower heads of large outer petals with tiny flowers in the centre, the colour of which will be influenced by soil pH – acid soils will produce bluer shades and alkaline, pink.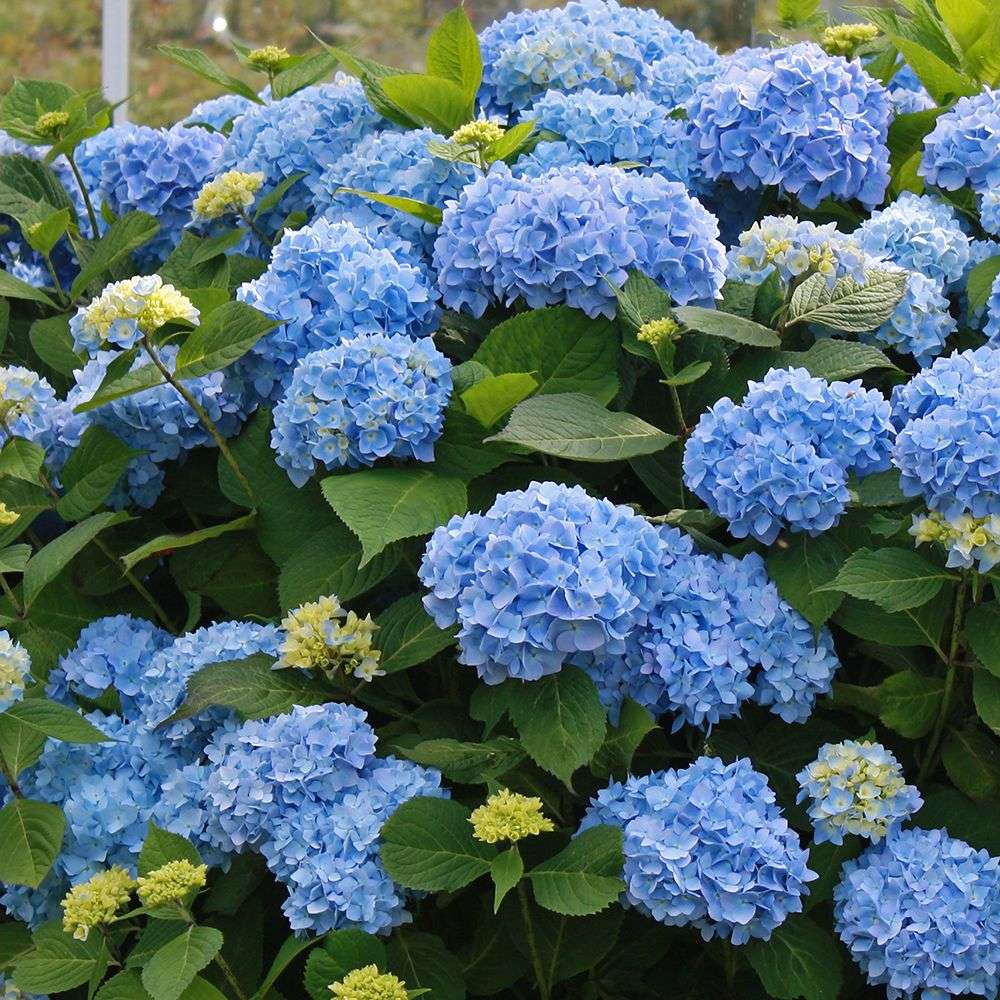 Fuchsias featured widely in our poll down memory lane, with Ruby likening their flowers to tiny ballerinas in pink and purple dresses, that come alive and start dancing like the flowers in the Disney classic, Fantasia. These were probably the hardy types, like 'Mrs. Popple', which, unlike their tender cousins, can survive in most UK gardens.  With an upright habit and branches which gracefully arch towards the tips under the weight of their exquisite flowers, they can make attractive flowering hedges.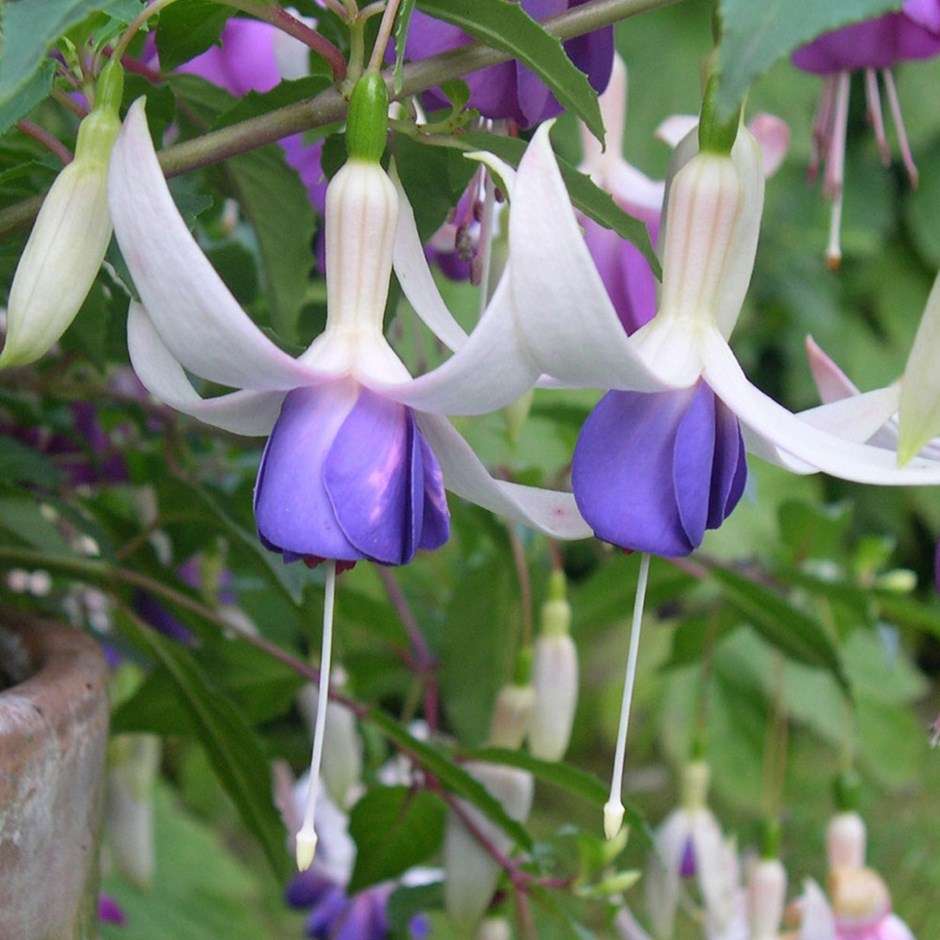 The scent and richly coloured flowers of lilacs have featured significantly in gardens of our childhood, where memories of armfuls of branches, laden with blooms, would be brought into the house to fill the air with fragrance.  Their deep-rooted history originates in Greek mythology, where Pan, the god of forests and fields, fell hopelessly in love with a nymph named Syringa, hence their botanical name of Syringa vulgaris, the common name of Lilac (from the Arabic lilak) referring to the colour of their flowers. 'Michel Buchner' (pictured) and 'Prince Wolkonsky' (pictured right) are available in a 10 litre size, with 'Madame Lemoine' (white) available in a 5 litre.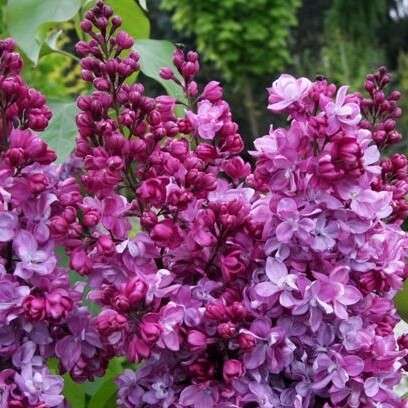 This trip down memory lane would not be complete without mentioning roses and our buyer, Louise, recalls her grandfather's garden planted with standards and our designer, Tina, used to make rosewater out of the petals (as did I, much to my grandmother's horror, when she found every flower beheaded!).  Formal rose gardens often featured old fashioned types like Albas, Damasks, Moss and Gallicas, with planting restricted to this genus.  Nowadays, roses are as popular as ever with their natural charm and elegance, but are utilised more informally in mixed garden styles, with shrub roses planted repeatedly through mixed borders, as climbers over pergolas or ramblers cascading through ancient trees – they will continue to delight generations to come and it will be our childrens' children that will be recalling these in their memories.  There are numerous shrub rose varieties in stock, please contact plantsales@nicholsonsgb.com for further information on these, and availability of other plants that may be in stock for the spring season.