Screening Trees: Options for Towns and Cities Part 2
In Part 1 of this blog last week, I looked at pleached screens in various species as an 'instant impact' solution.  In Part 2, I am focussing on standard ornamental trees for screening different parts of your garden, whether it is a boundary between neighbours to create more privacy, or to reduce noise and wind levels from adjacent roads.  You can read Part 1 here, which goes into greater detail about the benefits of planting trees in urban environments.
Standard trees have their part to play in screening and can bring diversity and informality to the garden whilst still achieving their intended purpose.  Deciduous trees provide canopy cover throughout the months of the year when you are most likely to be spending time out of doors, whether it be gardening, entertaining, home-schooling the children in the great outdoors, or relaxing with a good book.  They offer seasonality, many with blossom, fruit or berries and stunning autumn colour, to keep you entranced as spring gives way to summer, and summer to autumn.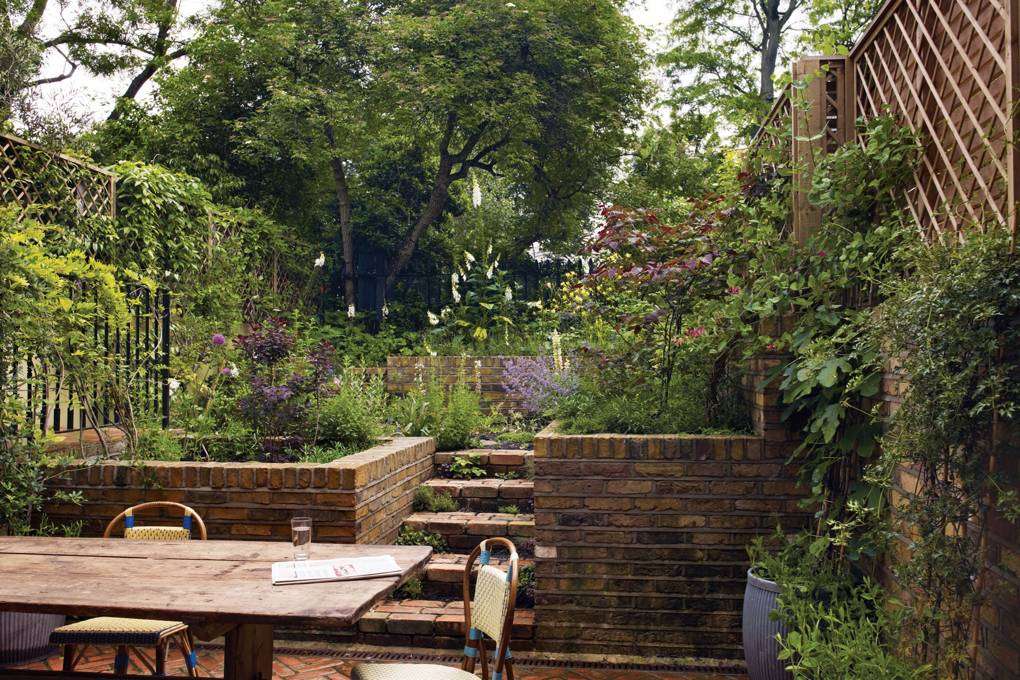 With city and town gardens varying in size, shape and aspect, I have offered some ideas which you might not have previously considered, so prepare to be inspired to create your very own oasis of calm to be enjoyed without being disturbed or overlooked.
Traditional housing plots were often built with their gardens 'end to end' and sometimes with a footpath running between, with gateways for access – a structural tree of the same species either side of this entrance would bring uniformity to the space, without compromising accessibility. Choosing an upright species with a good height in maturity would also assist to screen upper storey windows of the 'opposite' property.  Betula utilis var. jacquemontii 'Doorenbos' would be my recommendation for this purpose.
A narrow garden overlooked at the rear would benefit from a lone specimen with a good height and spread that would fill this space over time. Acer davidii 'Viper' is a stunning tree and a smart choice for urban planting as Acers are tolerant of pollution.
Planting along a left or right-hand boundary, or even both, needs careful forethought. Often an impulse buy which looked most attractive at the time of purchase, could mature to a size totally unsuitable for the space, which then requires costly pruning, or at worse removal.  Specimens with a canopy spread which might encroach on your light levels and enjoyment of the space, or even start to overhang a neighbour's garden, should be avoided.  Here I would select one of the Sorbus varieties mentioned below, such as Sorbus vilmorinii with its delicate canopy of attractive pinnate foliage and multi-seasonal interest, including being attractive to wildlife.
Planting in multiples of the same species along a boundary line or roadside will bring a sense of cohesion to the garden; the maturing canopies can be allowed to grow together and a regular pruning regime could influence and accelerate this growth. This would give a similar effect to pleached screens which were discussed last week, but with a more naturalistic appearance.  One of the most popular trees for street and city centre planting is Pyrus calleryana 'Chanticleer' and this would be my recommendation for this situation.
Below is further detail on the species mentioned above and some additional options: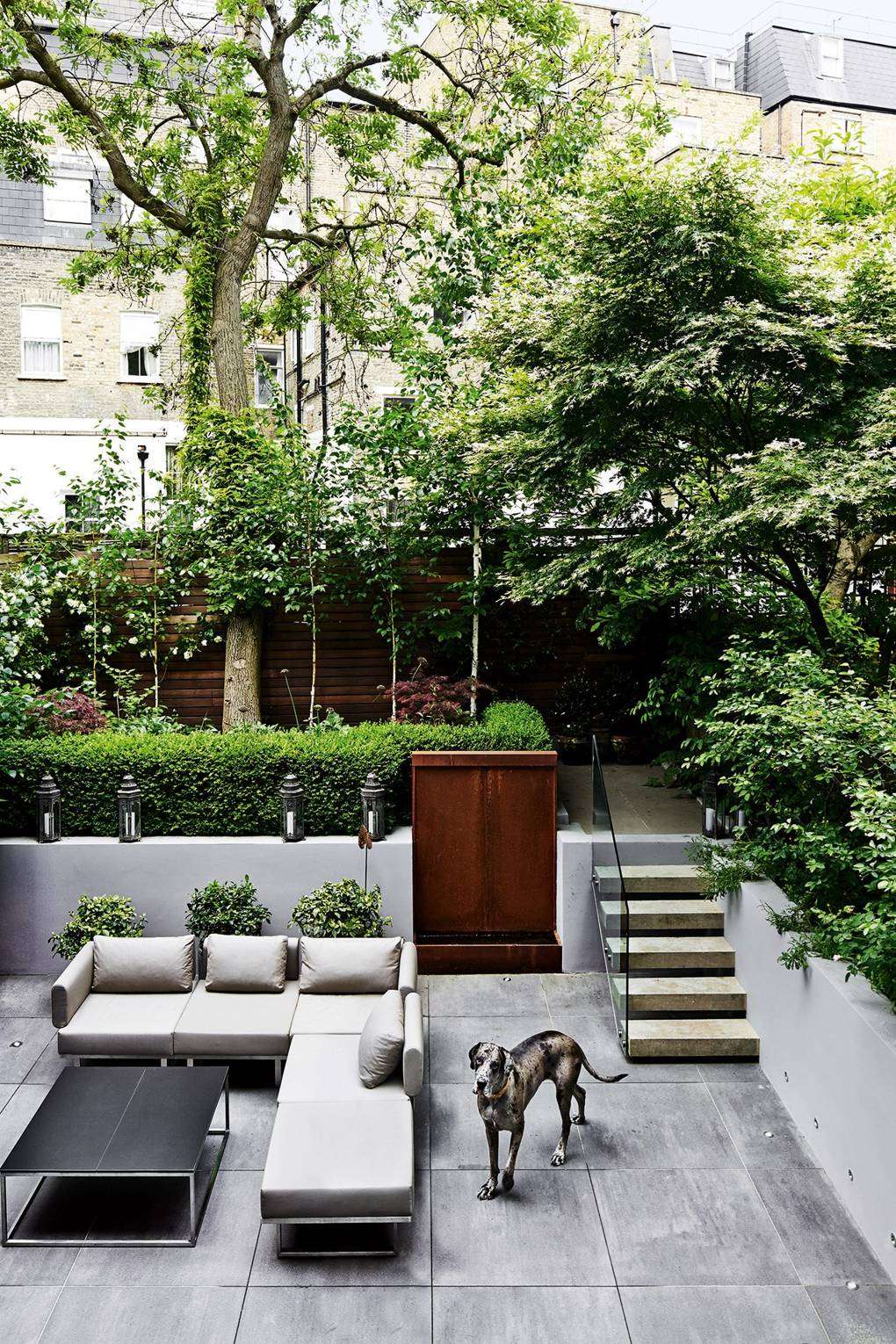 Magnolia grandiflora 'Little Gem'
An evergreen option which is a compact upright form of the popular 'Goliath' or 'Galissoniere', with the same glossy foliage, coppery brown on the underside, and white, lightly scented flowers in late summer, followed by interesting seed pods.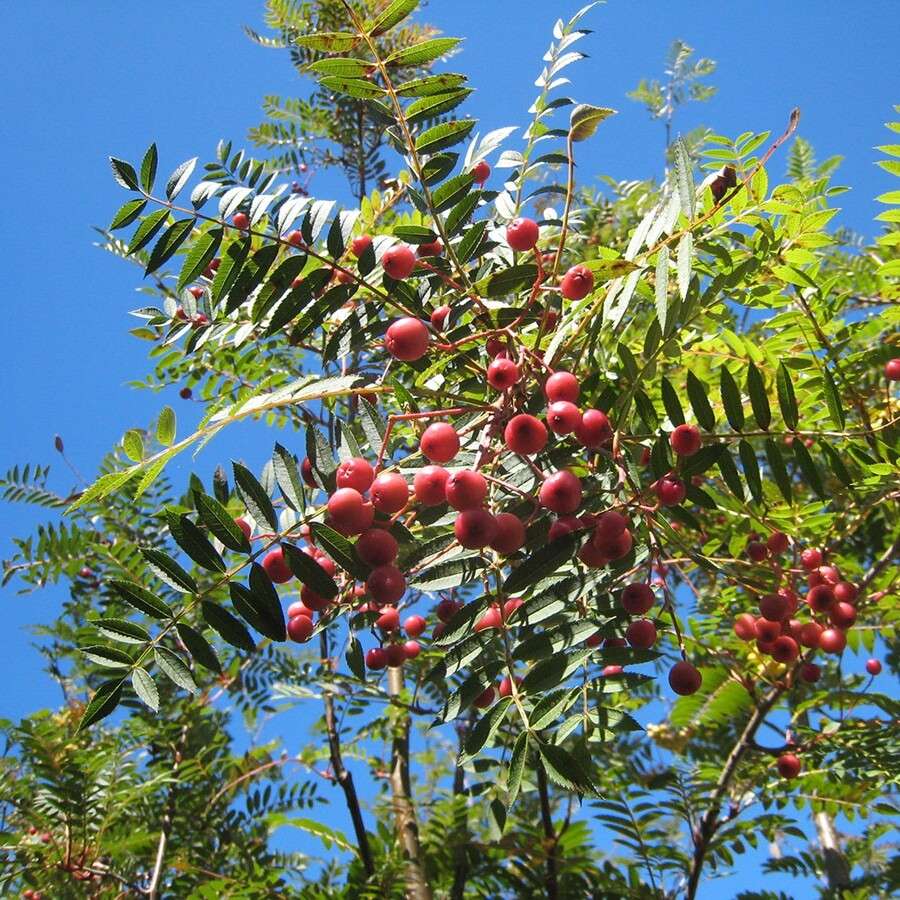 Sorbus vilmorinii (Vilmorin's Rowan)
This graceful small tree should have a home in every garden.  Attaining no more than 4-6 metres with a typical rowan vase-like upright shape, the flat heads of palest pink/cream flowers in late spring are followed by reddish pink fruit which mature to white over time; the feathery fern like foliage turns red and purple in autumn.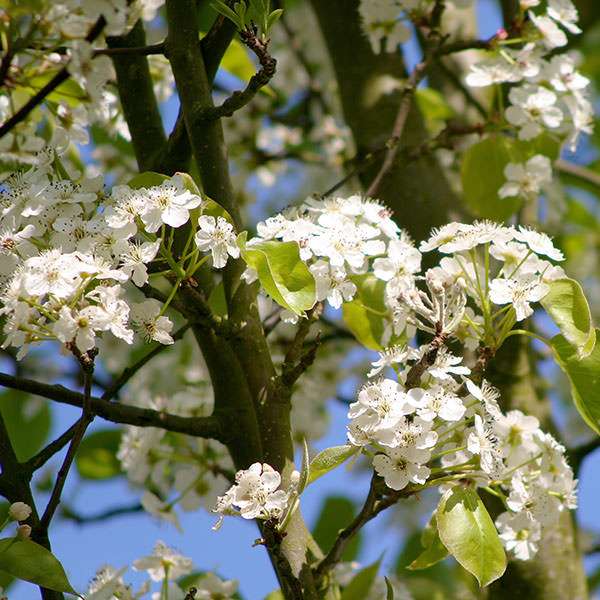 Pyrus calleryana 'Chanticleer'
The Callery pear is worthy of being a feature tree, but it is perfect for providing screening in urban gardens due to its slender, vase-shaped form and tolerance of pollution.  Producing stunning white blossom in spring, followed by small pear-like fruit (inedible) and spectacular autumn colour.  These are planted in perfect symmetry outside our Landscape Office, so be sure to admire them on your next visit to Nicholsons.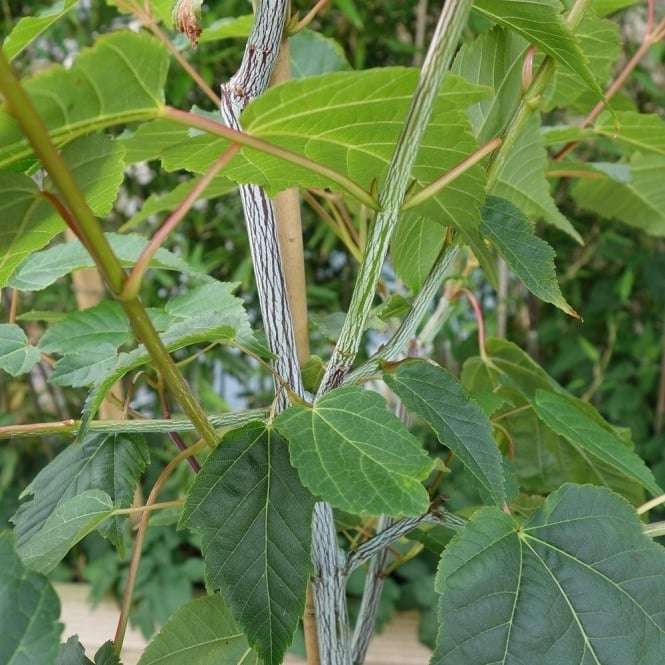 Acer davidii 'Viper'
One for the bark enthusiast, this tree has stunning green and silvery-white striated bark, contrasting well with the fresh green palmate foliage which turns fiery orange in the autumn; the small flowers mature to winged seeds (samaras) which ripen to a reddish-brown.  A good lone specimen to plant at the end of a narrow garden to obscure sight lines to a neighbouring property.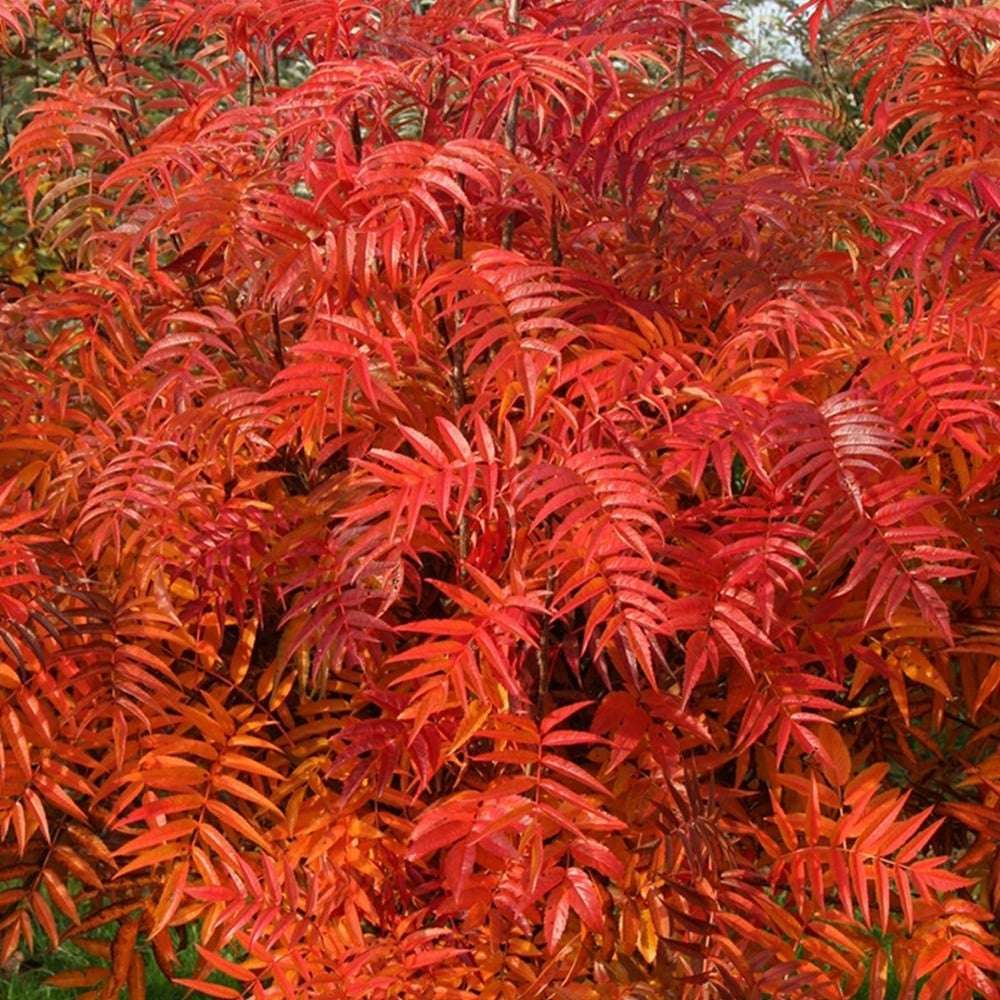 Sorbus ulleungensis 'Olympic Flame'
Named for its stunning autumn foliage, which turns vibrant red and orange, this columnar shaped Rowan matures to 6 metres with a spread of just 3, making it an excellent screening choice for city gardens, when planted as a lone specimen or in multiples. The creamy white flowers in late spring mature to shiny red berries, loved by birds as a winter treat.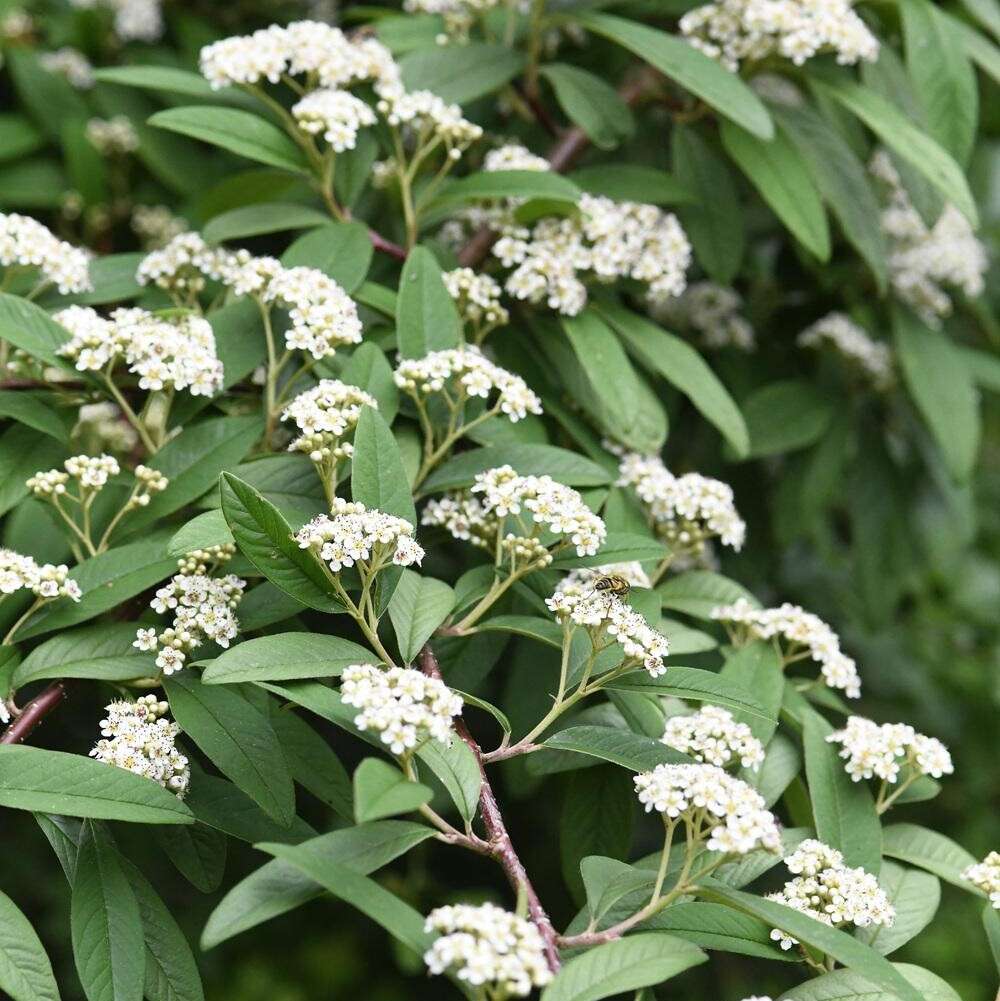 Cotoneaster frigidus 'Cornubia'
A beautiful semi-evergreen tree with graceful, arching branches, dark green elliptical foliage and creamy white flower clusters in late spring, which mature to red berries in autumn, when the foliage takes on tints of red and bronze.  A good choice for screening, due to the rounded semi-evergreen mature canopy, and for the wildlife garden, where the flowers and fruit will be appreciated by pollinating insects and birds.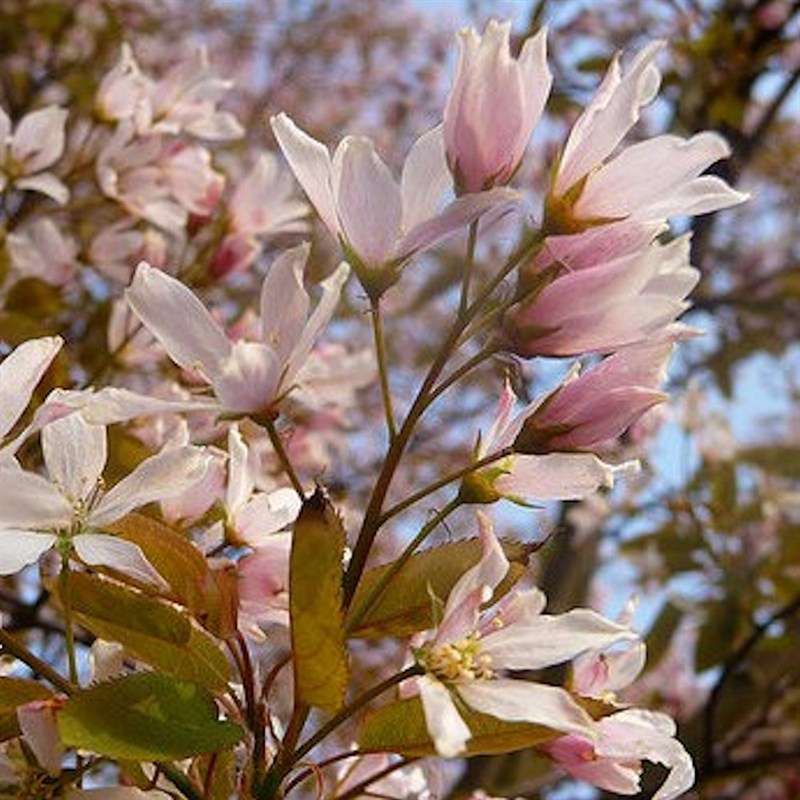 Amelanchier x grandiflora 'Robin Hill'
Amelanchier are deservedly popular for their multi-seasonal interest; Robin Hill is an excellent cultivar for the city garden due to its dense, upright habit and tolerance of pollution.  The buds open to shell pink, star-shaped flowers, which mature to white; the young bronze foliage, turns green in summer, before taking on fiery tones in the autumn.  Another excellent choice would be Amelanchier alnifolia 'Obelisk'.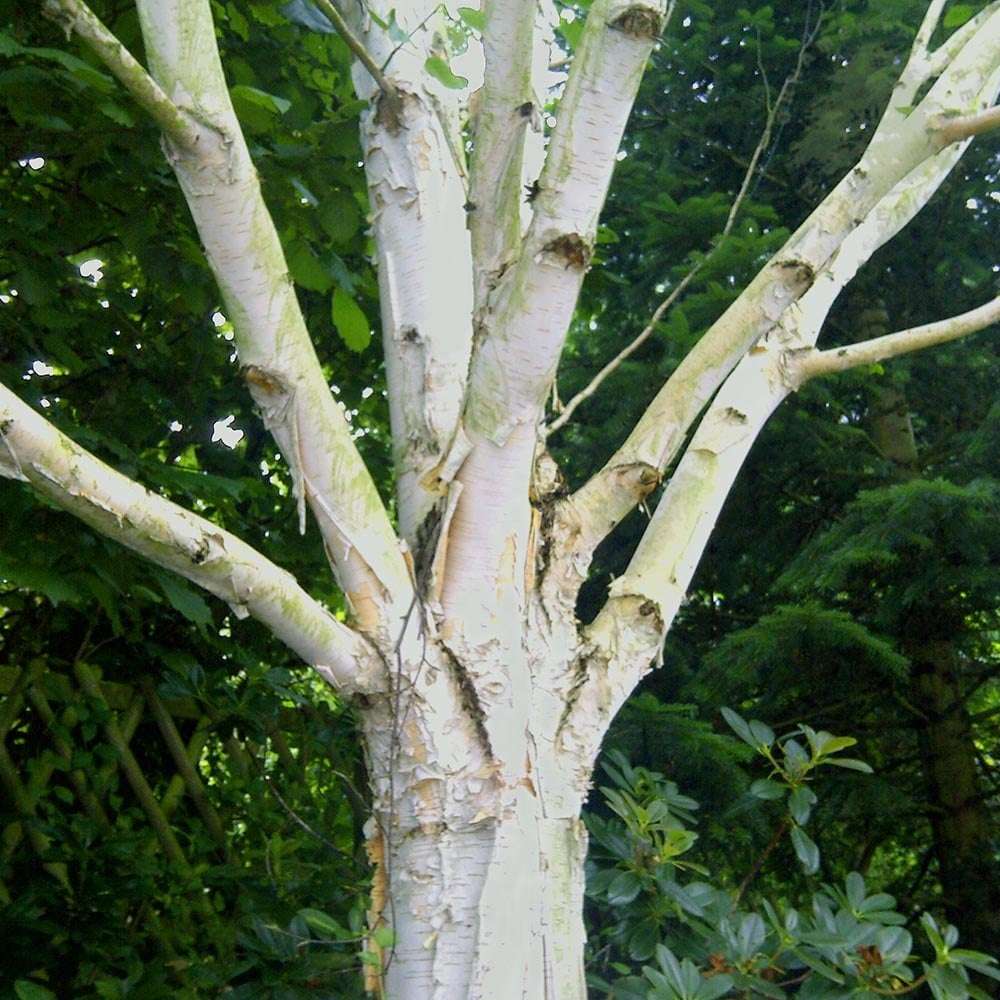 Betula utilis var. jacquemontii 'Doorenbos'
Birch would be the choice where partial screening is required, other than a dense screen of green all the year round.  My choice for this purpose would be 'Doorenbos', with its graceful form and stunning, snowy white, peeling bark.  With yellow/brown catkins in spring and golden yellow foliage in autumn to add to its attributes, this tree provides interest throughout the seasons.  White stemmed birch trees are particularly effective when planted in groups of 5 or 7, especially if you wish to break up an otherwise uninspiring 'open' space.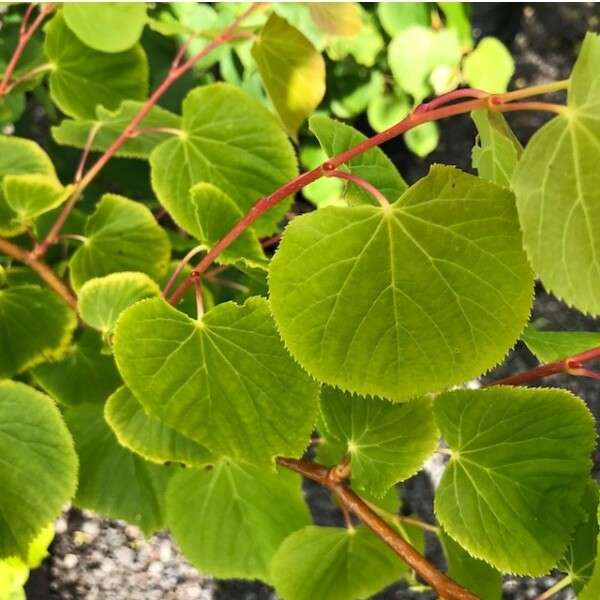 Tilia cordata 'Winter Orange'
One for consideration for the larger city garden, this small-leaved lime has striking red buds and stems, which make a real statement in the winter garden.  Small, fragrant, creamy-white flowers are produced in summer and the foliage colour in autumn is butter-yellow.
There are many other choices not in stock which could be ordered on your behalf.  Our Plant Centre is open with a full complement of expert horticulturalists on hand to assist you, Monday to Saturday, 08.30-16.30.  Alternatively, I would be happy to advise further by email at lorraine@nicholsonsgb.com. We look forward to welcoming you soon.