JOB VACANCIES
Want to become a part of the Nicholsons family? Have a look at our job vacancies below…
Job Vacancies
Nicholsons is a long-established and developing company with three successful divisions; Forestry, Landscaping, and Retail. Continued growth and new opportunities mean that Nicholsons is regularly seeking fresh recruits to join the workforce. At present, we have the following vacancies – see below.
Working hours are 7.30am to 4.30pm, Monday to Friday, unless specified. Nicholsons offers a competitive rate of pay dependent on experience and qualifications and is pro-active in providing training to aid career progression. Uniform, PPE and tools are provided, where applicable. Benefits include; a pension, 21 days holiday, plus bank holidays, pro-rata based on a 40 hour week, increasing to 26 days after 2 years' service, bonus opportunities, access to our heavily subsidised holiday cabins in Wales, Scotland and France and staff discounts on plants and in our Michelin recommended Yurt Restaurant.
If you would like to apply, please email your cv and completed Application Form to Rachel Verdon: rachel@nicholsonsgb.com.
At Nicholsons we are proud of our team – why not join us?
ESTIMATOR/ESTIMATING ASSISTANT
Location: North Aston, OX25 6HL 
We are looking for someone to join our growing team in an estimating role.
Ideally suited to someone who likes:
getting a full understanding of a project from the drawings
working systematically to build up precise cost information of all work items
analysing and advising on the carbon impact of construction methods (prior experience here not essential)
producing documentation to a high standard, for ease of understanding
working closely with design team, build teams and client in the pre-construction phase
advising on value engineering options to suit the project budget.
Industry experience helpful to understand trades and construction methods/techniques but not essential.
Salary dependant on skills and experience – get in touch with what you can offer.
This is a full time role, Monday to Friday, 7.30am to 4.30pm.  A full UK driving licence is necessary.
LANDSCAPERS
Location: North Aston, OX25 6HL 
Nicholsons are recruiting landscapers to join our sought-after teams, working on fantastic landscape projects.
We have positions to suit a range of experience, so get in touch if you:
Enjoy working outside
Would like to work as part of team
Want to work with a company known for its focus on excellence, from quality of finish to working conditions
Are keen to work on some of the most exciting and prestigious projects in our area.
Particular skill sets that are welcomed within the teams (although training is provided for the right candidates):
Stonework/brickwork
Quality paving
Machine work
Groundworks
Steel/timber fabrication
Tree/plant knowledge.
Salary dependant on skills and experience – get in touch with what you can offer.
These are full time positions Monday to Friday, 7.30am to 4.30pm. A full driving license is required.
SENIOR LANDSCAPE ARCHITECTS
Location: North Aston, OX25 6HL / Northamptonshire, NN17 5JG
Nicholsons Lockhart Garratt are a family based business looking for experienced Landscape Architects to join our developing and expanding teams in our two offices:
North Aston, Oxfordshire
Corby, Northampstonshire
The successful candidates will be energetic, ambitious and professional with a keen drive for creative design and sustainability. Work streams will encompass planning and design on a range of projects and high levels of interaction with other services from within the office including ecology, forestry and our award winning garden design team. We love what we do and we seek an engaged team player to join us.
We are always looking to work with our team to help develop their careers and skills under a shared work ethos and common values.
This position requires CMLI with at least five years' experience with full proficiency on systems such as CAD and Photoshop.
These are full time positions Monday to Friday.
Full driving license required.
SUPERVISOR – LANDSCAPING
Location: Bicester
A fantastic opportunity has arisen for a driven, positive, and highly motivated individual to join our skilled Soft Landscaping team, working to maintain a prestigious site in the Bicester area.
Experience in areas such as plant knowledge, pruning, lawn-care, site preparation, clearance work, planting, watering and machinery skills, including hedge cutters and mowers, are not vital but will be helpful for the role.  The successful applicant will also be expected to step in when the Contracts Manager is away.
This role requires an enthusiastic approach to learning new skills, dedication to producing exceptional results, ability to maintain a high standard of professionalism at all times and to work hard, energetically and effectively within a strong team.  A full clean UK Driving Licence is necessary.
Working hours are generally 7.30am to 4.30pm, Monday to Friday, 40 hours per week.
EXPERIENCED SECRETARY / PA
Location: 7-8 Melbourne House, Corbygate Business Park, Weldon, Northamptonshire, NN17 5JG
We are looking to recruit a dynamic team player to assist our Director of Consultancy and support our hugely successful team.
Applicants must have great MS Office Skills ie Word, Excel and Outlook, have a good command of English, fabulous attention to detail, excellent time management, self-motivation, a willingness to be flexible and a passion for the environment.
This role would suit a recent graduate, interested in the environment, wishing to pursue a career in administration.  The full-time position is based in Corby, Northamptonshire, and office working is essential, 40 hours per week, 08.30 until 17.30, Monday to Friday. You must hold a full UK driving licence.
SENIOR WOODLAND MANAGER
Location: 7-8 Melbourne House, Corbygate Business Park, Weldon, Northamptonshire, NN17 5JG
We are seeking an experienced Senior Woodland Manager who will play a key role in the continued development of our thriving woodland consultancy services.
The successful applicant will need to be proficient in all aspects of woodland creation and lowland woodland management.  Work will include securing new business for the division, preparation of management plans and grant applications for farms and estates, timber sales, the design and implementation of amenity tree planting schemes, often of high value, and all working to agreed budgets.  The role will incorporate the management of direct employees and contracted teams, responsibility for Health & Safety within the division and the expectation to assist with managing systems and processes used.
The ideal candidate must enjoy meeting new and existing clients to build on Nicholsons Lockhart Garratt's strong position in the market.  The role requires a self-motivated individual with excellent interpersonal skills, a practical approach and innovative thinking to respond to today's dynamic forestry industry.  Also required are a minimum of five years' relevant experience in forestry, countryside or land management, together with a degree in forestry.  However, candidates with alternative qualifications will be considered if suitably experienced.   Continual professional development is encouraged and supported through your work with us. A full clean UK driving licence is required.
The contract would be for full-time work whereby core hours are 8.30am to 5.30pm, Monday to Friday, with training where necessary.
FRONT OF HOUSE – YURT ASSISTANT
Location: North Aston, OX25 6HL
Want to work somewhere 'different' and love hospitality? How about joining our excellent Front of House team in our beautiful 40ft Yurt Café, set in the tree nursery at Nicholsons, 30 minutes north of Oxford…
The role is to look after customers, through assisting in the preparation of drinks/food, liaising with kitchen to provide smooth table service, and to keep the restaurant clean and tidy. You need a 'can do' approach, excellent spoken English and a friendly manner.  Previous experience will of course be taken into account, so do tell us about that. Barista training is desirable.
This work is for Tuesdays to Saturdays from varying hours between 8am to 5pm with very occasional evening work.
SENIOR/PRINCIPAL ECOLOGICAL CONSULTANT – Part time or full time
Location: North Aston, OX25 6HL or Weldon, Northamptonshire, NN17 5JG
As part of our continued growth we are looking for a friendly and enthusiastic Senior or Principal consultant to join our ecology team at either our North Aston or Corby offices.
This role provides the opportunity to develop your experience of providing specialist ecological input on a variety of projects whilst supporting the wider team with advice on ecological surveys, strategies and mitigation. We are increasingly working with a non-development client base and therefore, a wider understanding on environmental net gain and land management is key. You will have the opportunity to line manage other team members and be expected to assist in the delivery of training and mentorship of junior members of staff.
We offer a competitive basic salary plus an excellent benefits package of pension, training, uniform and boot allowance plus flexible working opportunities.
The role will encompass:
Providing senior support and specialist knowledge to ongoing ecological projects, including survey work, as required;
Direct management of large scale or flagship projects;
Line management of ecology team members;
Tendering and budgeting for new work; and
Assisting with the review of systems of work, templates and processes to ensure work is produced to a high standard as efficiently as possible.
The right candidate should have:
At least eight years' experience in the ecological industry;
A passion for the natural environment and sustainability with a view to providing solutions to get the best for biodiversity;
Team leadership and resource management experience;
Experience in Ecological Impact Assessments (EcIA) and a working knowledge of the planning system;
Associate or full membership of CIEEM (or meeting the criteria and willingness to apply);
Working knowledge of the DEFRA BNG Metric and the principles of Biodiversity Net Gain; and
Experience of EPS mitigation strategies and licensing.
We offer a competitive basic salary plus an excellent benefits package and flexible working opportunities. A full time role would be 40 hours per week, Monday to Friday. A full UK driving licence would be necessary.
ARBORICULTURE PROFESSIONAL SERVICES MANAGER
Location: North Aston, OX25 6HL or Corby, Northamptonshire, NN17 5JG
This position is designed for someone wishing to take a lead in the development of Nicholsons Lockhart Garratt's arboricultural services and business. This will include integration with a wider team, working closely with the directors and other members of the landscape, eco and design and forestry teams currently discharging instructions on landscaping, green infrastructure, ecological and forestry services.
Key responsibilities include:
Discharging professional instructions including managing the Arboriculture consultancy team and additional resources where needed such as sub consultants and support staff
Assisting & giving advice on a wide-range of tree related tasks, providing high levels of service to our existing & new clients & current key instructions;
Addressing issues with regards to trees on development sites through BS:5837, tree assessments, design guidance, planning support & implementation works, retain tree protection & mitigation schemes etc;
Working with the wider team at NGL in order to support development projects;
Engage with the board and senior management team in respect of business strategy, marketing and innovations for new work streams.
Tree risk management: Preparing management strategies, policies, tree surveys, recommendations for remedial works;
Trees and the law: Advising on TPOs & Conservation Areas, boundary trees & dispute resolution;
This is a day-time position, 40 hours per week, 7.30am until 4.30pm, Monday to Friday. A full clean UK drivers licence is required for the role.
GOODSIN SUPERVISOR
Location: North Aston, OX25 6HL 
We are looking for a team player to join our Central Services team based in the yard at Nicholsons / NLG as our Full Time Goodsin Supervisor. This important mainly outdoor role would suit someone who has good attention to detail, who is physically fit, self-motivated, able to work on their own as well as in a team, enjoys working in a fast-paced working environment and is able maintain a cool head under pressure.
The role would involve:
Receiving all goods into the Business, including unloading lorries, detailing and locating deliveries into the different departments of the business.
Take a lead on the Goods-In process ensuring that all goods meet consistent quality standards as per purchasing spec to all items brought into the business. For Plants this includes particular attention to pests, disease and order specification.
Following through on the paperwork side of the Goods-In process/ codes of practice. Ensuring good lines of communication with the buying and the sales team and the suppliers where necessary.
Ensuring that any internal and all returns are dealt with appropriately.
Collating orders ready for collection, ensuring customers get best quality service and plants.
Experience and helpful skills for the role would include a good plant knowledge, a keen eye for detail, experience in quality control and being an organised individual with completer finisher abilities.
Previous experience will of course be considered, so do tell us about that, especially if you have used forklift equipment or computer literacy skills. A 'can do' approach, and a friendly manner are all necessary too.
This is a day-time position, 40 hours per week, 7.30am until 4.30pm, Monday to Friday. A full clean UK drivers licence is required for the role.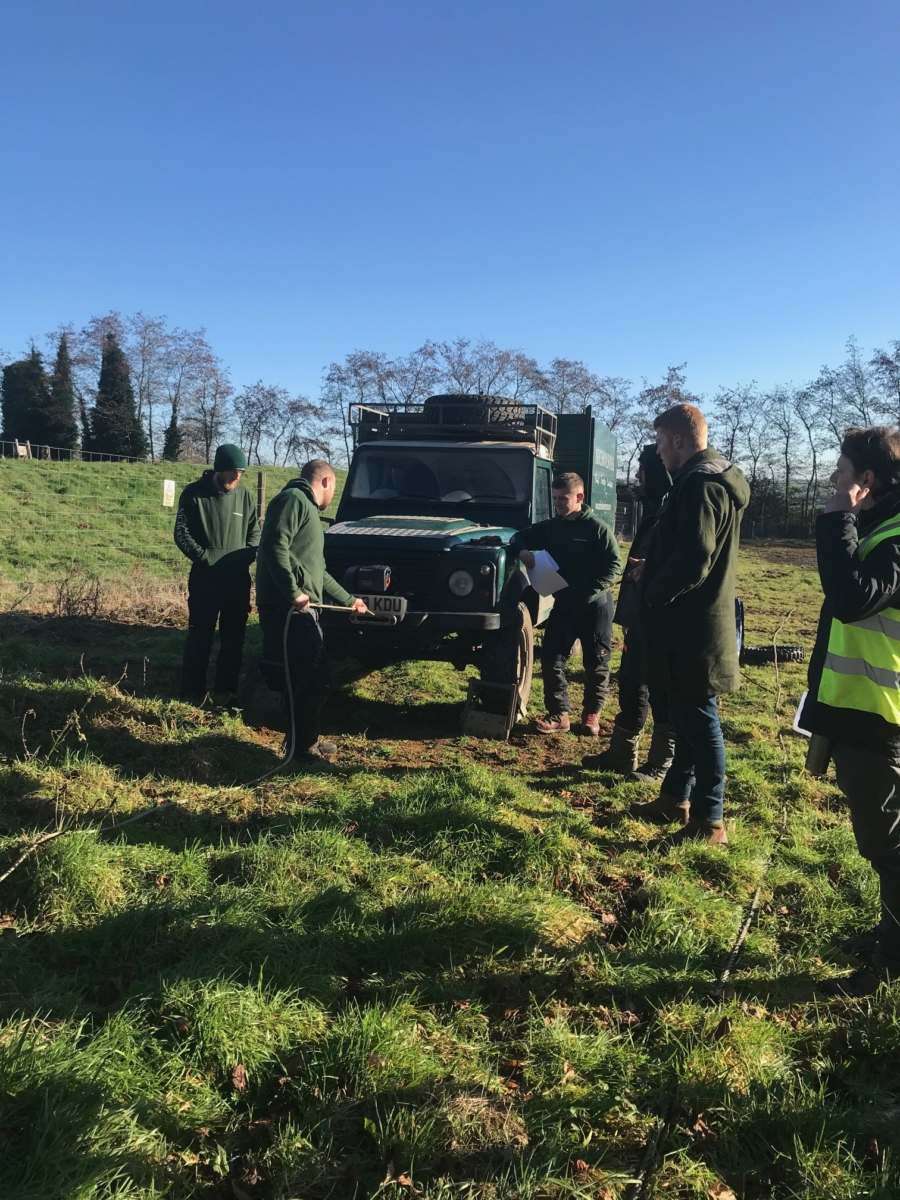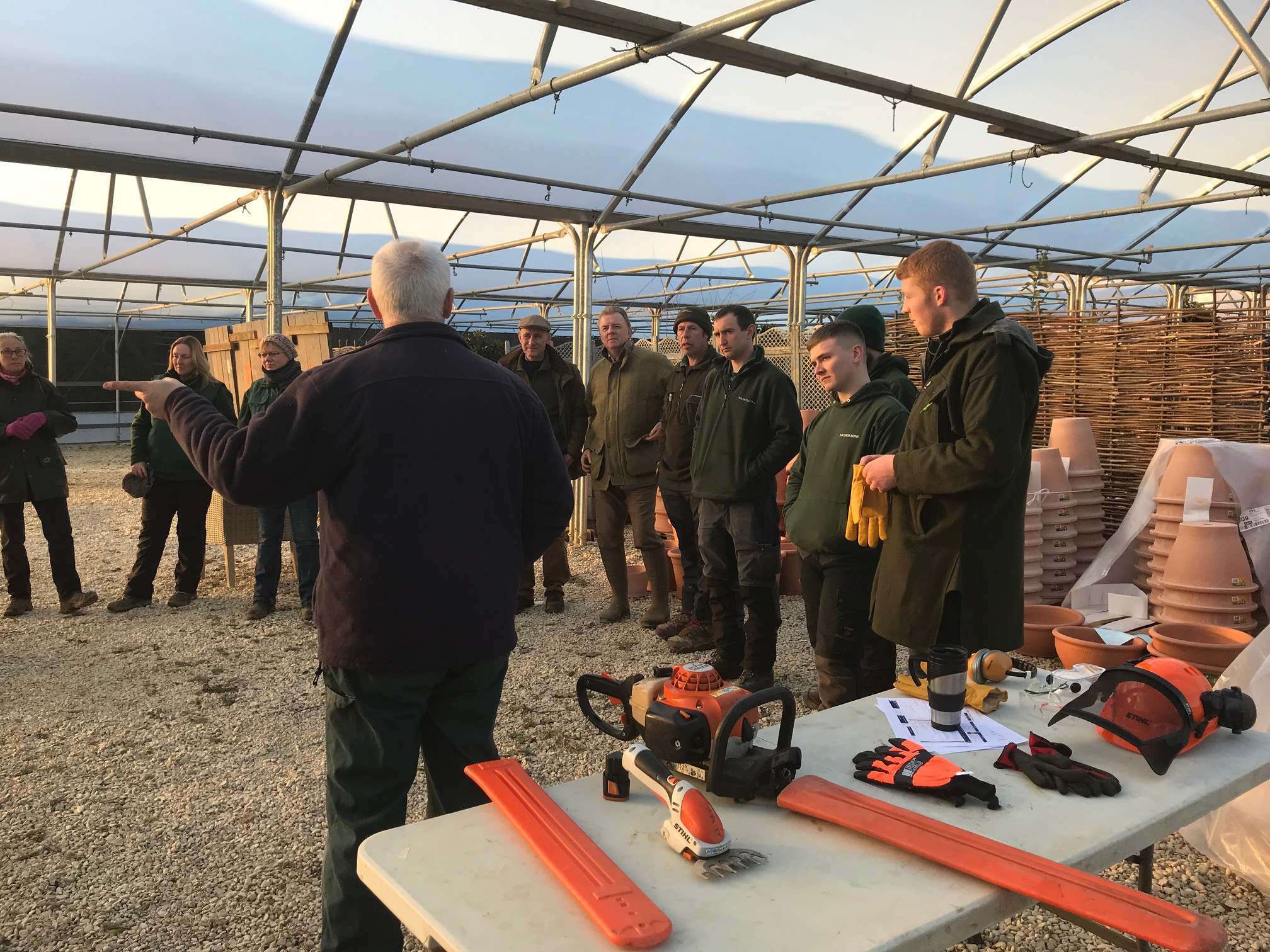 Staff Training – Jan 2019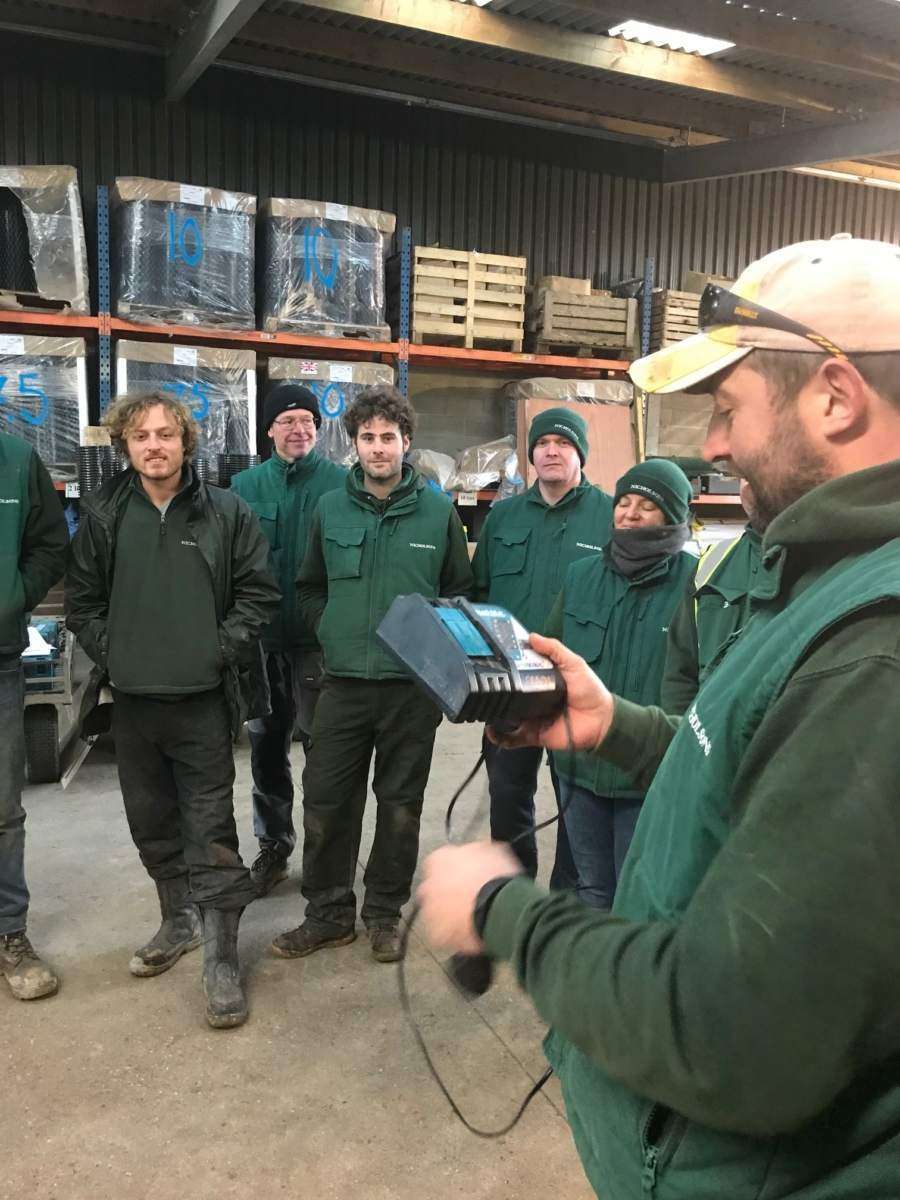 "Thrilled to bits with the end result of the Nicholson's design and execution, do please extend my gratitude to all concerned.

 Steve is a gifted leader. Skilled and hard-working himself, he set a measured pace for the job, while training all of us  meanwhile. Thank you for letting him come here.

Kind regards, R"