JOB VACANCIES
Want to become a part of the Nicholsons family? Have a look at our job vacancies below…
Job Vacancies
Nicholsons is a long-established and developing company with three successful divisions; Forestry, Landscaping, and Retail. Continued growth and new opportunities mean that Nicholsons is regularly seeking fresh recruits to join the workforce. At present, we have the following vacancies – see below.
Working hours are 7.30am to 4.30pm, Monday to Friday, unless specified. Nicholsons offers a competitive rate of pay dependent on experience and qualifications and is pro-active in providing training to aid career progression. Uniform, PPE and tools are provided, where applicable. Benefits include; a pension, 21 days holiday, plus bank holidays, pro-rata based on a 40 hour week, increasing to 26 days after 2 years' service, access to our holiday cabins in Wales, Scotland and France and staff discounts on plants and in our Yurt Restaurant.
If you would like to apply, please email your cv and completed Application Form to Rachel Verdon: rachel@nicholsonsgb.com.
At Nicholsons we are proud of our team – why not join us?
ASSISTANT ENVIRONMENTAL CONSULTANT
Location: North Aston, OX25 6HL / Northamptonshire, NN17 5JG
Summary
This multi-disciplinary role reflects the breadth of instructions which NLG receives, from private landowners in forestry / farming to developers / planning consultants in environmental planning.  It requires a practically minded environmental professional who can look at the client objectives, design and cost a targeted field survey, gather the information efficiently and produce concise reports within existing templates.  The consultant will need to liaise with clients as landowners and work around their business constraints to deliver a good economic outcome.
A sound understanding of the site, objectives and good practice will be required to negotiate with stakeholders including the FC, EA, DEFRA and local authorities.  NLG staff pride themselves on their ability to design, plan, cost and deliver woodland and habitat creation, understanding the link between design specification with implementation cost.  The candidate would be able to take advice from within the NLG team which also includes the disciplines of Ecology, Arboriculture and Landscaping.  The role is based mainly in the Midlands with 1-2 days per week on site but with travel every 4-6 weeks to a more distant site up to 100-150 miles away.
 Experience Required
Soil Survey – from academic study or consultancy experience
Land management tasks (practical and where possible supervisory / economic understanding) – e.g. from farming, forestry and horticulture.
Qualifications Required
Good Degree or MSc in: Environmental Science, Forestry, Agriculture, Rural & Environmental Land Management, Land Restoration, Geography & Economics
With a desire to work towards professional membership in the medium term of BSSS, MICFor or IAgrE. Would suit graduate with consultancy or sandwich year experience in these industries
Key Skills
Enthusiasm for field survey
ARCGIS mapping
Control of personal time management
Negotiation
For further information on this role click HERE
LANDSCAPE ARCHITECTS 
Location: North Aston, OX25 6HL / Northamptonshire, NN17 5JG
We are looking for talented Landscape Architects to join our growing teams in both of our Oxfordshire and Northamptonshire offices.  The succesful candidates will join our well-established team of Landscape Architects and Garden Designers.
In this role consultants will work alongside Ecologists, Arboriculturists and Site Operatives to deliver a high quality, holistic service.  You will working on a variety of schemes, ranging from small-scale residential development through to large-scale urban extensions, commercial, leisure and industrial developments.
Further information on this role and details on how to be apply can be downloaded here.
FRONT OF HOUSE – YURT ASSISTANT
Location: North Aston, OX25 6HL
Want to work somewhere 'different' and love hospitality? How about joining our excellent Front of House team in our beautiful 40ft Yurt Café, set in the tree nursery at Nicholsons, 30 minutes north of Oxford…
The role is to look after customers, through assisting in the preparation of drinks/food, liaising with kitchen to provide smooth table service, and to keep the restaurant clean and tidy. You need a 'can do' approach, excellent spoken English and a friendly manner.  Previous experience will of course be taken into account, so do tell us about that. Barista training is desirable.
This is for Saturday work and occasional mid-week during holiday periods.
EXPERIENCED GARDENER
Location: North Aston, Oxfordshire, UK
We are seeking an experienced gardener (at least one year working in a garden) to join our professional team. Applicants should be self-motivated and capable of hard physical work with an excellent knowledge of gardening practices and plants as you will be responsible for all aspects of the garden.  You will often be working independently within our clients' gardens.  Applicants must be enthusiastic, able to communicate well and have a good client interface.  A full, clean driving licence is required and a trailer licence would be beneficial.
This position is ideally full-time, Monday to Friday 7.30am to 4.30pm.
FORESTRY MANAGER
Location: North Aston, Oxfordshire, UK
We are seeking an experienced Forestry Manager who will play a key role in the continued development of our successful forestry business, working within our team of Foresters and Arborists in this full-time position.
The successful applicant will need to be proficient in all aspects of woodland creation and lowland broadleaved woodland management.  Work will include preparation of management plans and grant applications for farms and estates, timber sales and the design and implementation of amenity tree planting schemes, often of high value.  The role will incorporate the management of direct employees and contracted teams.
The ideal candidate must enjoy meeting new and existing clients in order to build on Nicholsons Lockhart Garratt strong position in the market.  The role requires an individual with a practical approach with innovative thinking to respond to today's dynamic forestry industry, self-motivation and excellent interpersonal skills. Also required are a minimum of two years' relevant experience, ie in forestry, countryside or land management together with a degree in forestry.  However, candidates with alternative qualifications will be considered if suitably experienced.  A full clean UK driving licence is required and a towing licence would be a bonus.
The contract would be for full-time work: 7.30am to 4.30pm Monday to Friday with training where necessary.
SKILLED HARD LANDSCAPERS
Location: North Aston, Oxfordshire, UK
Nicholsons are looking to recruit skilled hard landscapers to join our successful teams building some of the most beautiful gardens in the country.  If career progression through training and opportunities inspires you, then come and join us.
For this role, applicants need to have proven experience in all aspects of landscaping as well as being highly motivated and willing to do hard physical work.   Key requirements include:
·         a good knowledge of working with a range of materials with a desire to keep learning
·         ability to read and interpret scale drawings
·         keeping a commercial overview at all stages of each build.
Other key skills include dedication to producing exceptional results, maintaining a high standard of professionalism at all times and to work hard, energetically and effectively in challenging physical environments, outdoors in all weathers.  A polite manner is also required for dealing with customers and work colleagues.  A full UK driving licence is necessary.
In return, we look to up-skill where necessary, making sure you have the level of tickets needed to perform your duties and help you progress your career where we can.
At Nicholsons, we are proud of our team – why not join us?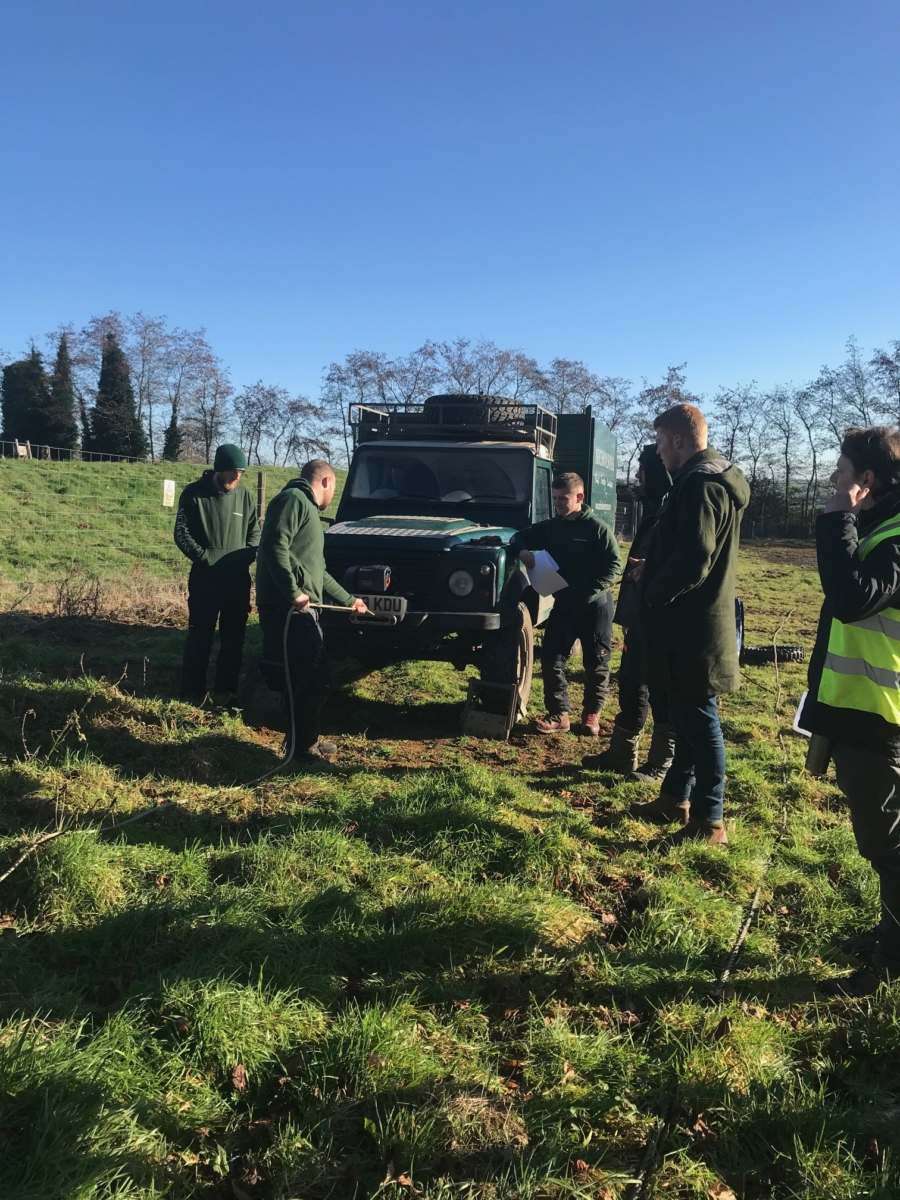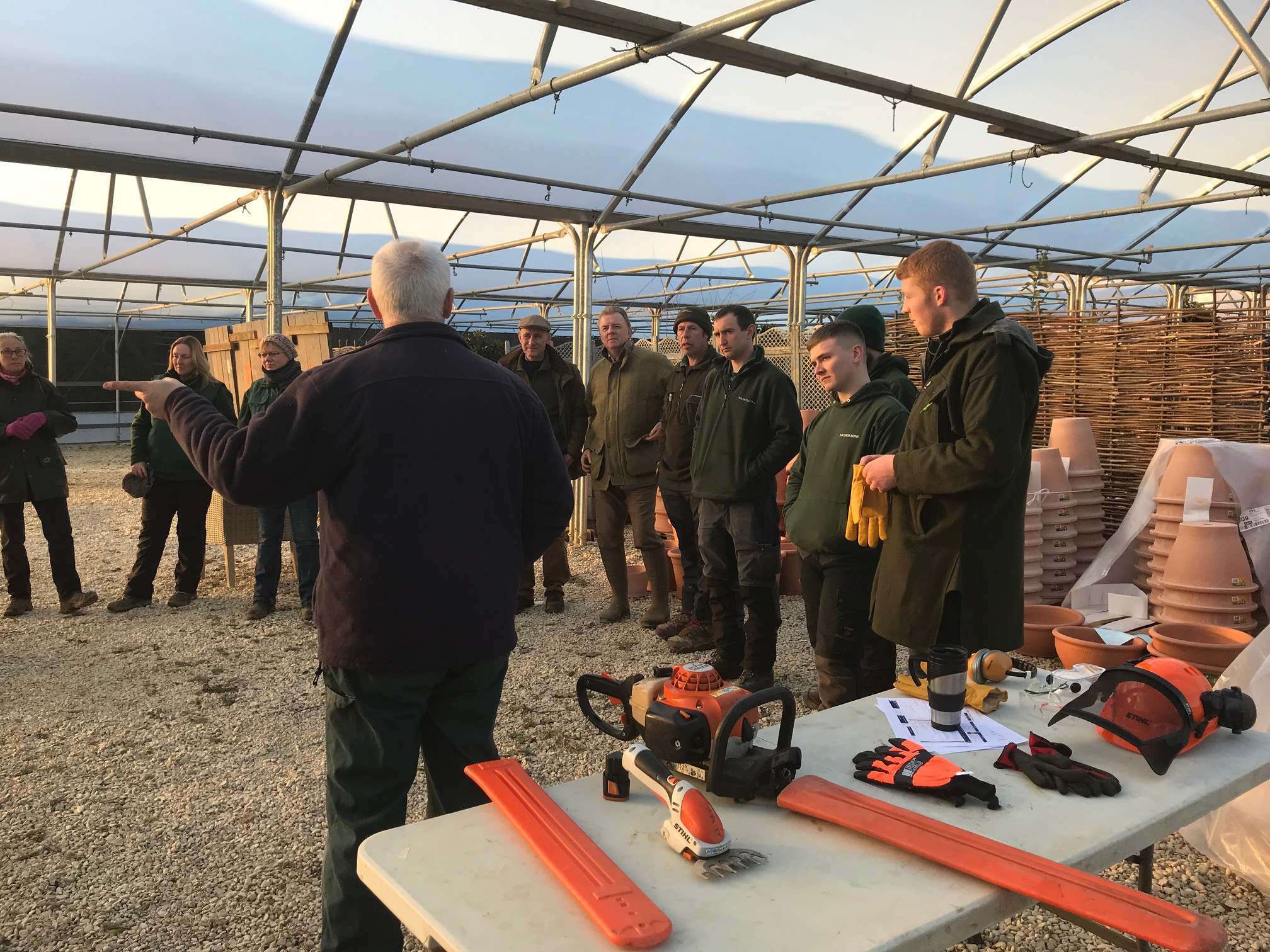 Staff Training – Jan 2019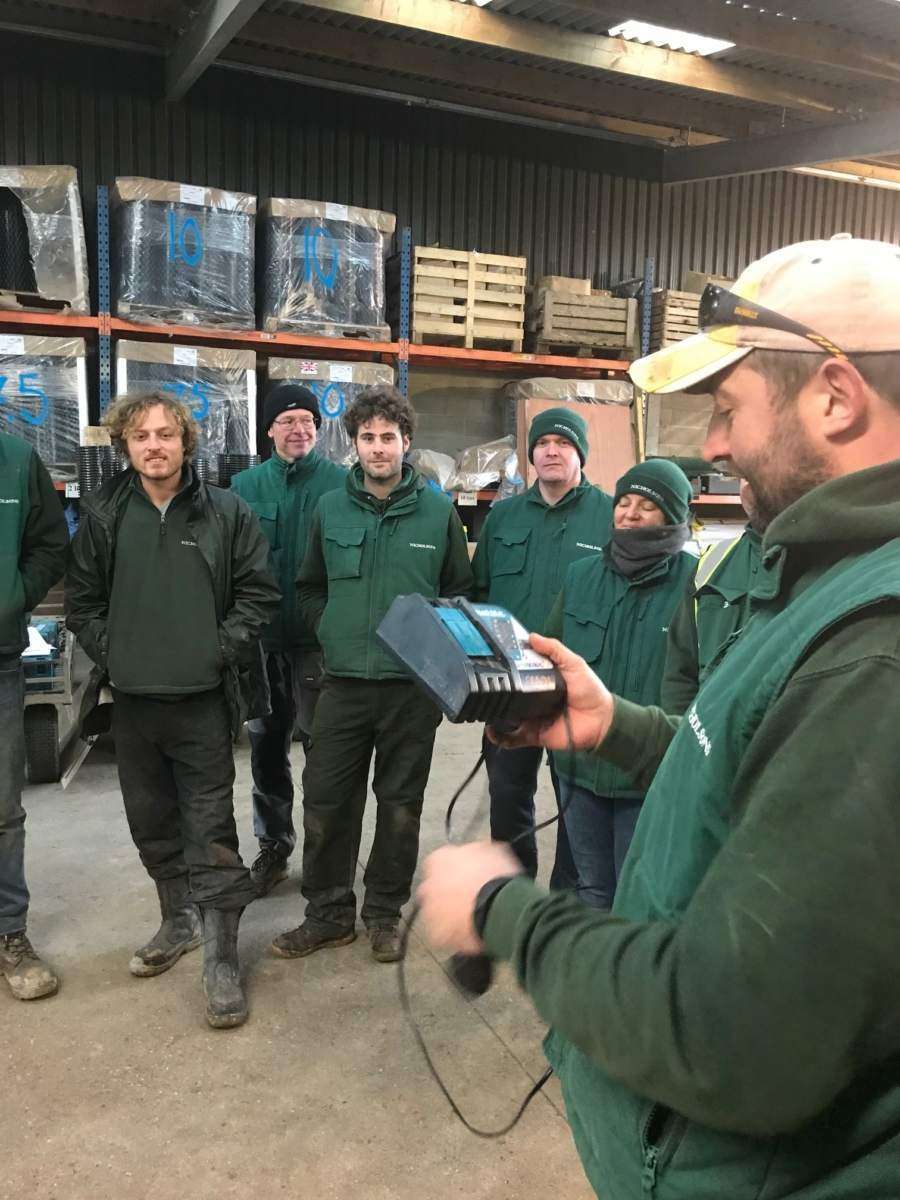 "Thrilled to bits with the end result of the Nicholson's design and execution, do please extend my gratitude to all concerned.

 Steve is a gifted leader. Skilled and hard-working himself, he set a measured pace for the job, while training all of us  meanwhile. Thank you for letting him come here.

Kind regards, R"