New Season Ornamental Trees Part 1
The new planting season is fast approaching and our home-grown ornamental trees, pleached screens and hedging crops are slowly being released for sale to be planted in your gardens.  This week, the spotlight is on the many stunning varieties of ornamental trees currently growing on our Nursery and looking superb in their full summer finery.  These are available for you to reserve now to be collected or delivered from September, so plan a visit soon, before they are all spoken for and awaiting the move to their lovely new homes.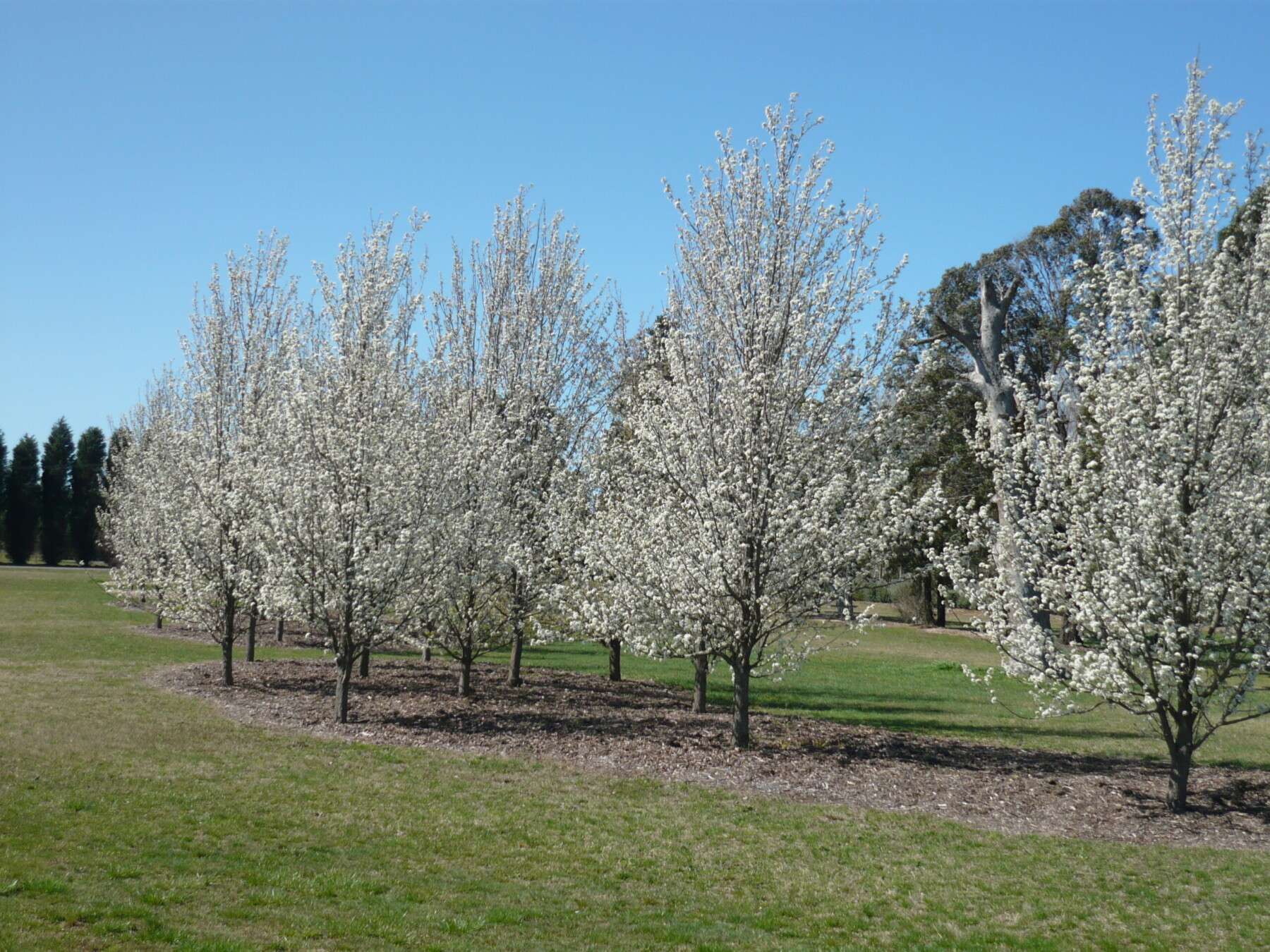 With so many features extending interest through the seasons, your preference might be a cascade of spring blossom from a Cherry or Crab Apple, fiery autumn foliage offset by colourful berries from a Rowan, striking white bark from a Himalayan Birch, or simply a silhouette of branches to create a winter backdrop against the setting sun.
If you find it impossible to choose or would like further information on what might best suit your garden conditions, an appointment can be arranged to discuss your requirements; we would then make appropriate recommendations on enriching your garden space by planting more trees.  Contact lorraine@nicholsonsgb.com or libby@nicholsonsgb.com and attach photographs so that we can prepare ideas in advance of your visit.
My tree choices for this week follow; next week I will detail a further selection from our extensive range.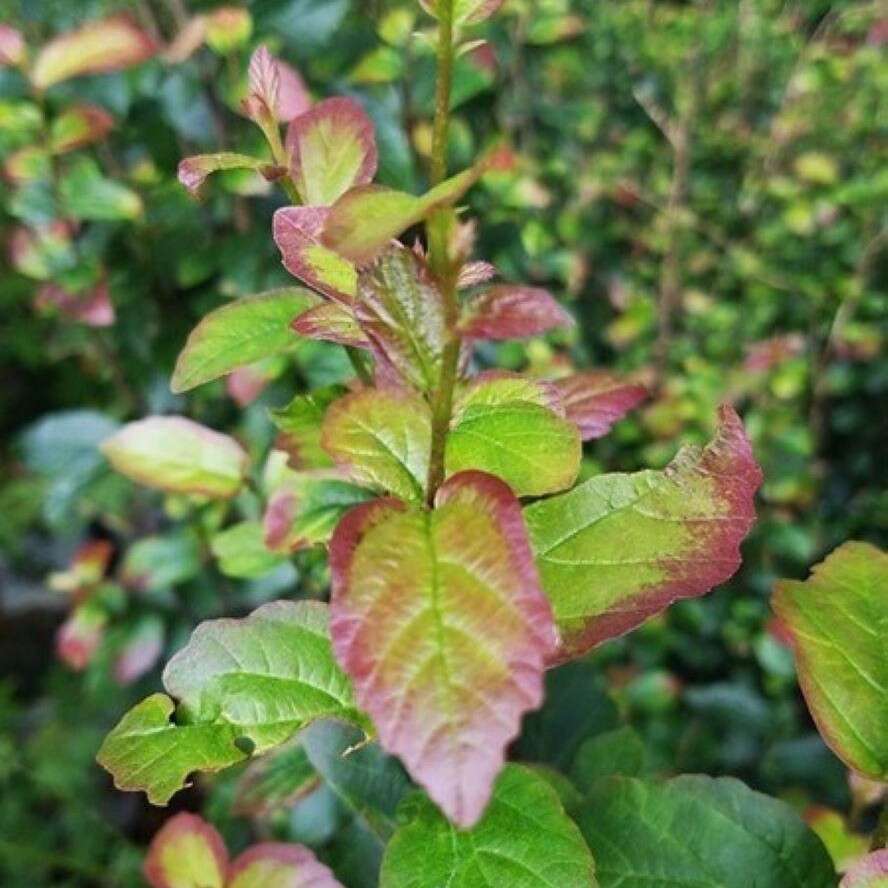 Parrotia persica 'Persian Spire'
Characterised by its narrow, upright growth, this cultivar of the Persian Ironwood can now be admired for all its' colourful seasonal glory in smaller gardens.  The young spring foliage emerges purple, matures to green while maintaining an unusual purple margin, then an explosion of yellow, red and orange hues in the Autumn continue this rainbow kaleidoscope.  Attaining just 3 metres by 1 metre, it prefers moist soil in sun or partial shade – the perfect choice for those with limited garden space.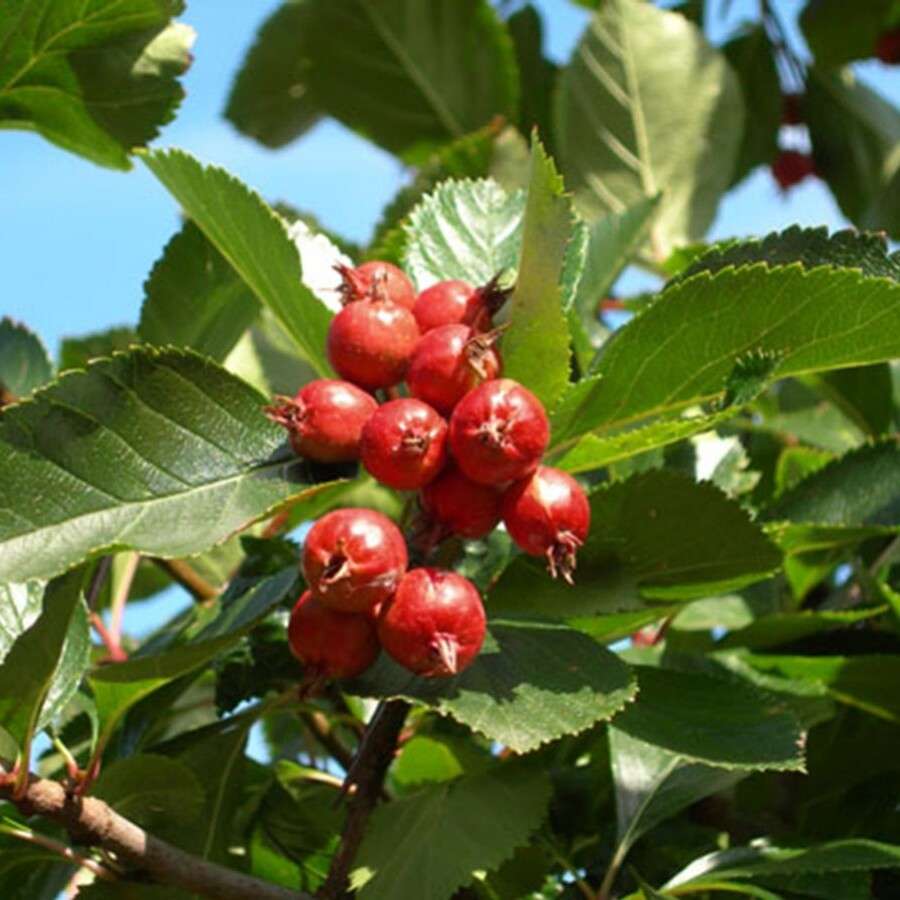 Crataegus persimilis 'Prunifolia Splendens'
A cultivar of our native Hawthorn, the Broad-Leaved Cockspur Thorn is very hardy and will tolerate a wide range of growing conditions. The dark green foliage is offset in spring by clusters of fragrant white flowers, attracting bees and butterflies, turning brilliant shades of red and gold in the autumn, when the shiny red berries draw birds into the garden. With a natural dome shaped crown, attaining 5-6 metres in maturity, this tree is an excellent multi seasonal choice for the wildlife garden. Other Hawthorns available include the ever popular 'Paul's Scarlet' (deep pinky-red), 'Rosea Flore Pleno' (mid pink) and 'Crimson Cloud' with its striking white-eyed, deep pink blossom.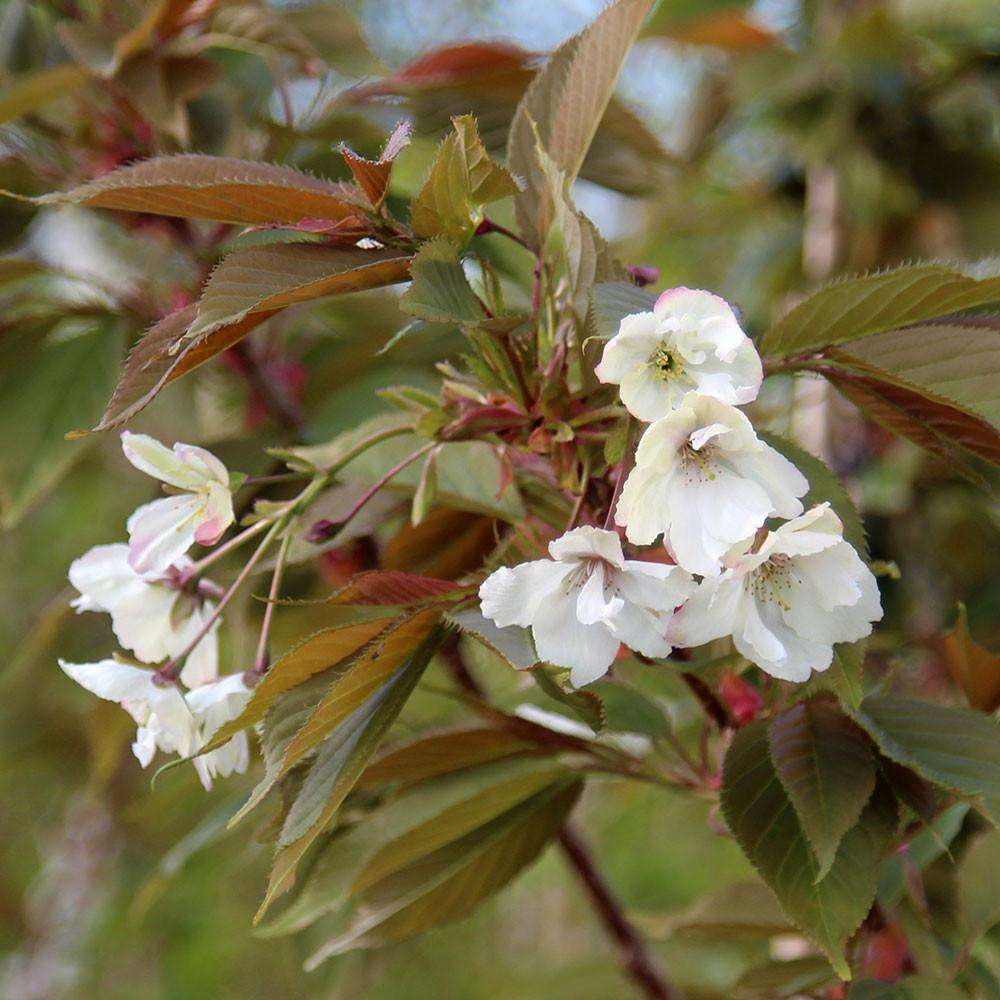 Prunus 'Ukon'
For those seeking something a little different from the candy pink of some Prunus species, this flowering cherry boasts unusual double flowers of creamy white, with a subtle tint of yellow and sometimes pink, in late April.  The foliage does not disappoint either emerging reddish-bronze, simultaneously with the blossom, before turning mid-green, with dark red tones in autumn.  It is a vigorous grower, so ensure it has the space for its eventual size of 6 x 4 metres and plant where it can show off its attributes to full advantage.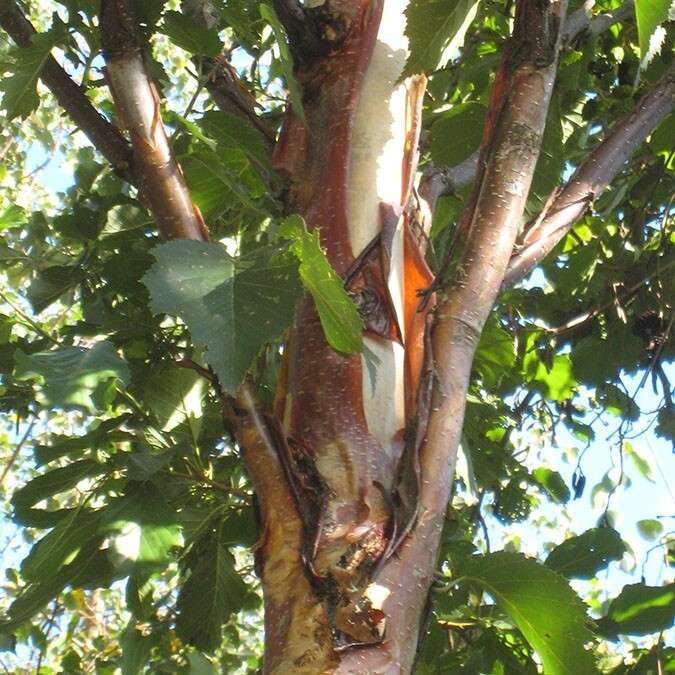 Betula albosinensis 'Fascination'
I have featured the Chinese Red Birch as an alternative to the ever popular Betula utilis var. 'Jacquemontii' as it deserves to be more widely appreciated. A medium sized birch of pyramidal form, the deep orange bark peels to reveal myriad shades of pale pink to white. The yellow-brown catkins appear in spring when the dark green foliage unfurls; the leaves are larger than found on other Betula forms, but still adopt the typical buttery yellow in autumn. A useful specimen for planting against a darker backdrop where its features can be best admired.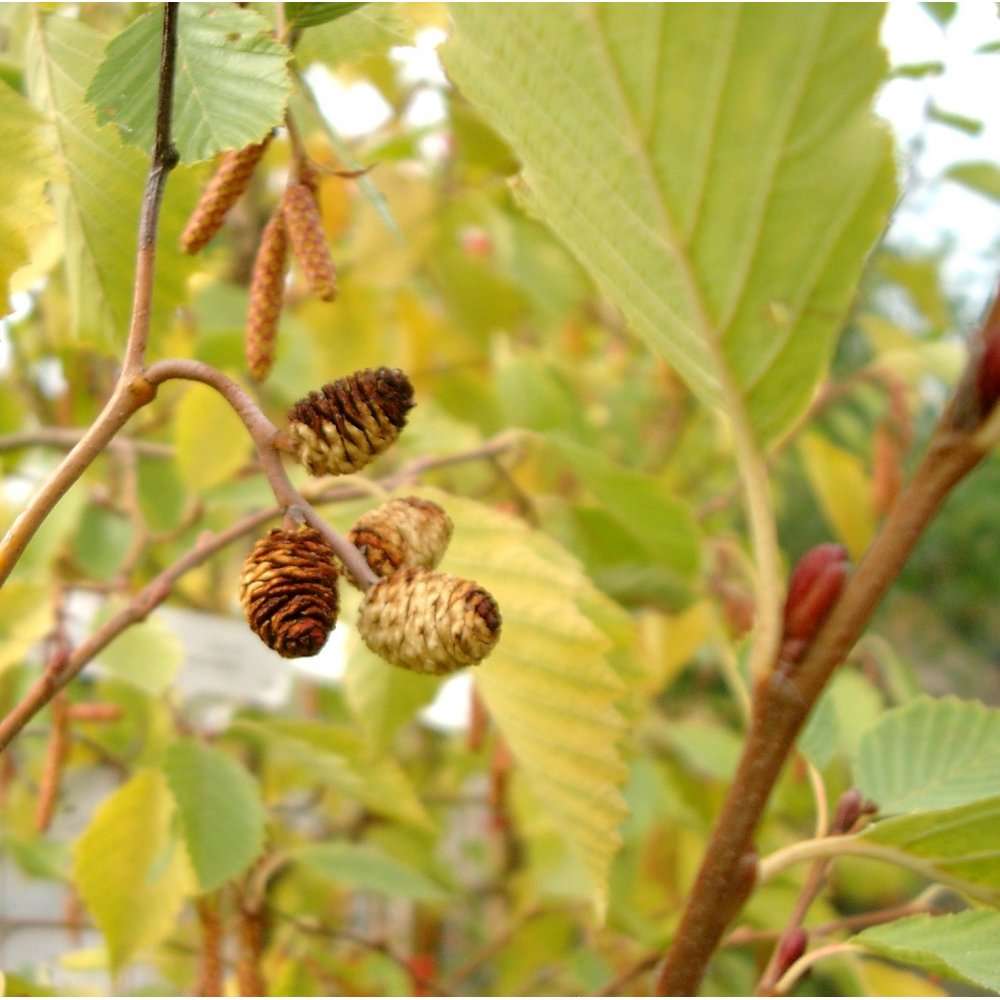 Alnus incana 'Aurea'
The Golden Alder is another superb tree with many seasonal attributes; the bark and branches have an orange glow against which the pink summer catkins provide a striking contrast; bright golden-green foliage and small cone like fruits add to its charms.  Slower growing than the Grey Alder and smaller in stature, it will light up a shady corner if given moist conditions, such as a pond or lake side planting, and will also tolerate poor soils.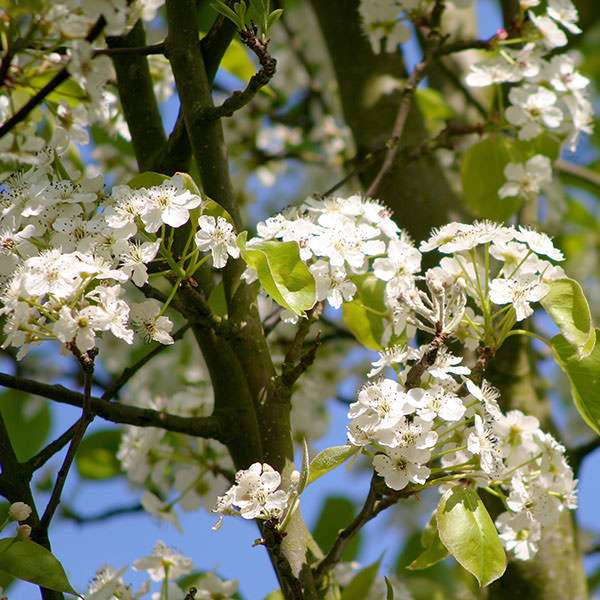 Pyrus calleryana 'Chanticleer'
The Callery pear is worthy of being a feature tree, but it is perfect for providing screening in urban gardens due to its slender, vase shaped form and tolerance of pollution. It is named after Joseph Callery, a French missionary, who discovered this tree in China in 1858. Attaining just 5 metres in maturity, it produces stunning white blossom in April-May, followed by small pear-like (inedible) fruit and spectacular autumn colour of vivid red. These ornamental pears are planted in perfect symmetry outside our Landscape Offices, so be sure to admire them on your next visit to Nicholsons, to see what could be achieved as a screening boundary in a city centre garden.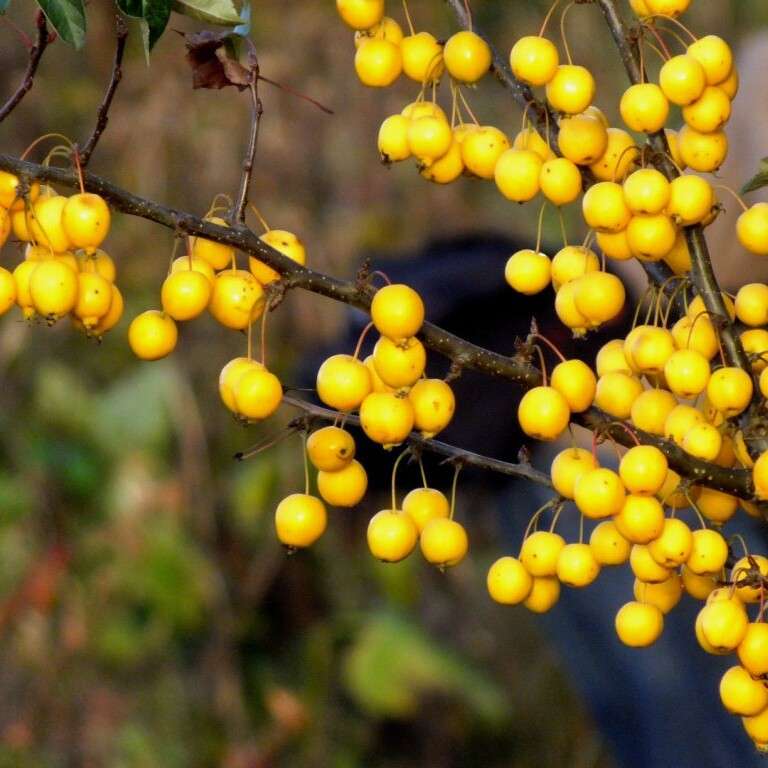 Malus transitoria
The cut-leaf crab apple is a favourite of mine and deserves to be more widely grown; this graceful tree differs from the genus in that the foliage is narrowly lobed.  With a profusion of white star-shaped flowers in spring, these mature to hanging clusters of small yellow berries, which persist long after the stunning autumn foliage has fallen, bedecking the tree like frosted Christmas decorations; these will eventually be enjoyed by only very hungry birds, which will devour all the other coloured berries in your garden, leaving the yellow, the least attractive, to the last!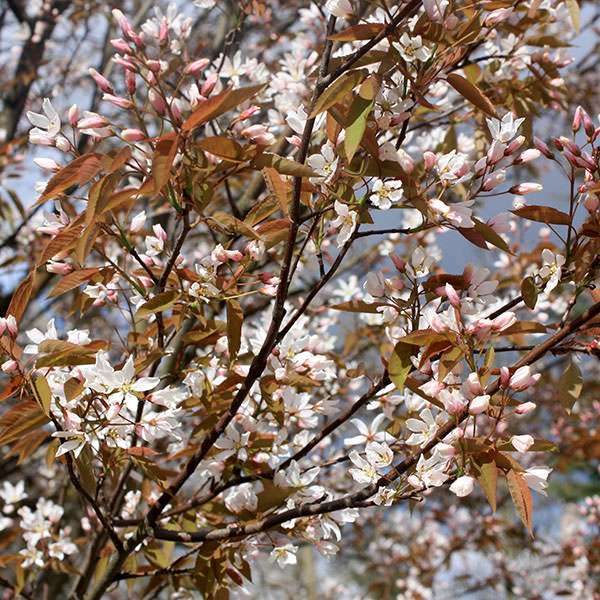 Amelanchier x grandiflora 'Robin Hill'
Amelanchiers are deservedly popular for their multi-seasonal interest; 'Robin Hill' is an excellent cultivar for the urban garden due to its dense, upright habit and tolerance of pollution.  The buds open to shell pink, star shaped flowers, which fade to white; the young bronze foliage turns green in summer, when the deep purple edible fruits also appear, before taking on fiery tones in the autumn.  Other available choices are Amelanchier laevis 'Snowflakes' and Amelanchier x grandiflora 'Ballerina'.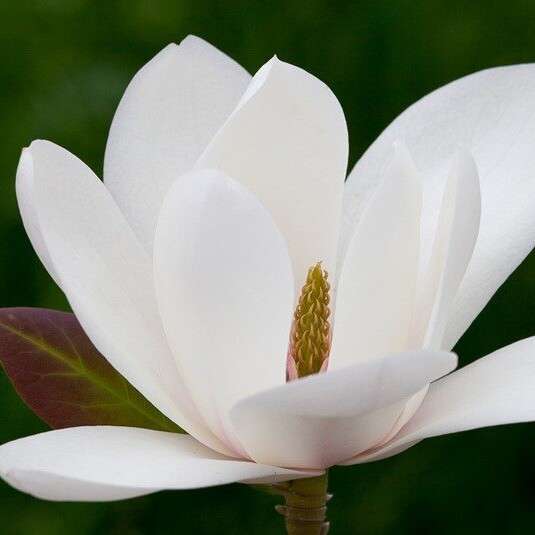 Magnolia 'Joli Pom Pom'
This compact Magnolia cultivar, with its delightful name, can boast one of the purest white of any in the genus, the pink coloured stamens and pale green anthers nestling within the tulip shaped blooms, providing a delightful contrast. Blooming in April, it will require a sheltered garden position to protect the flower buds from spring frosts.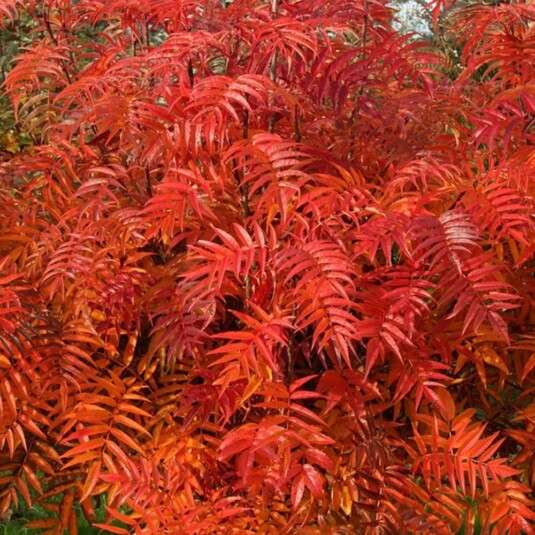 Sorbus ulleungensis 'Olympic Flame'
Aptly named for its stunning autumn foliage, which turns vibrant red and orange, this columnar shaped Rowan matures to 6 metres with a spread of just 3, making it another excellent screening choice for gardens, either when planted as a lone specimen or in multiples. The creamy white flowers in late spring mature to bright red berries, loved by birds as a winter treat.
Why not enhance your enjoyment of all Nicholsons has to offer by booking a table at our Yurt Restaurant for breakfast, lunch, or afternoon tea to sample the culinary delights created by our chef, Enrico? Contact theyurt@nicholsonsgb.com
We look forward to welcoming you to Nicholsons Plants very soon.
Sourcing from responsible U.K. growers has never been more important and we are proud to have met the requirements of the Plant Healthy Management Standard; this certification, together with achieving 100% peat free status in our home-grown crops, allows us to focus our energy on a greener future.