My Favourite Palette for a Terrace Herbaceous Border
By Ruby Simpson
The key to a successful plant palette – one that delivers interest in all seasons but has high impact in the summer, when you will be spending most time in the garden – is planning. If you buy one or two plants each time you pop to the local garden centre without any idea of what you are aiming for, it will be much harder to achieve a cohesive scheme that you will end up loving.
I always find it's best to start with establishing a colour palette that excites you. A consistent favourite of mine is deep purples, dark pinks and rusty oranges. Once you have chosen a colour scheme, start with selecting your evergreen plants to create some structure – these are the plants that will still be performing in the middle of winter and into the early spring before everything else wakes up again!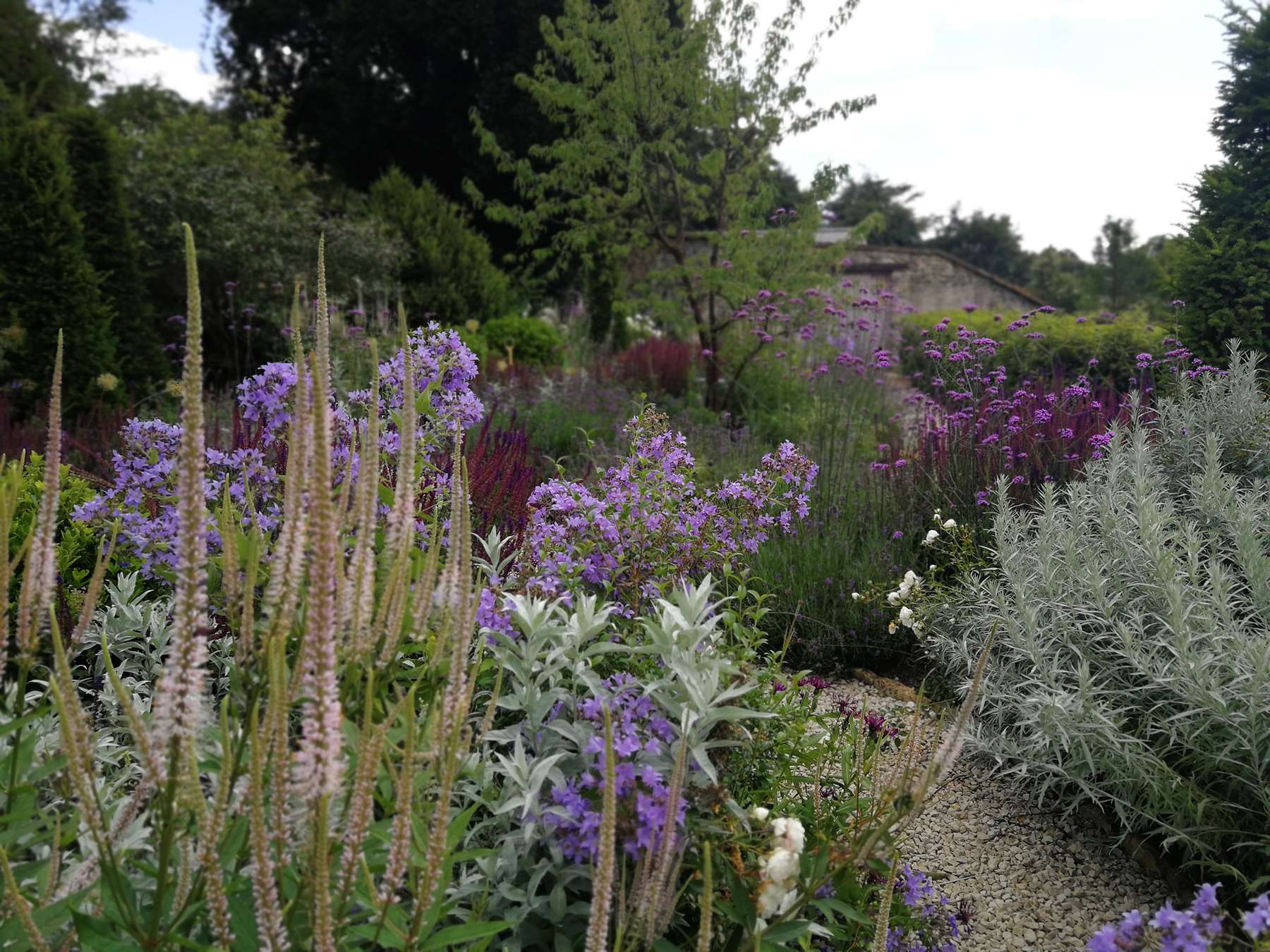 My favourite evergreen plants for smaller herbaceous borders are Hebe rakaiensis and Euphorbia wulfenii 'Shorty'. These are unique-looking evergreen plants: the Hebe can be lightly clipped so it keeps a slightly neater shape (if that's what you prefer) and you can either keep the white flowers or trim them off as preferred, and the Euphorbia wulfenii 'Shorty' can be left to its own devices or cut back to keep the size down, depending on the size of your border. You may need to wear gloves when trimming the Euphorbia as the white sap can sometimes cause skin irritation. These evergreens are low maintenance and will grow into a lovely, plump domed shape – which I personally prefer to the tight-clipped topiary look – but this versatility means they suit a range of garden styles.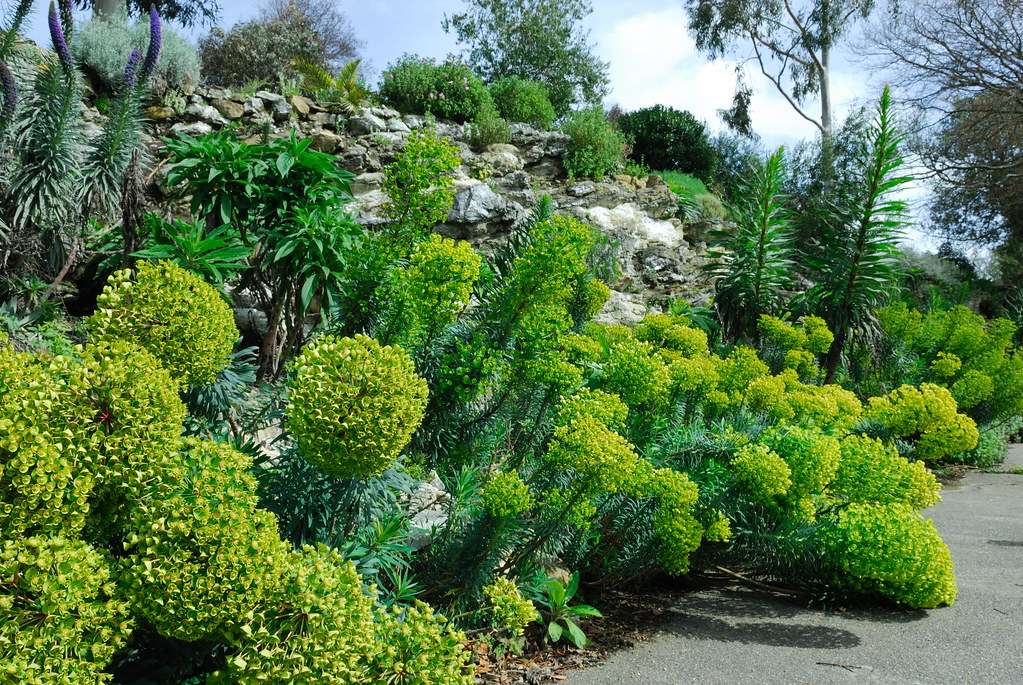 Once the back of the border has been chosen, the fun bit can begin – the colourful flowers! For purples, I love Agastache 'Violet Vision', Iris 'Sable', Lavender angustifolia and Salvia 'Caradonna'. My favourite dark pinks are Knautia macedonica, Astrantia 'Claret' and Rosa 'Munstead Wood' (which also has the most beautiful scent!). Vibrant oranges can be found in Geum 'Princess Juliana' (which flowers heavily for weeks!) and Helenium 'Moerheim Beauty' (which is such a deep orange it can be almost red – there is quite a bit of colour variety from one flower to the next).
After the evergreen structure and colour scheme have been chosen, it's time to add a bit of texture. This could be created by using plants with interesting foliage, but my personal choice is to add a bit of a summery 'prairie' feel with grasses. Stipa tennuissima has the softest, fluffiest texture, so I always try to squeeze a bit of that in – it just invites you to run your fingers through it whenever you walk past. Another grass I favour is Anemanthele lessoniana – this will add to the rusty colours in the palette, but also has the bonus of being semi-evergreen (which is almost entirely evergreen in the current climate, unless you have a very exposed garden).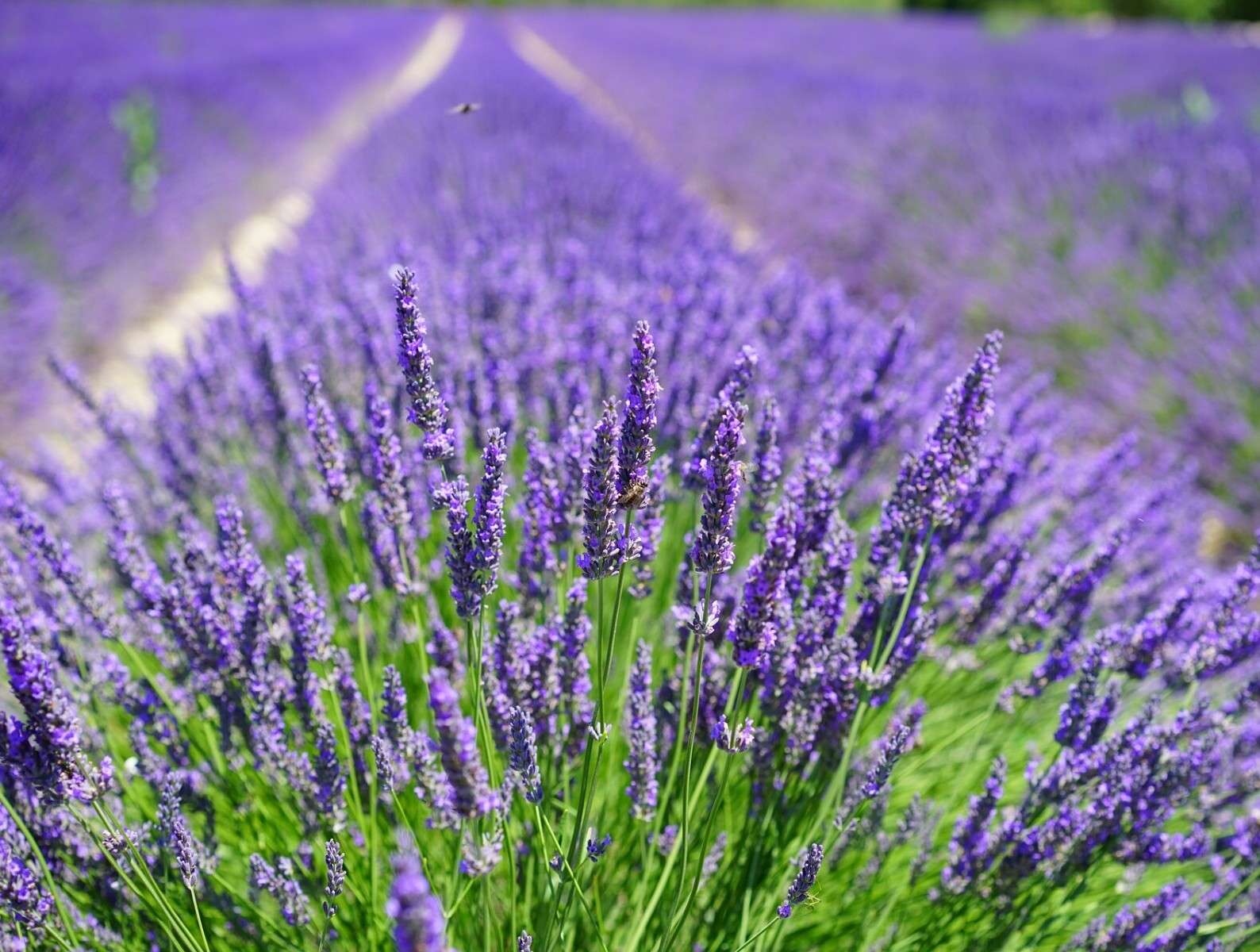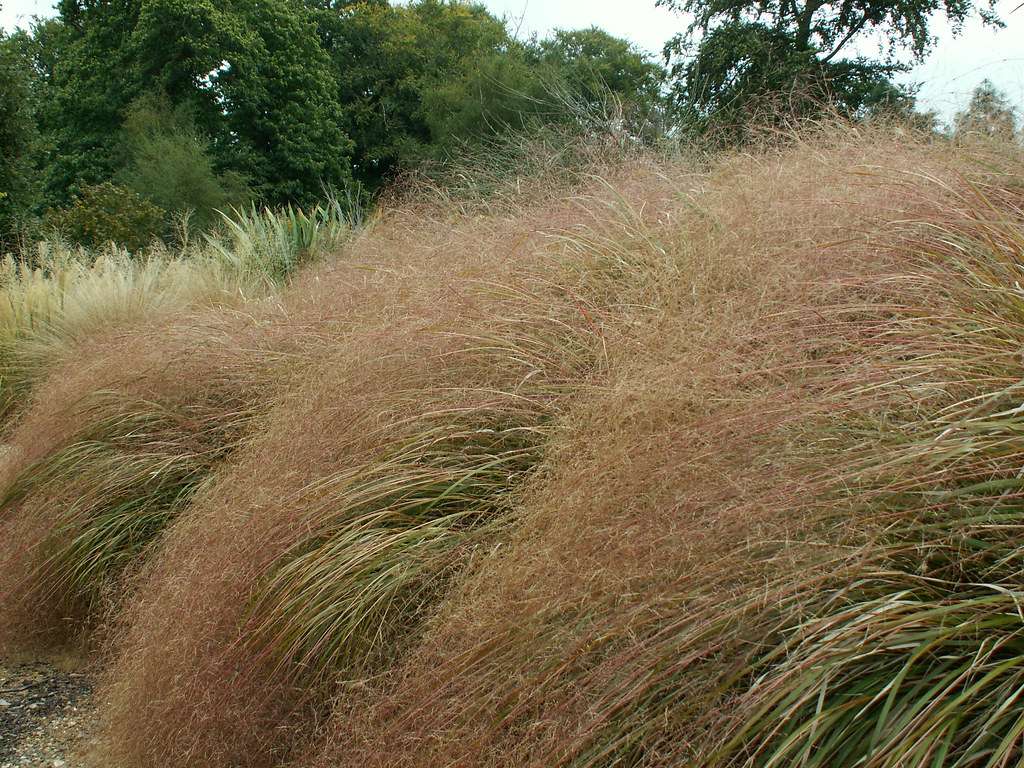 Adding some bulbs to the scheme will really set the border off. Allium 'Purple Sensation' and Tulipa 'Recreado' are beautiful purple specimens. Crocosmia 'Venus' and Tulipa 'Princess Irene' add another shot of orange and Allium sphaerocephalon has a lovely dark pink colour and looks beautiful when planted through grasses. These bulbs can be purchased in the late summer and autumn to plant as bulbs, or you can often buy them 'in-the-green' in pots in the spring, although this tends to be a more expensive option.
For each of the planting stages, make sure you check the height and spread of each plant. Knowing the height will allow you to place smaller plants where they won't get hidden by taller plants in the scheme and knowing the spread will highlight any plants that might take up more space than others. If there is a 'back' to the border, for example a wall, taller plants are better placed there and smaller ones at the front, allowing a bit of variation in the middle so it doesn't look too regimented. If the border is on the edge of a terrace and has paving one side and lawn the other, the taller plants are best kept away from the edges and dotted through the middle of the border. However, because they are going to be viewed from every angle, you can get away with mixing sizes in the middle of the bed.
Allium 'Purple Sensation'
So, there you have it – my favourite terrace herbaceous border scheme. Everything looks better in the end if you plan it out first (even if you then only buy one plant at a time) and remember to always plant in groups of odd numbers as it's much more pleasing to the eye.
Ruby's background is rooted in the garden – at a young age she by chance discovered a passion for plants and nature which led to her choosing to work at the local Garden Centre and Nursery. Besides the practical day-to-day work of potting up, pruning and advising customers, she took several courses in Plant Care and Horticulture, with a natural flair for plant design. Joining Nicholsons as a CAD Technician in 2013, Ruby now bridges the practical and the theoretical, detailing up the designs and putting together planting schemes with utmost accuracy and professionalism.
Favourite Garden? Broughton Grange
Why? Because of the stunning naturalistic herbaceous borders that look effortlessly simple, yet contain combinations that deliver throughout the seasons, punctuated with stunning topiary.
Favourite Plant? Salvia nemorosa 'Caradonna'
Why? Because it looks so beautiful in so many different settings – prairie gardens or herbaceous borders and the luxurious deep purple colour fits so perfectly with many different colour palettes, not to mention – low maintenance!