Kitchen Garden Design
Memories of my undergraduate agricultural lecturer teaching me about the Norfolk Four Course have never left me – the first principle of good kitchen gardening. This principle was developed in Britain by Charles Townshend in the 18th century and can be extended to vegetable production by the recognition of different vegetable groups as follows:
Salads (lettuces, endives, radishes)
Brassicas and beets (cabbages, sprouts, caulis, broccoli, Chinese cabbage etc)
Alliums (leeks, salad onions, onions, shallots)
Umbellifers (carrots, parsnips, parsley)
The advantages are that different families of plants take different nutrients from the soil and carry unrelated diseases. By rotating the crops, the soil nutrient balance is not depleted by repeating years of the same crop but also the soil borne diseases (of which there are many!) can have break years which interrupt the cycle and allow the soils to rest before hosting that crop again.
Vegetable farmers across Britain use this technique where land availability allows and onion farmers would be beset by white rot, potato farmers with eel worm etc.  if they couldn't rest the land between crops.
What has all of this to do with design? Well the need for a rotation of exactly four beds is not necessary – it is more the principle that matters – it would be unwise the layout your garden and say "right that bed is my onion bed…."
Personally I love the potager layout of a garden with distinct beds laid out to a design which are often edged with metal or box hedging giving the garden a structure and charm whatever the season.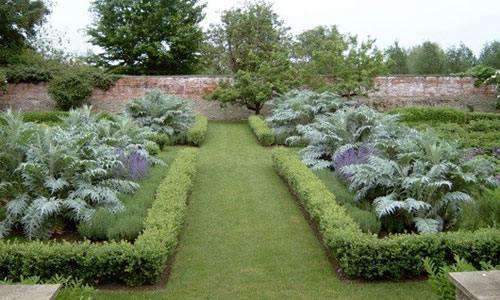 Do you need a greenhouse? We supply a beautiful greenhouse as part of our new Rosara brand which is designed to add charm to the garden but also feed a family of four with tomatoes, Peppers, basil and winter leaves.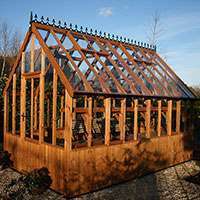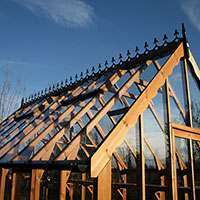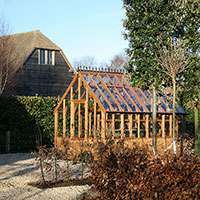 We worked with a specialist manufacturer to create this charming and functional greenhouse.
As part of our garden design division at Nicholsons by the way, we also design many lifestyle greenhouses into gardens for plant production and also for relaxing leisure space, sitting amongst the plants.
Here are some other considerations:
Compost bins – an absolute must but make sure you have two for rotating and build them on soil
Path access – keep your paths wide enough for wheelbarrows as vegetables and fruit create huge amounts of waste not to mention weeds
Perennials space – asparagus, raspberries / strawberries, Rhubarb – all favourites in my garden but you don't need much of each!
Water – you will need to irrigate seeds in and in dry spells help the plants along to mature and yield tasty produce. An overhead sprinkler system could be considered for larger schemes but I personally love my hosepipe and spending a happy time after work watering my garden by hand on a summers evening.
Soils – do not compromise – your soil should be organic, weed free, friable and free draining – you will enjoy hours in your garden but if the soil is wrong, correct it at the beginning by clearing weeds, adding muck, drainage or even soil replacement.
Raised beds – do you need to raise beds? I prefer to garden on the flat but people with back issues sometimes prefer raised beds. Be aware that you will not be able to wheel your barrow onto your raised bed though.
Set your beds so that the rows of veggies can be sown on the North / South axis. This will give more even light to the individual plants sown either side of the row and so more uniform crops. For plant health it is very important to not overcrowd and overwater your plants as fungi enjoy soft leaves and humid conditions and soon Botrytis (grey mould) and mildew can take your crops.
One of my favourite sources of kitchen garden information is the lovely Pippa Greenwood. We have had Pippa to speak at Nicholsons and she always leaves me with a huge sense of enthusiasm to get going immediately!
http://www.pippagreenwood.com/