The Importance of Topiary
Topiary is the horticultural practice of training perennial plants into clearly defined ornamental shapes, by clipping the foliage. Typically, these are geometric shapes, but they can also be abstract or resemble the appearance of birds, animals, chess pieces and other fanciful forms.
The gardeners at Highgrove House were given free reign by Prince Charles to customise his topiary to their own designs and the result has matured into an eclectic mix of unusual shapes, including a crown and Christmas pudding!
Levens Hall in Cumbria is a spectacular garden which features some of the oldest topiary specimens in the world dating back to the 1690's. But for inspiration a little closer to home, we have a diverse selection of varieties and shapes currently on offer at the Plant Centre, and now is the time to be considering how topiary could be utilised to enhance the permanent structure of your garden.
While traditional topiary can act as the main focus in a garden setting, it can also be used to highlight other features such as at the foot of a pergola or around the base of a water feature.  In a border setting, half standards or 'lollipops' placed at intervals throughout the length of a planting scheme will add permanent height and structure, enhancing the more naturalised planting below, which might be refreshed from season to season.
Classic topiarised shapes, such as cones, balls or spirals, can be placed as bold punctuation points at the corners of a scheme, adding aesthetic interest to an otherwise 'flat' area.
Pathways are the classic backbone for an avenue of topiary, not only to draw the eye through to other parts of the garden, but to create a journey to a destination, be it the entrance to a property or a focal point such as a sculpture.  Symmetrical rows of topiary can cast an illusion of space, so can be used to great effect in a smaller space, such as an urban garden.
One of the most popular ways of using topiary plants is to enhance a front entrance with a matching pair of containerised specimens. Cones, spirals, cubes and quarter standard trees would all suit, but once planted these will probably remain in situ, so choice of plant species should suit the orientation of the sun throughout the day.  It is also important to select planters which will complement the period of the property and harmonise with existing hard landscaping materials.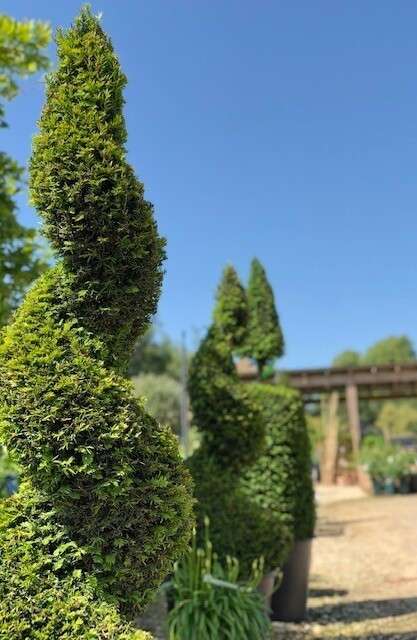 Suitable specimens for the above planting ideas currently in stock include:-
Taxus baccata (yew), Elaeagnus ebbingei, Euonymus japonica (spindle), Ilex crenata (Japanese holly), Laurus nobilis (bay), Ilex aquifolium (Holly), Ligustrum jonandrum (Privet), Osmanthus burkwoodii, Phillyrea angustifolia, Teucrium fruticans, Viburnum tinus, Prunus lusitanica (laurel) and Cryptomeria japonica (Japanese cedar).
A plant can also be tiered to incorporate a number of different topiarised shapes on one plant. Be inspired to create your very own piece of living architecture. The best plants to use are evergreens with finely textured small foliage that can withstand regular clipping.  A trio of young plants potted up close together will provide initial density.  Place a wire frame over the plants to facilitate clipping into your desired shape.  Containerised topiary will require regular watering and feeding – copper/brown tipped foliage is a sign of nutritionally depleted soil.
The Plant Centre stocks wire frames in ball and cone shapes and specialist topiary shears, which are the best tools to achieve a neat clipped finish. Or for more ambitious designs, chicken wire can be used to form your intended masterpiece.
The Japanese highly skilled art form of cloud pruning or 'Niwaki' is a term used to describe the shaping of a shrub or tree into a series of rounded spheres to resemble clouds.  The Japanese holly, Ilex crenata, is widely used, as pictured to the right.  Other suitable plants for this type of pruning would be Taxus baccata, Ligustrum japonicum, and Pinus.
Contact lorraine@nicholsonsgb.com for more information on the above plants and their potential uses that could enhance your garden space.