Yurt Food From Home: Enrico's Gnocchi
At The Yurt, we are proud to present dishes from skilled food connoisseurs with imagination and ingenuity behind their craft. As the world around us starts to show the hopeful signs of spring, one of our chefs, Enrico, reflects on how the environment is his main inspiration behind our seasonal menus. As he explains, "It's very simple: nature provides us with the right substance at that specific time of year, so that we eat what we need."
However, this does not mean predictable recipes – Enrico takes pride in introducing new ideas to customers. "Our dishes are created with a common intent: to deliver an explosion of flavours, and encourage people to make a small leap of faith, as we get the best out of the ingredients we work with." Enrico's emphasis on flavour stems from his Italian background, and he remembers learning to cook with his mother from a young age. "She was by far the best cook I have ever met in my thirty-five years behind a professional stove. She didn't really care as much about presentation; all of her energy was focused on the flavours."
All our dishes, from the hearty chickpea broth to the colourful vegetable shakshuka, win praise for both their superb taste, as well as stunning presentation. But Enrico says, "At the age of 51, I am still learning. One of the greatest things that I have learned is to never lose the gift of being humble, as it is the only way to keep improving."
Last week, Enrico hosted a 'cook-a-long' for our staff. A night where wine flowed (and Enrico showed great patience…) resulted in a team of happy chefs eating a delicious Yurt recipe. Enrico has kindly written up the menu so that you can have a go yourself. Enjoy!
Ingredients
Gnocchi:
1kg potatoes
100g beetroot pureed
300g flour
Salt and pepper
Pinch of nutmeg
5ltr water
Pesto:
100g of rocket
100g pine nuts
100g parmesan
100g olive oil
Salt and pepper
200ml double cream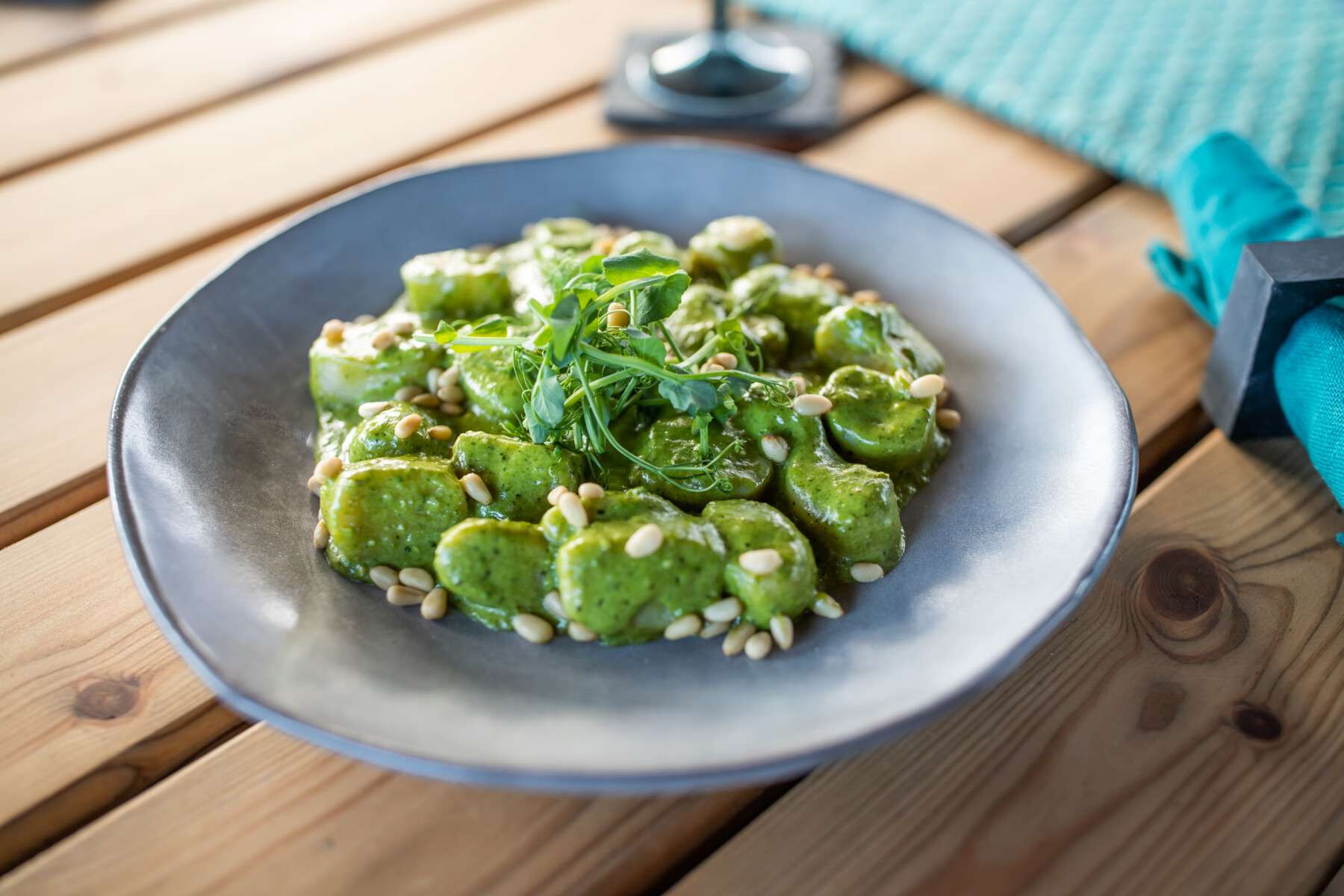 Recipe
Preparation
Peel and boil the potatoes until soft
Drain them and allow them to steam for about 5 minutes – this will allow some water to evaporate
Mash the potatoes and add the beetroot puree, salt, pepper and nutmeg and mix very well
Allow the mix to cool down before adding the flour and then mix together until the flour is fully incorporated
You may need to transfer onto a work surface and mix by hand. Dust the work surface lightly with flour to prevent sticking
Pesto
Mix the rocket, pine nuts, parmesan, olive oil, salt and pepper in a blender or food processor until creamy
Pour the pesto into a wide saucepan and add the cream
Warm the pesto gently over a low heat
Gnocchi
Bring 5 litres of salted water to the boil
While the water is heating, roll some of the dough into a long sausage shape (on a well-floured surface). The roll should be 1cm thick.
Cut the gnocchi into 1cm wide pieces
Repeat the process until you have finished the dough
Separate the gnocchi and dust with flour to prevent them sticking
Once the water has come to a boil, place the gnocchi in, one at a time
When the gnocchi rise to the surface, remove them from the water and put them in the pesto saucepan, stirring gently
Once all the gnocchi are cooked and dressed, dish them up and garnish them with some shaved parmesan and rocket.