THE CHELSEA DIARY
Our build teams have arrived at RHS Chelsea Flower Show to begin work on our stand in collaboration with David Harber and Savills. During the build process and the week itself, we will be keeping you up to date with the work of our teams and what is going on during the most prestigious week in the horticulture calendar.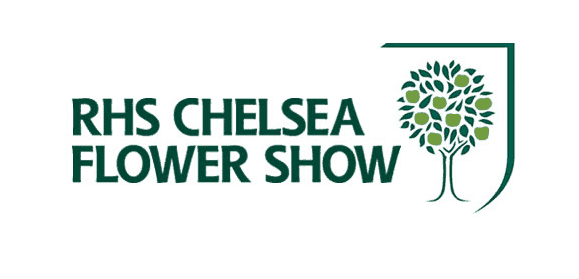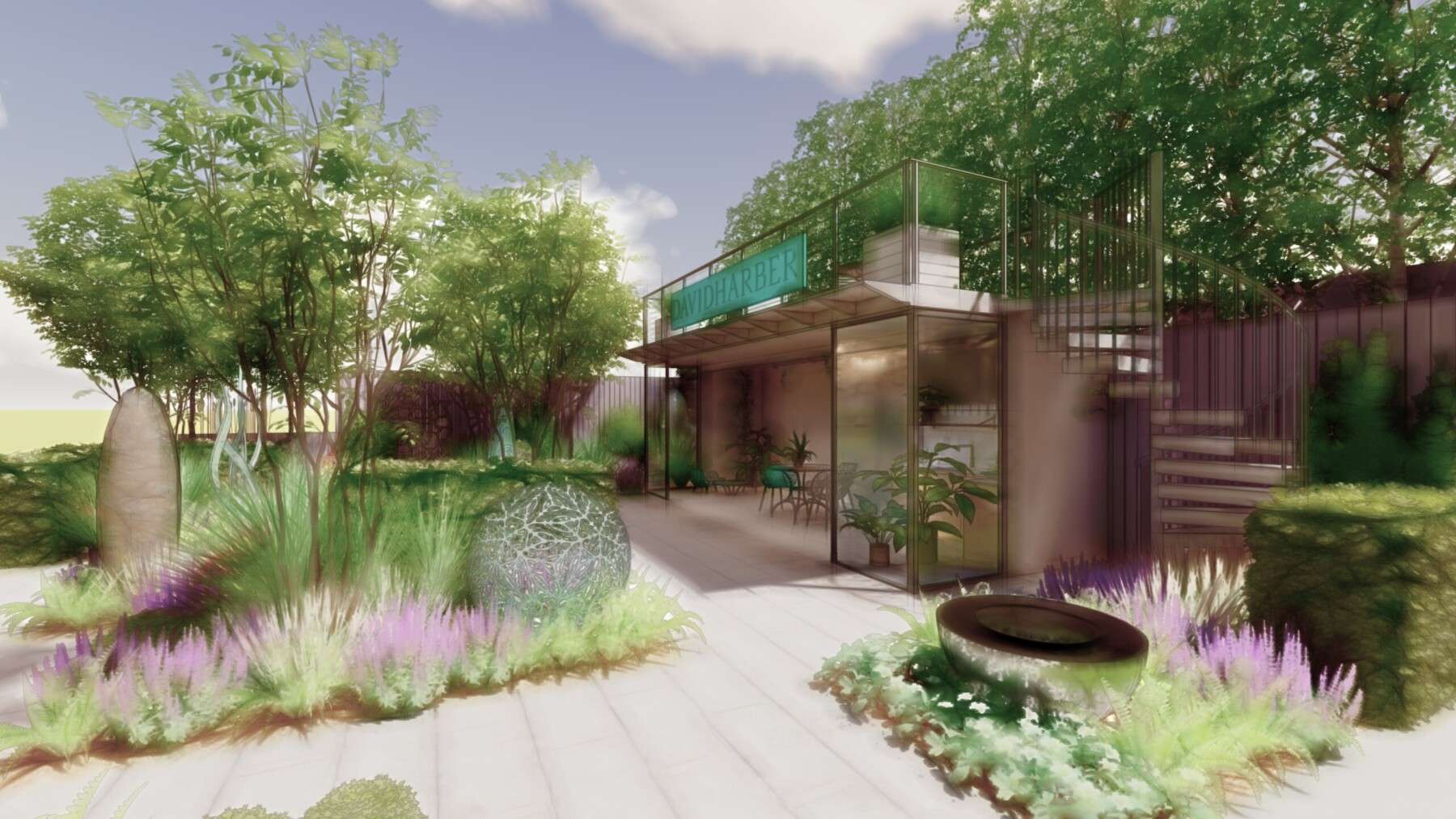 About the Stand
The concept of the garden in 2021 focuses on how our relationships with our gardens have changed over the past year, from full-time 'WFG' (work-from-garden) to 'the race for space', a greater desire to have access to the outdoors. It addresses how the last year has inspired many of us to have a new-found appreciation for our gardens and the way in which we enjoy them, be it al fresco socialising with friends and family, an established garden office following a nationwide pivot to remote and home working, or for providing a space of calm and tranquility to escape the trials and tribulations of everyday life.
Nicholson's garden design team embrace the challenge of giving maximum space usage in a small show stand to demonstrate the potential of all garden plots. Places to contemplate or work, alongside spaces for leisure and pleasure, enrobed in emerald green planting are on the essential list of many garden design instructions. Our practice has spent an exciting year enjoying the focus of this new way of living with increased sustainable credentials. The combination presents a wonderful challenge and as garden designers, we are relishing the opportunities.
WHAT'S HAPPENING ON SITE?
Check back here daily to see what our team are getting up to…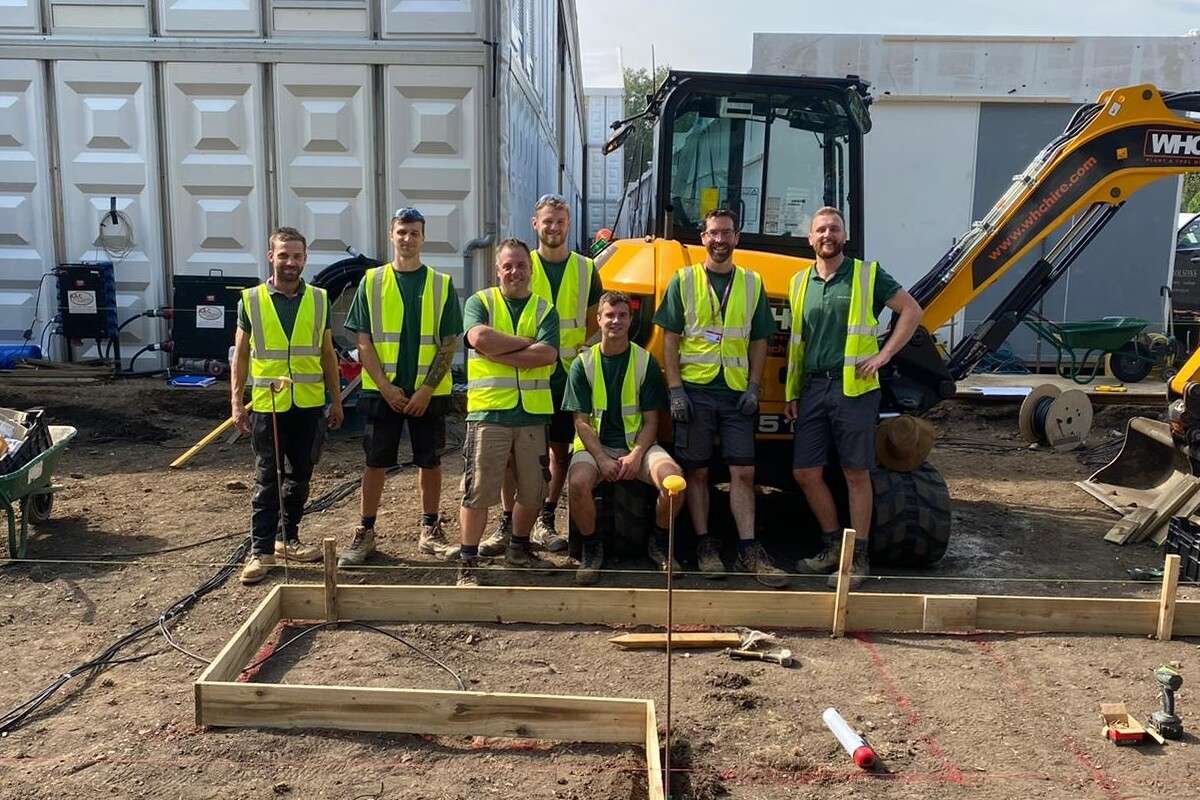 Day 1
Let the work commence! The boys have arrived on site at RHS Chelsea Flower Show and have begun working on our stand. We are very excited to be collaborating with David Harber and Savills to build this garden.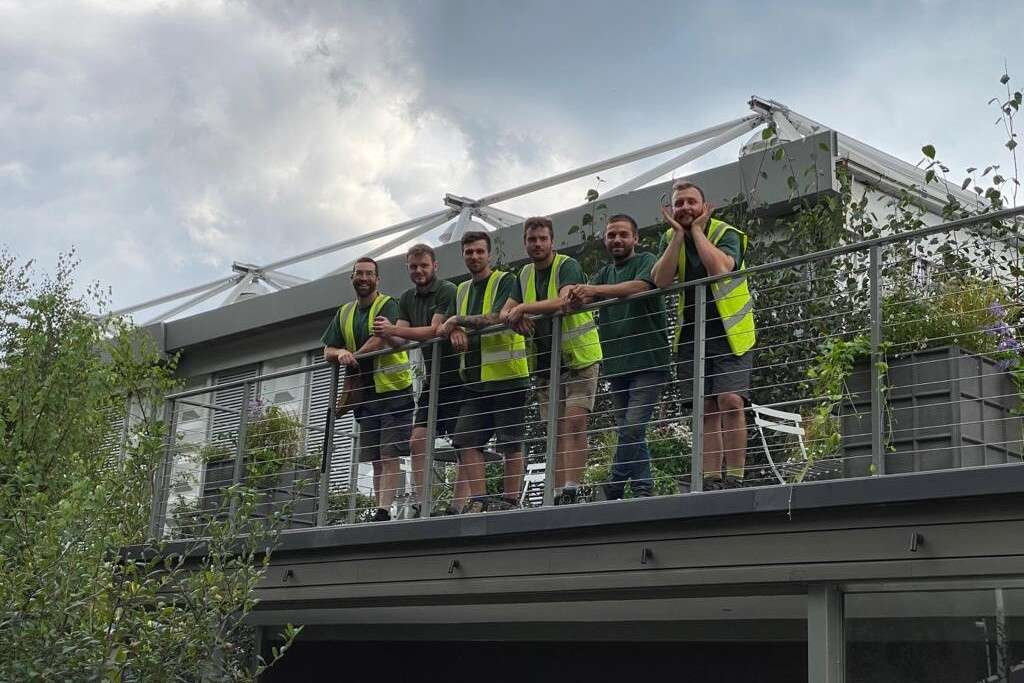 Day 13
It's a wrap! 2 weeks of hard work has drawn to a close and our fantastic build team have finished building our stand. View the end result by clicking here…
The Skilled Craftsmen Behind the Nicholsons Chelsea Stand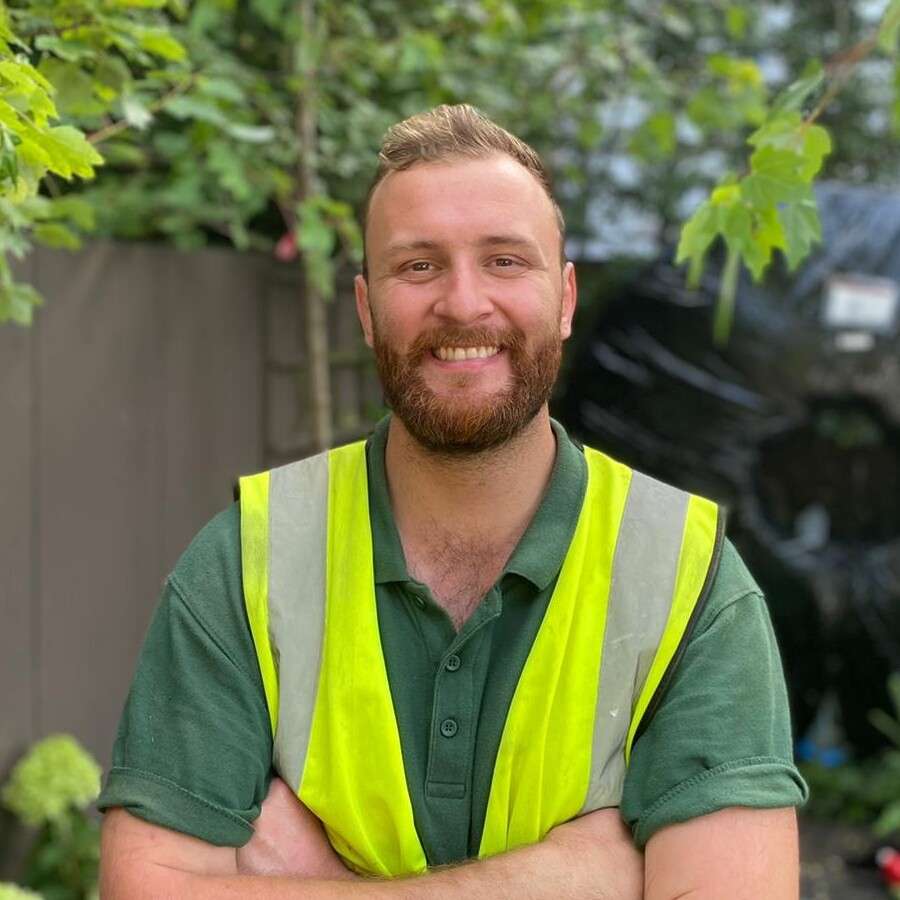 Jack Horwood
From: Bicester
Biggest passion: Taking gardens from a drawing on paper to real life
Greatest challenge: Pulling together many different personalities and working long hours to deliver a Chelsea standard showgarden in a short schedule (I have loved it)
Best part of building this garden: The buzz and excitement of the site, all pulling together and everyone working so hard to deliver this prestigious show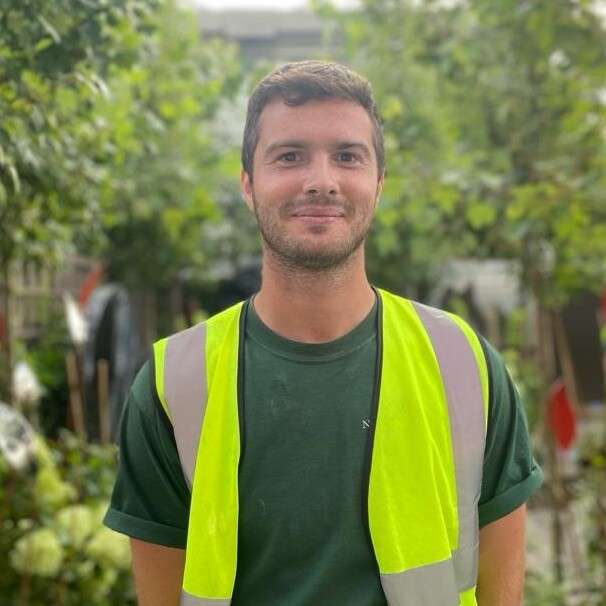 Jack Hughes
From: Kington, Herefordshire
Biggest passion: Seeing projects through so that they run smoothly and maintain good vibes on site
Greatest challenge: Being away from his new Labrador puppy
Best part of building this garden: Great onsite buzz, getting to know colleagues better and instilling good morale throughout the project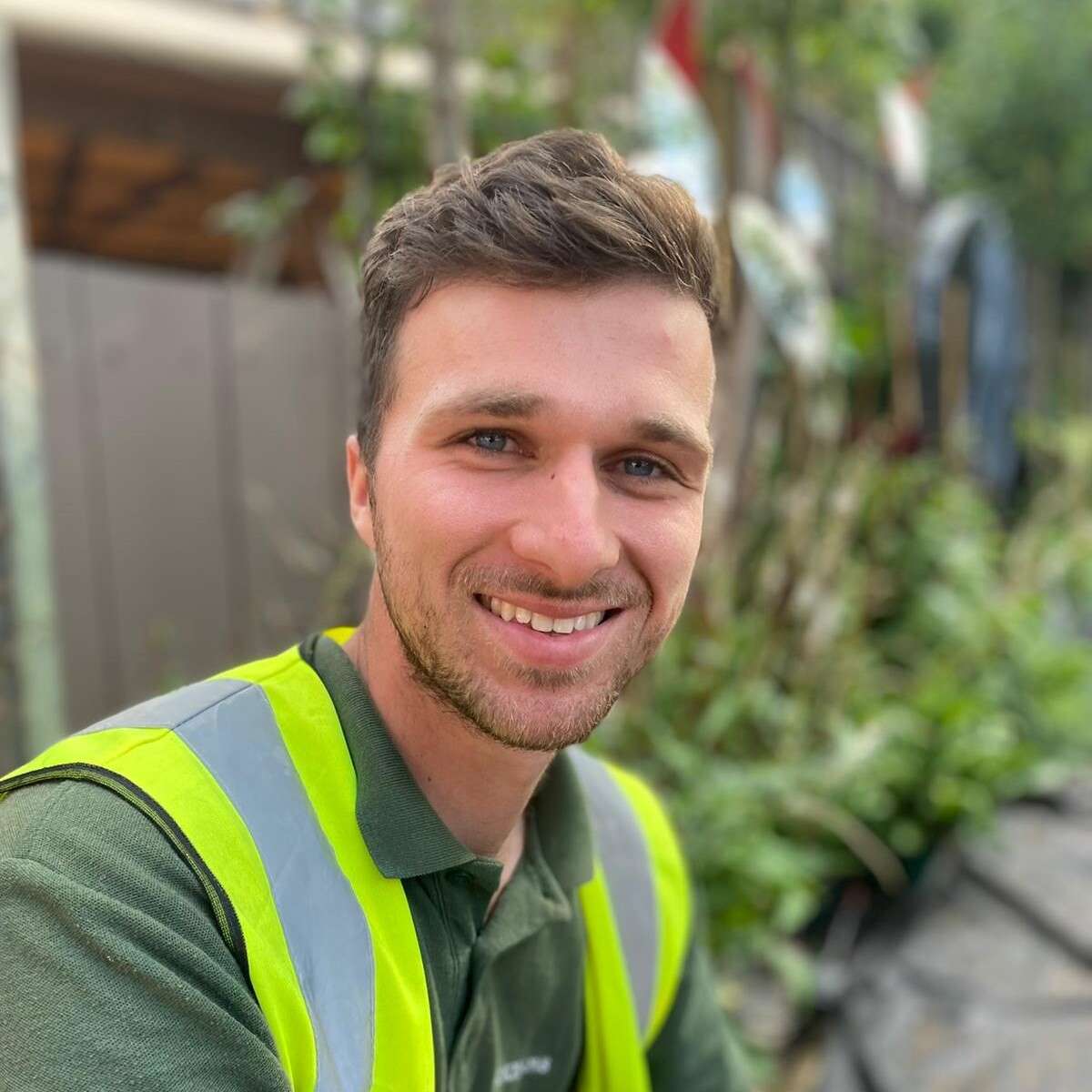 Chris Lloyd
From: Newcastle
Biggest passion: His beautiful, little Labradors
Greatest challenge: Being apart from his cheeky Labradors
Best part of building this garden: The strong bonds he has formed with the team during a tough week of building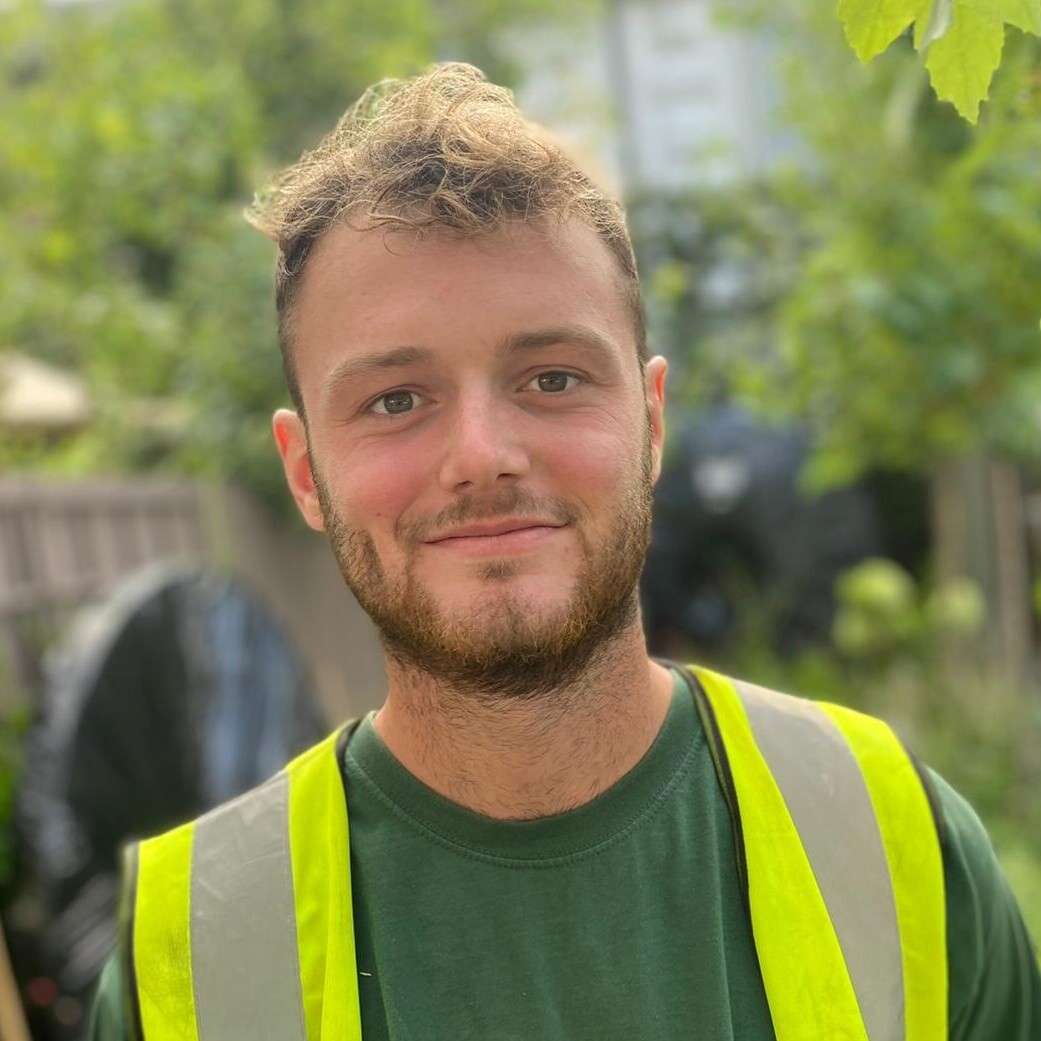 Jake Conway
From: Middle Barton
Biggest passion: Country pursuits
Greatest challenge: Learning new skills that will go on to help in all aspects of life
Best part of building this garden: Seeing the stand take shape so quickly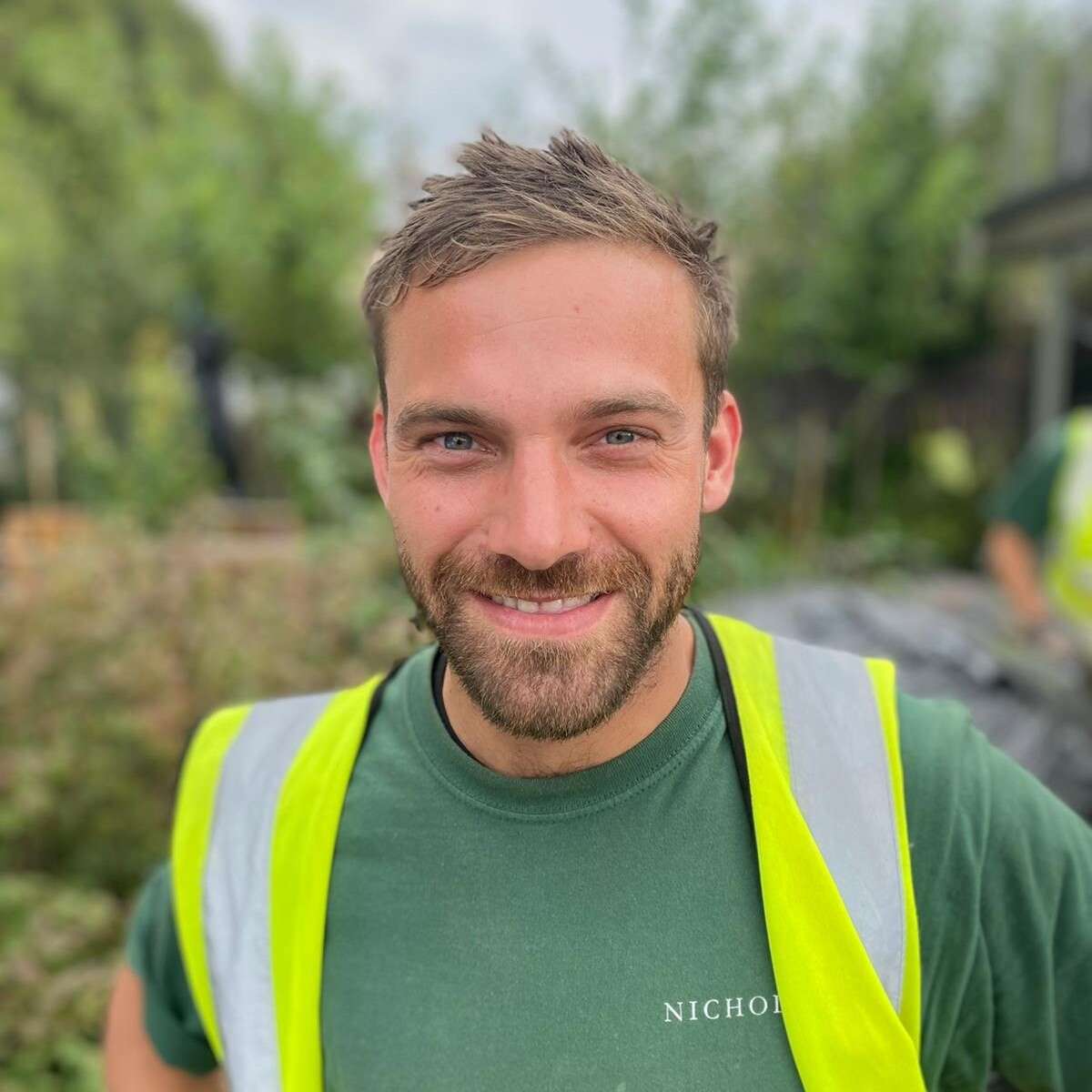 Luke East
From: Kirtlington
Biggest passion: Working hard so the weekends feel sweeter
Greatest challenge: Sharing a room with the team leader for two weeks – poor Luke…
Best part of building this garden: Built stronger relationships with the team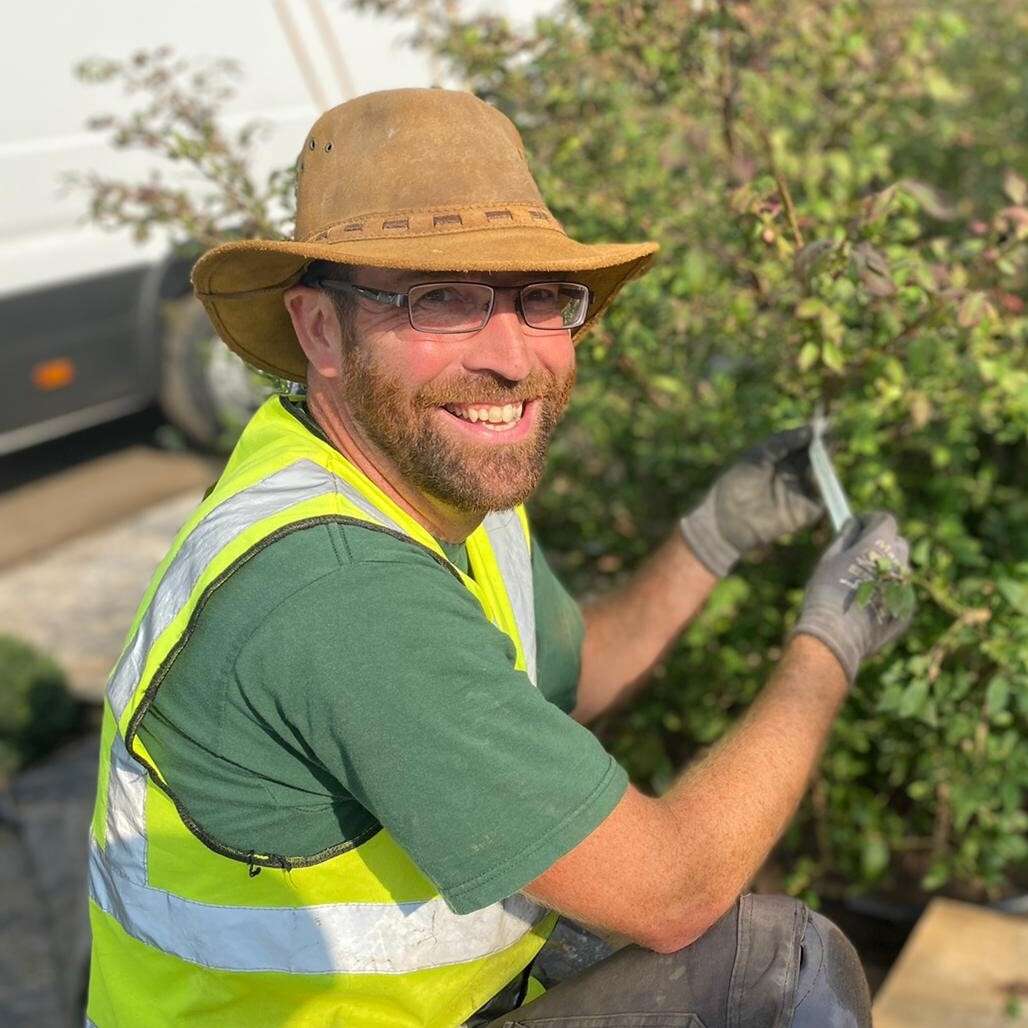 John O'Neill
From: West Ireland
Biggest passion: Long time interest in soils and commercial growing
Greatest challenge: Delivering an RHS Chelsea show standard garden to schedule
Best part of building this garden: The opportunity to represent Nicholsons at the highest level
The Amazing Women Behind the Nicholsons Chelsea Stand
Maria Laskey
Production Supervisor
Maria is one of our nursery superstars who keep our plants happy, healthy and looking great. After joining the team as a potter, she now works as our production supervisor, ensuring that all potting is done to a high standard. This role also includes staying ahead of any pests & diseases that may make their way onto our nursery.
Of course, with RHS Chelsea Flower Show being one of the most important weeks of the year, Maria has had a tough task of ensuring all our plants are well looked after and are peaking just in time for the big September spectacular. Alongside her day job, this has kept Maria busy making sure the plants are well irrigated, kept free from pest & diseases and are always getting the perfect amount of sun and shade – there's even reports that she sings to them from time to time.
This has not been a normal preparation process, with many of the Chelsea plants being completely different to what we are used to on the nursery. It has been a constant battle of skill and patience to ensure that all of Maria's plants are looking their absolute best for Chelsea 2021.
Maria's top tip to look out for when visiting our stand are the amazing trees grown on the Nicholsons nursery. The Mespilus, Crab Apples, Medlar and more are ready to put on a show!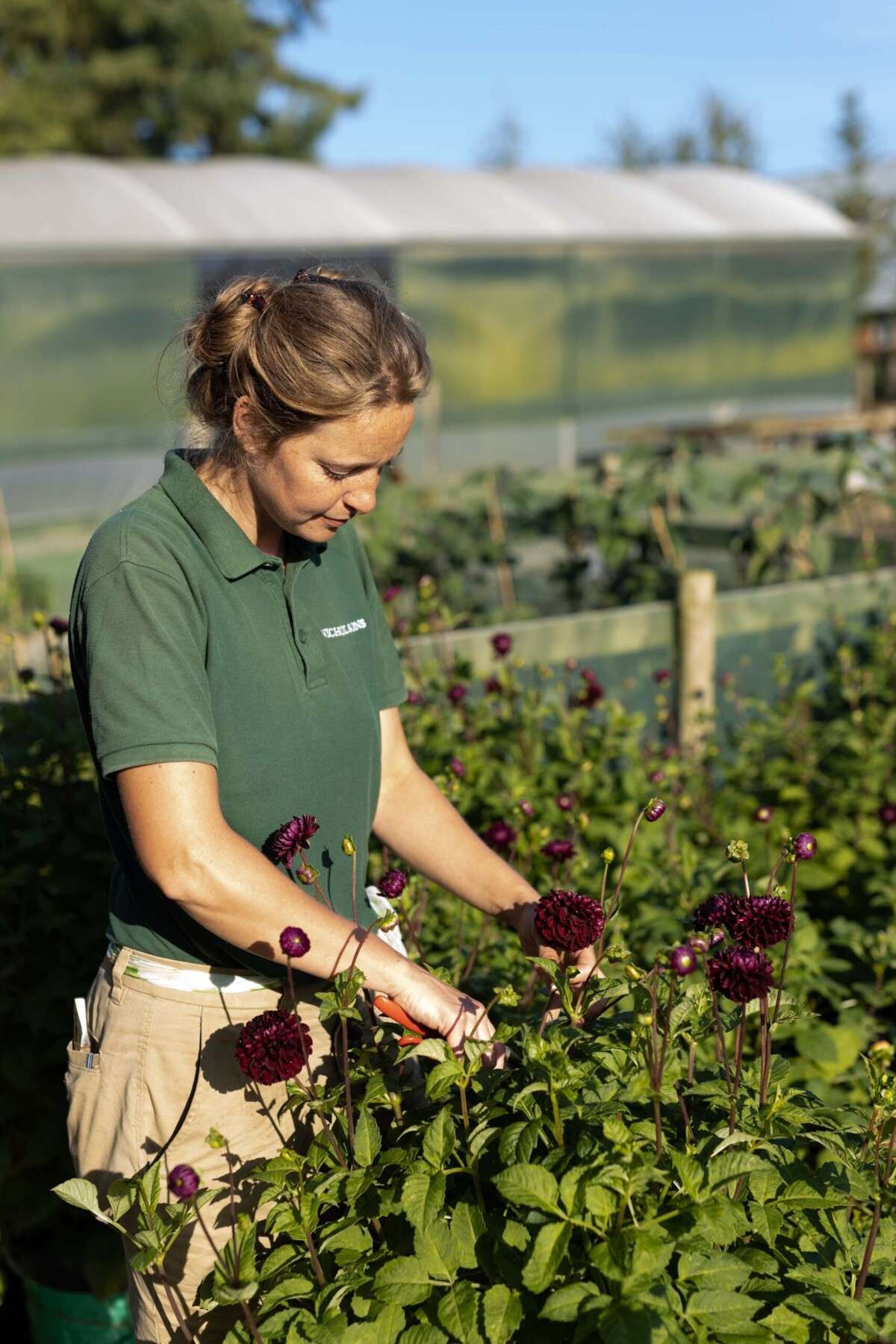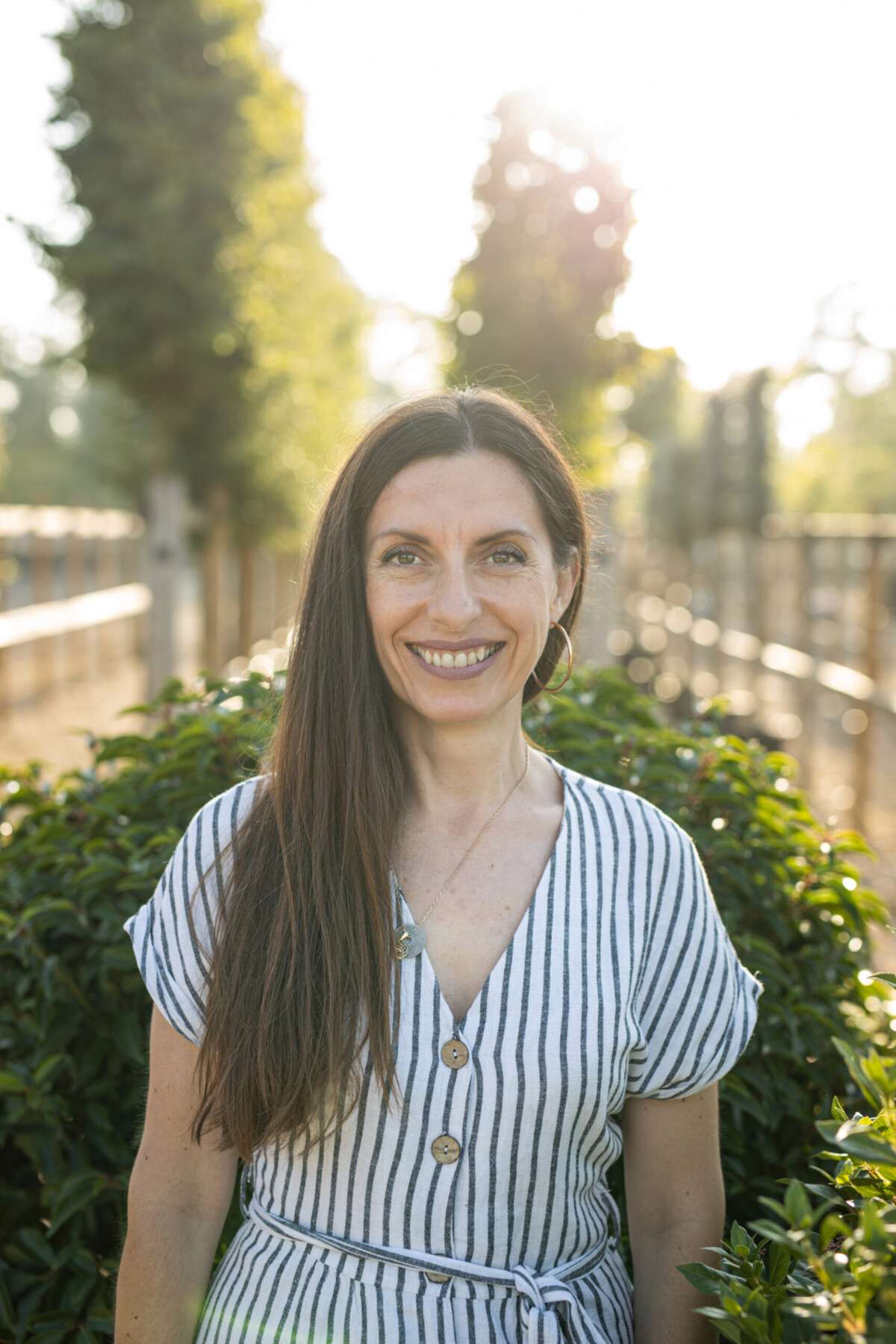 Jarka Valasheek
Planting Designer
Jarka joined Nicholsons as part of a career change that took her from the world of art and architecture and into the world of horticulture. Her journey into horticulture began in the Nicholsons landscapes department, where Jarka joined the team as a plant buyer. With an eye for art and design, Jarka always had her eyes set on the Nicholsons design studio, so it was a dream come true when she was invited to design the planting plans for our Chelsea 2020 stand.
Thanks to the pandemic, Chelsea planning was far from a smooth process, with plans having to change dramatically to account for a year and a half delay and a completely different season now playing host to RHS Chelsea 2021 (previously scheduled for May 2020). For this year's stand, Jarka says that' we have pushed ourselves and taken risks to create a different and exciting planting palette. As always at Nicholsons, we have striven for all UK grown plants, something that has not been easy given the market difficulties caused by COVID and Brexit.'
Jarka has taken particular joy in using plants that have been leftover from jobs by the Nicholsons construction teams, giving plants a new lease of life and allowing them to flourish in their new Chelsea garden. Jarka has really enjoyed making fun and exciting borders this year, and asks any visitors to keep an eye out for the unusual annuals that have made their way into the garden.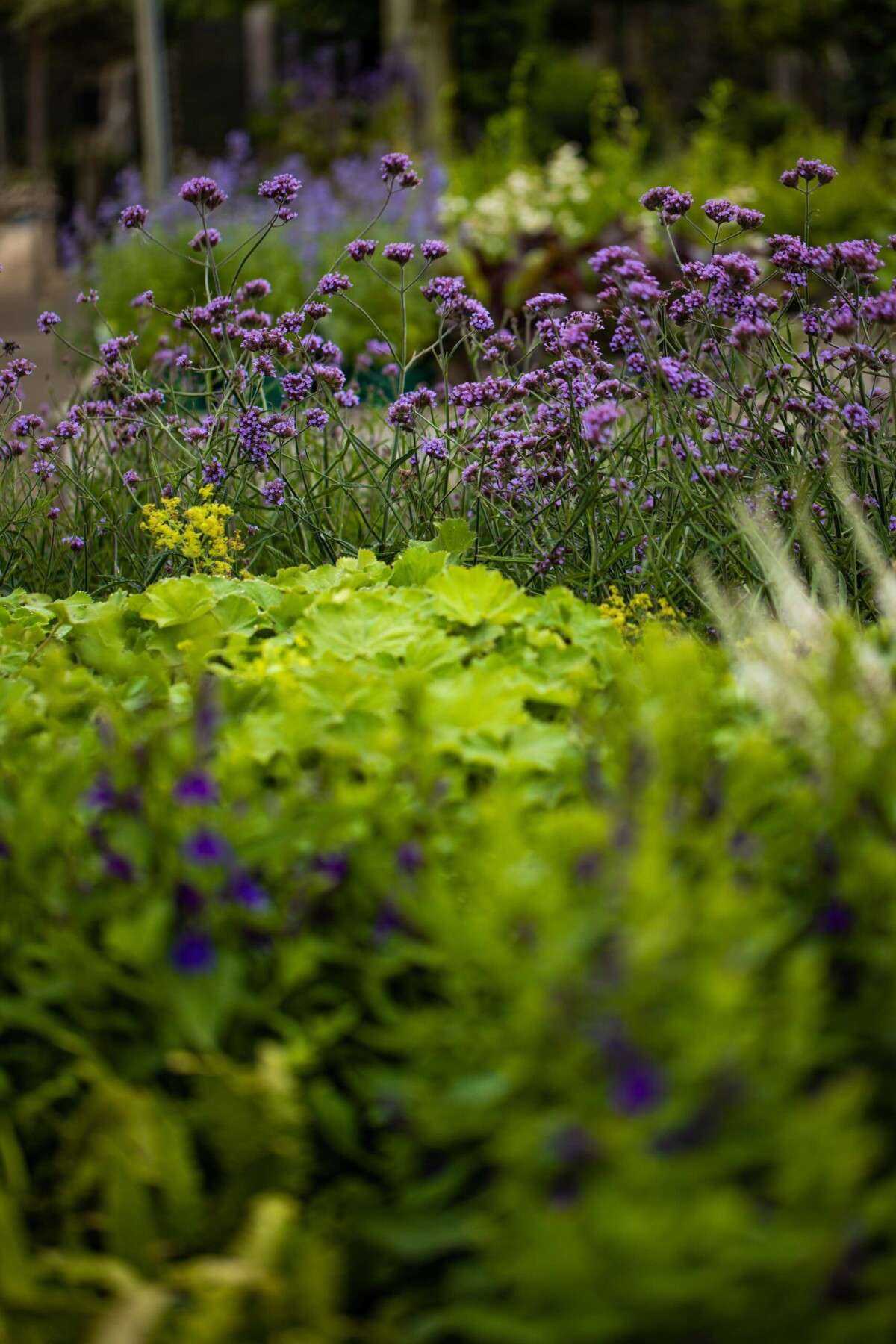 Liz Nicholson
Managing Director
After training as a plant and soil scientist – and spending many years of her early career in vegetable fields across the world – Liz helped to diversify Nicholsons from a strong forestry business to include a plant centre and a garden design and construction practice. Liz simply loves design and for her, the combination of horticulture and art could not yield a more rewarding career. She has used lockdown to not only enjoy caring for Nicholsons customers and their gardens in the most adverse circumstances but also has developed a not for profit, with husband Niel, to focus on forestry tree planting to help reduce climate change, the Forest Canopy Foundation – https://forestcanopyfoundation.co.uk/ 
Liz has been involved with David Harber at Chelsea for over a decade. Her philosophy for the stand was somewhat visionary in terms of really wanting the world to focus on travelling less and working from home for mental wellbeing and environmental outcomes. As a result of the lockdown, many people had to react in a short time frame and set up temporary desks in hallways or shared use the dining room table. Now is the time to consider the long-term planning opportunities of working from home and what space may be afforded by adding studios, shepherds' huts, or tree houses into our gardens as places of work.
As an RHS judge, Liz understands the importance of excellence in design and delivery at Chelsea and cannot wait for our wonderful construction team to be on site, doing what they do best in building a beautiful garden with excellent finishes. It is a fabulous opportunity for the team at Nicholsons to showcase their skills and it would be an understatement to say that they are excited!
The greatest challenge of this year's Chelsea Flower Show is the changing plant palette from a May Garden to an autumnal plant palette. This to Liz is very exciting as she admits to having had some Chelsea planting palette fatigue and feels that this year gardeners will be able to enjoy the show and get some wonderfully new and inspiring ideas for longer seasonal colour in their gardens.
Please come and visit our stand and enjoy not only David's sculptures, but the real jewels in our planting, from burgundy Pom Pom Dahlias to little white confetti of Thalictrum.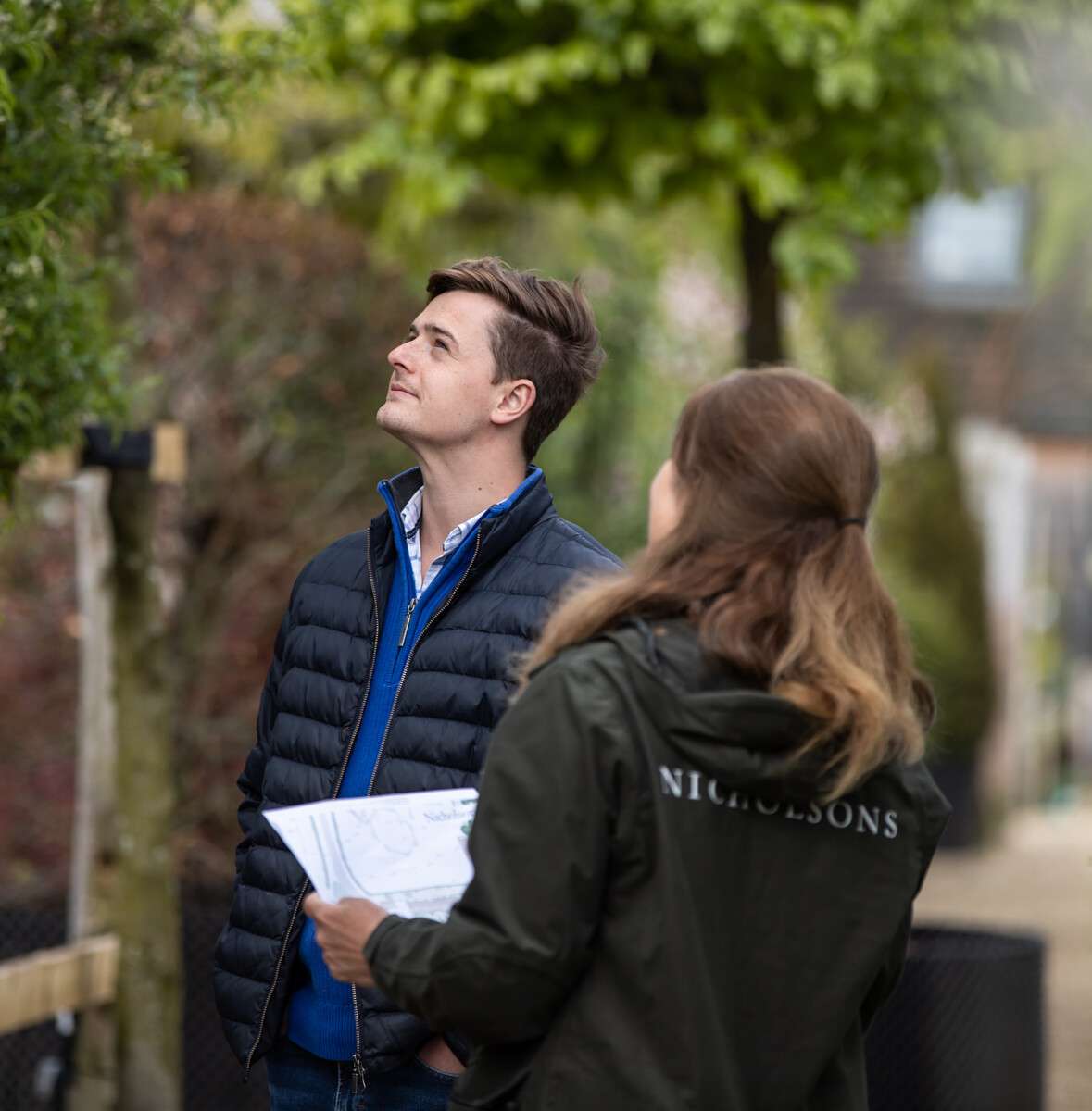 Francesca Lawes
Landscape Design Assistant
Cesca has been with Nicholsons for 3 years, working in our design studio. She has been working as a landscape design assistant and is just about to start her final year of a masters in Landscape Architecture at the Bartlett School of Architecture, UCL.
Cesca has have been involved in our Chelsea project, every step of the way; from the overall design, to the planting plans and also modelling and putting together the 3D renders. You can see her amazing rendering work in the image to the right.
With the show being postponed due to COVID, a unique opportunity arose to showcase different plant species and annuals that flower later in the year, which usually wouldn't be present in a Chelsea garden. These are definitely something to look out for!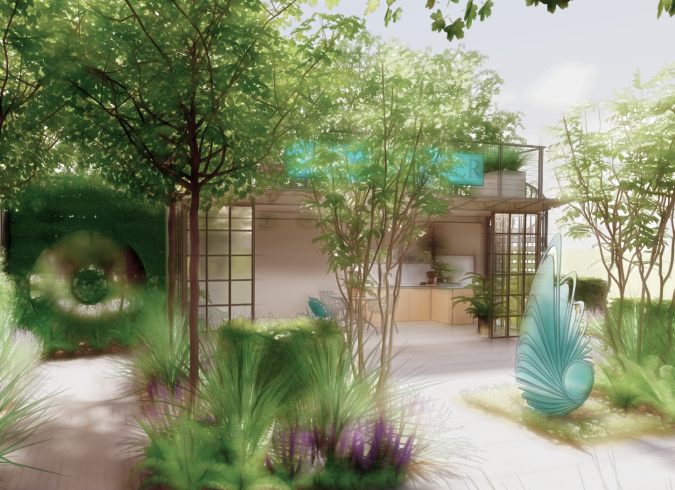 Ruby Simpson
Planting Designer and CAD Technician
Ruby has always enjoyed being in the great outdoors and has a background in horticulture. She absolutely loves selecting palettes of plants to make any time spent in the garden even more beautiful!
Ruby has been at Nicholsons for 8 years now. Starting as a CAD technician, Ruby has not only been involved in garden design and planting design but also furniture design and forestry and woodland layouts. On top of this, she now does planting design as well and CAD work with the other garden designers at Nicholsons. It has been an exciting few years for Ruby, who has recently had a second baby. When work first started on this Chelsea stand, she wasn't even pregnant yet… That's how long this design has taken to realise, thanks to COVID!
Whilst on maternity leave, Ruby has been enjoying all the Chelsea Stand updates from afar! Right at the beginning of the process, Ruby designed the initial stand layout,which has more or less held strong throughout the entire process. She was also involved in plant selection, although it does seem to have evolved even further since then and is looking absolutely gorgeous!
Ruby used blocks of hedging and topiary of different heights to break up the planting and the hard-landscaping and add visual layers to the stand between all the incredible sculpture. Keep an eye out for this if you are lucky enough to visit the stand!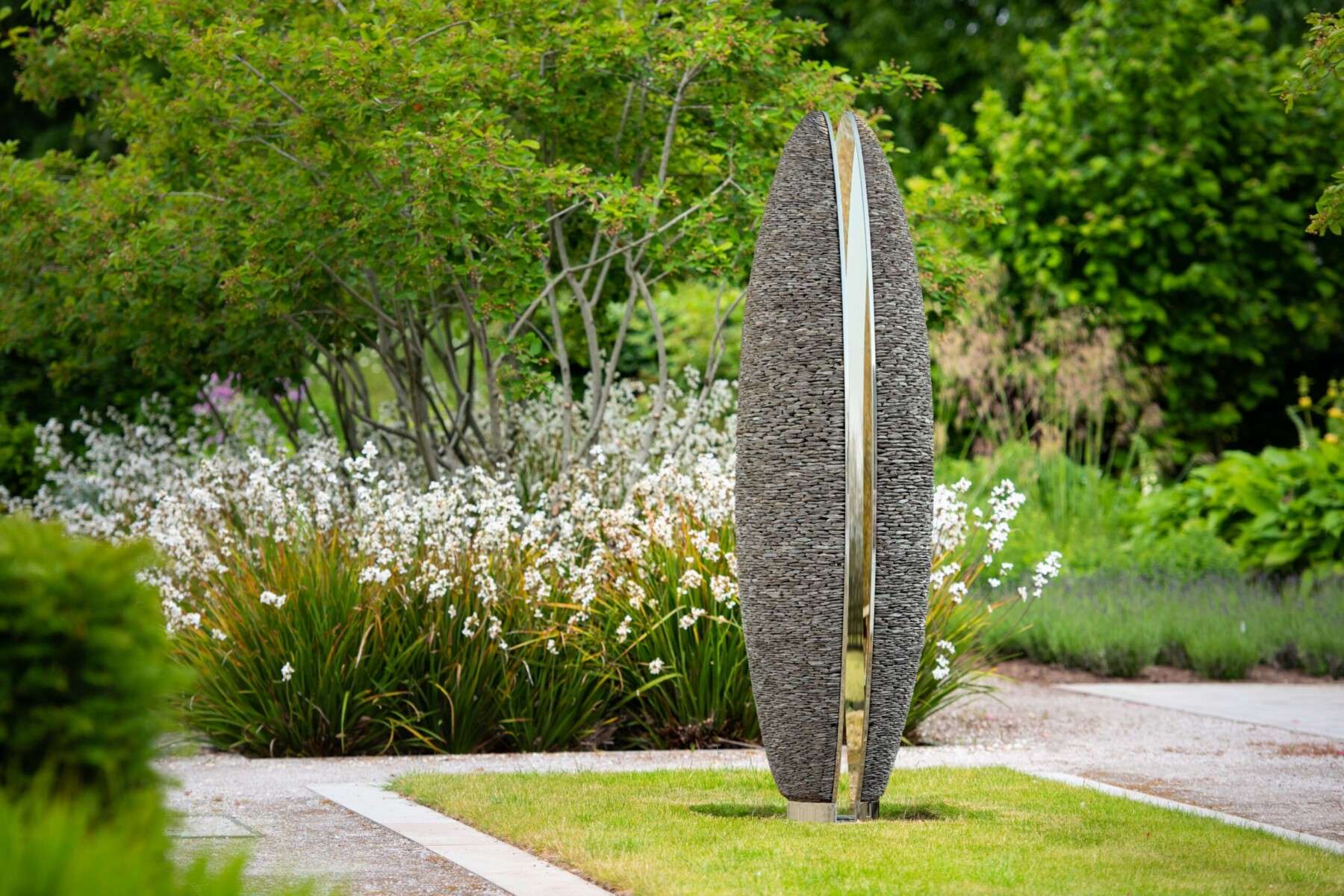 About David Harber
David Harber Ltd seeks to design and make original and covetable sculptures, sundials and water features that will enchant and endure, whilst responding to its customers' individual needs and environments. Known worldwide for making contemporary and classical artworks from his Oxfordshire studio – and a two-time recipient of the Queen's Award for International Trade – David Harber's designs playfully incorporate nature, reflection, light and water to create dramatic focal points in both exterior and interior settings. His work can be found in private gardens and public spaces.
For over two decades, David has designed and produced unique artworks that continuously surprise and delight – many of which are on display during RHS Chelsea's 2021 Flower Show, including new designs such as Sentinel, Orbis and Turbine. These stand amongst popular David Harber classics, such as the Torus, Hydra, Steel Breeze, Armillary Sphere, Quiver, Geminus and the Sky Mirror Chalice.
David Harber comments: "Each and every garden has its own character and identity. A creative and artistic vision from the outset, with all elements working in harmony, is essentially the building blocks of a garden with personality. Naturally the plants – with their colours, form and seasonal characters – are the palette and story of the garden.
Embellishing the garden with additional decoration creates an interesting juxtaposition between evolving nature and an aesthetic frozen in time. Selecting and positioning 'art' in the garden can be highly formal and structured, or on a whim; either way, the piece must have a relationship to its environment, which is where we like to think our designs come in."
About Savills
Perhaps the most pronounced trend in the UK housing market over the period since it reopened after the first lockdown has been the race for space. As we've seen very clearly at Savills, demand for country living and for urban homes with gardens, or for those close to green space, has perhaps never been more intense. We have also seen people reassessing their work-life balance, with many embracing the opportunity to spend more time working from home and adapting to more virtual methods of working. With this in mind, the Chelsea Garden reflects and highlights the shift in the market with the rise in popularity of the home office within a garden, which can work well in both prime rural or urban locations. The importance of mental wellbeing has never been more in focus than during the pandemic, and the Chelsea Garden truly demonstrates the value of the natural environment, be that in a small urban or larger country garden, and the importance of a calm space in the home to achieve a healthy work life balance. The beautiful planting and garden sculptures provide a tranquil setting for creativity and mental wellbeing, whilst also demonstrating the importance of a sustainable design.
Savills is a global real estate services provider, offering unrivalled insight and advice on a local, national and international level. This includes over 600 offices and associates that span over 70 countries and employ more than 39,000 people. Savills personnel can offer clients more than 300 separate disciplines that cover the entire spectrum of real estate search, financing, investment, management and consultancy.
About John Cullen
Recognised throughout the world for lighting design excellence with award-winning schemes and discreet architectural luminaires, John Cullen Lighting is known for its ability to enhance the enjoyment of spaces through the power of light. Whether working on a town or country residence, garden, hotel or superyacht, contemporary or traditional, the goal is always to integrate with the vision of each client and ensure their imagination is exceeded.
Discreet luxury lighting is at the heart of what they do. Beauty, form and function all come into play as they strive to create the highest quality luminaires, capable of the most exceptional effects. For over forty years they have designed schemes that bring stunning interiors and landscapes to life with light.
Creative Director Sally Storey is a leading name in lighting who has a passion for the effects and impact of light on space and design, as did the company founder, lighting designer John Cullen. As Sally explains, "John Cullen's philosophy is to create the finest quality of light from the most discreet luminaires; in achieving this, the light source should always be concealed." Nature has provided the company's vision. Inspired by natural light, Sally and her experienced team have developed bespoke schemes that have highlighted the drama that light can create, paying close attention to the quality of light, the discreetness of the fittings and their effects, cleverly illuminating colour, shape, form and shadow according to each individual space and requirement.
John Cullen are delighted to have lit David Harber's stunning sculptures and the studio at the RHS Chelsea Flower Show 2021.
Start Your Process
Start your process by filling out the form below. Or give us a call on 01869 340342
"Please pass our thanks on to all of your colleagues who oversaw and implemented Jon's excellent vision with such great care and attention; every single person we've met wearing the 'Nicholsons Polo' has been unbelievably polite, professional and generous.

The business you've built is truly impressive in every way, it really should be used as an example of excellence for MBA graduates to study."
"I am thrilled with the garden – thank you to all – it has been so efficiently organized."
"From the start – brilliant throughout. Minimal disruption and you took the time to look after our property. You have done a great job and we are looking forward to the coming months to see the impact on the garden. We hope to continue working with you, an absolute pleasure to deal with"
"I just arrived home this morning and just wanted to say WOW!!, lots going on but what an amazing surprise and transformation, it is looking fabulous fabulous fabulous. Thank you thank you thank you!!"
Nicholsons is accredited by the following official organisations:
Approved contractors of the Safe-contractor scheme, Nicholsons are also accredited with CHAS and Arboricultural Association. The Company are also members of BALI and recently won awards as Cherwell Employer of the year 2016, Cherwell Established Business of the Year 2014, as well as being finalists in the Oxfordshire Business of the Year awards in 2013 (Energy and Environment Award).