THE CHELSEA DIARY
Our build teams have arrived at the RHS Chelsea Flower Show to begin work on our stand, designed by Taina Suonio. During the build process and the week itself, we will be keeping you up to date with the work of our teams and what is going on during the most prestigious week in the horticulture calendar.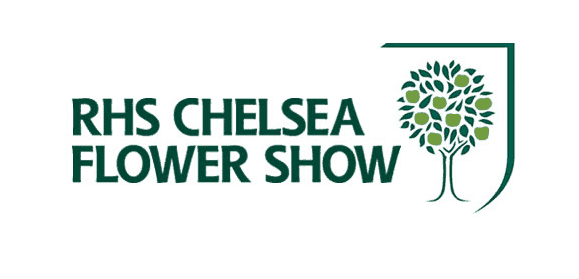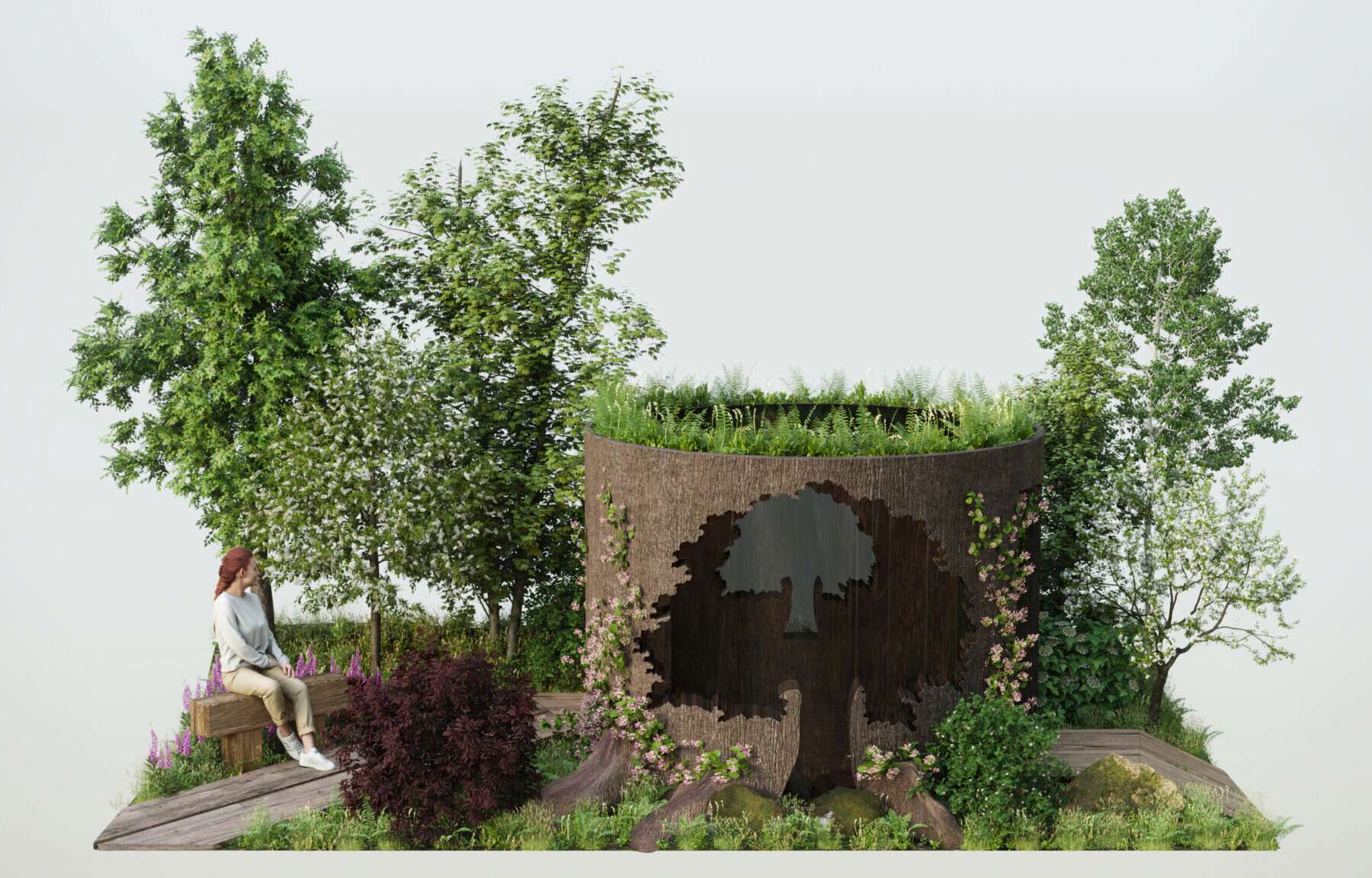 About the Stand
We could hardly believe our luck when we received the invitation to join forces with Taina at Chelsea in 2022. Our passion is to lead on sustainability, not only in garden design but construction techniques too. As an ambassador for environmental conservation, it is no surprise to hear that when we opened Taina's design pack, we were delighted to find an enchanting, green oasis.
"Connected by EXANTE" is a cool, calm woodland sanctuary providing a tranquil space for people to connect inside a fairy-tale, larger-than-life oak stump. Designed with a minimal interior, the main oak structure provides a Scandinavian feel serving as an office, studio, or relaxation space. Included in the structure is a water feature, a tank filled with rainwater harvested from the roof which gives the impression of a window. As green roofs are one of Taina's specialities, the planting around the ceiling window echoes the forest plants around it, making it look as if the whole roof is planted.
The garden features native plants from Europe and Finland, including beech, wild crab apple, field maple and silver birch (the Finnish national tree), all underplanted with brambles, dog rose, elder and guelder rose. All are common plants that can be easily grown. "We need to think more carefully about what we plant, because of climate change and pest and diseases, and need to support natural biodiversity. We need to learn to appreciate the smaller details", says Taina. Cow parsley, Solomon's seal, foxgloves, ferns, erythroniums and lily of the valley (Finland's national flower), emulate a woodland walk, with duckboards leading to the oak building, echoing those that traditionally lead up to Finnish summer cottages.
All plants have been carefully sourced from UK nurseries and the majority from our own nursery on our 23-acre site at North Aston in north Oxfordshire.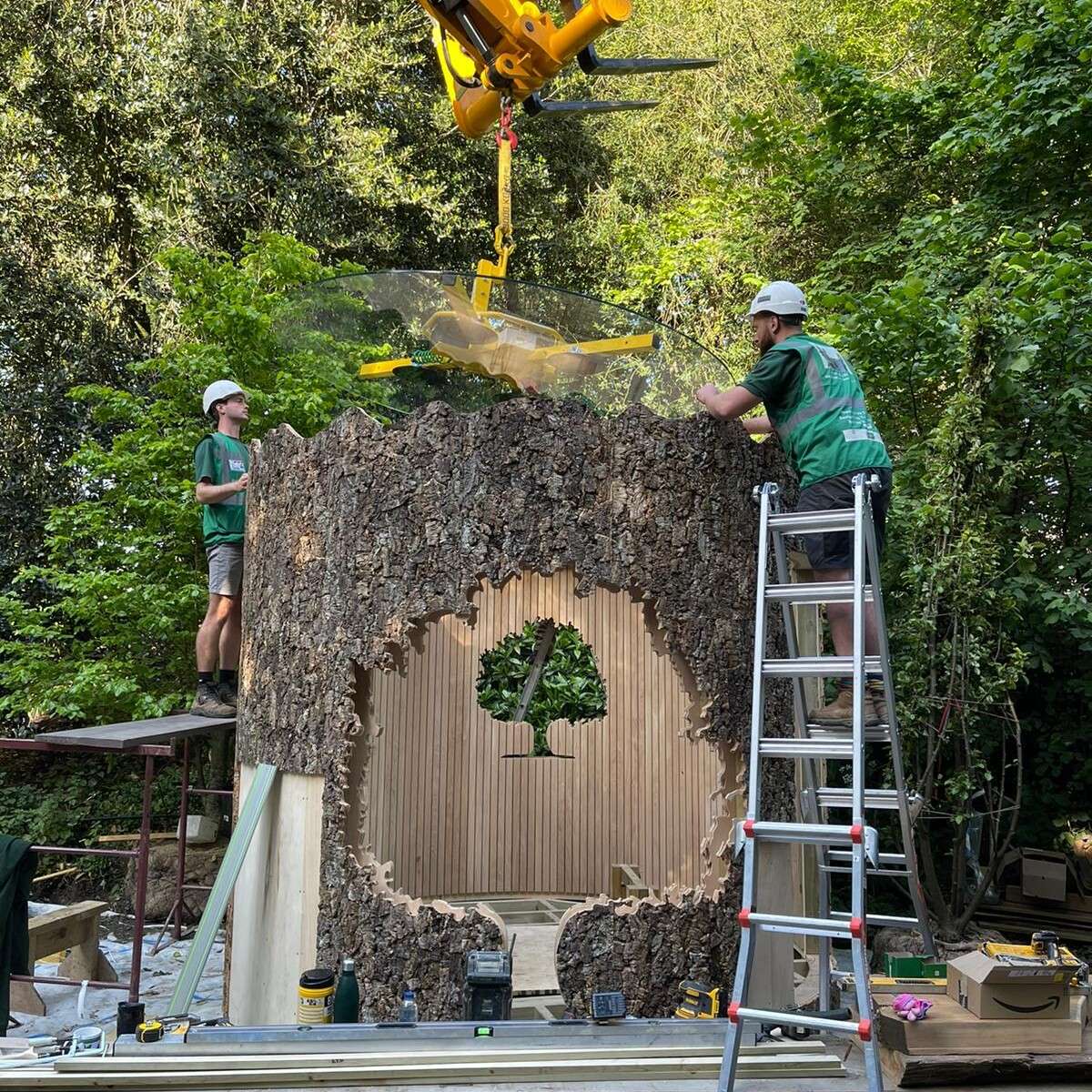 The Centrepiece
The most eye-catching element of the beautiful garden is undoubtedly the enormous Oak feature that occupies centre stage. The vast structure was created by the very talented Jonathan Blackburn, who has been a friend of the Nicholsons garden team for many years.
With Taina's strong planting palette and Jonathan's joinery/carpentry talent, our sustainable build provides a truly calming woodland sanctuary, allowing us to enjoy the more subtle details of foliage shape and texture.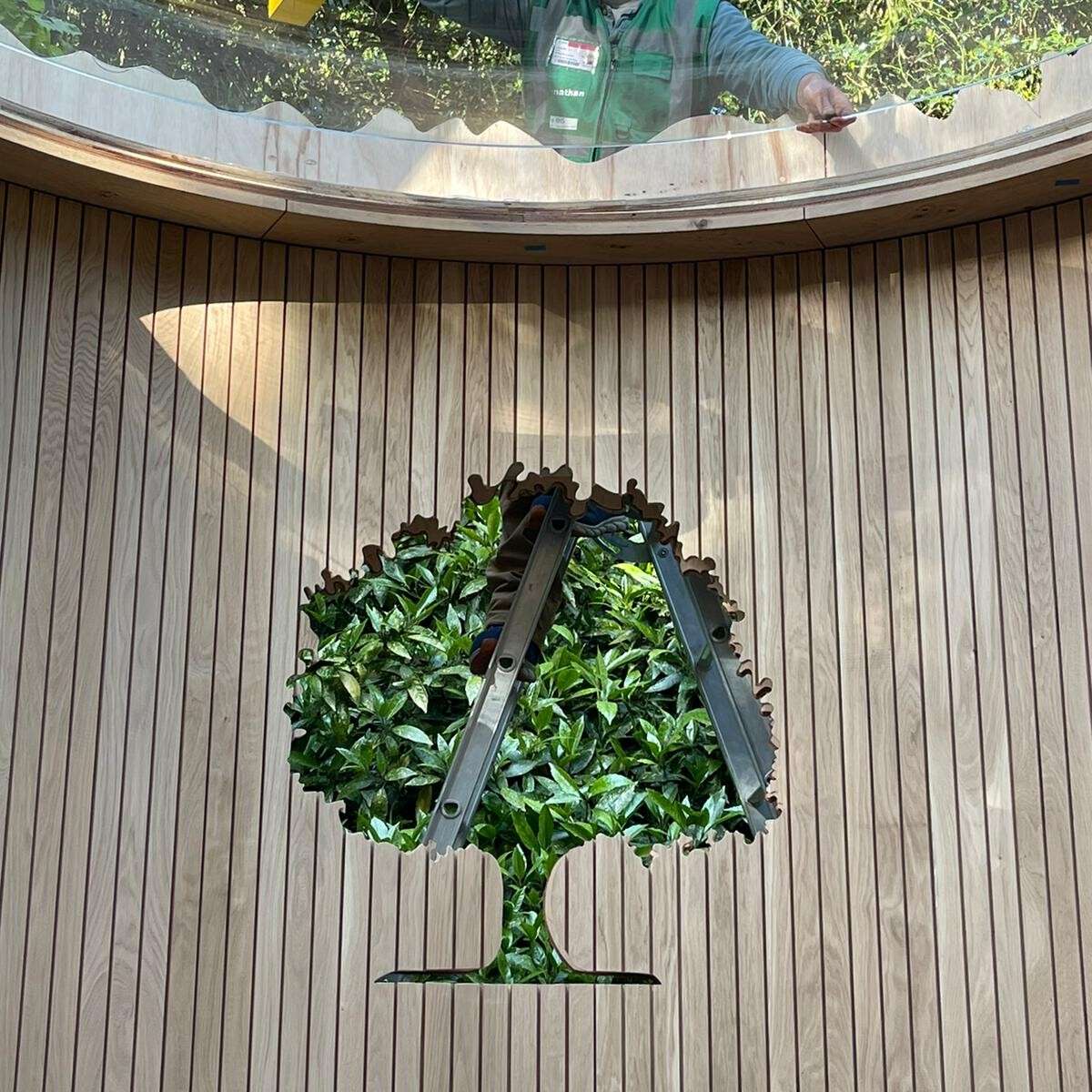 WHAT'S HAPPENING ON SITE?
Check back here daily to see what our team are getting up to…
Check back tomorrow to see what the team have been getting up to!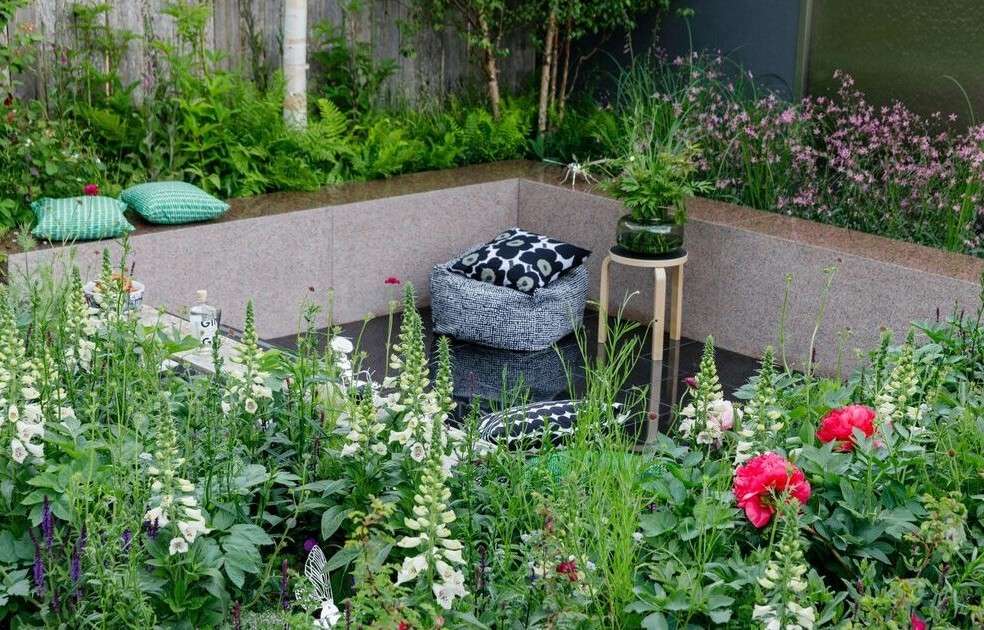 About Taina Suonio
Taina Suonio is a renowned Finnish landscape designer and horticulturalist. She holds an M.Sc in Environmental Biology from the University of Helsinki, where she is also a member of a research group which works on vegetated roofs.
This is the third time that Taina will showcase her work at the RHS Chelsea Flower Show. Her award-winning 2019 design 'The Roots in Finland Kyro Garden' (pictured left), is now housed at the embassy of Finland in London. Her awarded 'Finnish Soul Garden' from last year's show was almost entirely relocated to a private garden in London, with its stunning black granite boulders 'Mother Finland' and 'Little Brother' currently installed in RHS Wisley.
Her style of garden design is foremost a celebration of the natural, ecological biodiversity-supporting beauty of the native wild, without forgetting a touch of the more dashing elements of flowering glory in carefully selected areas of her designs.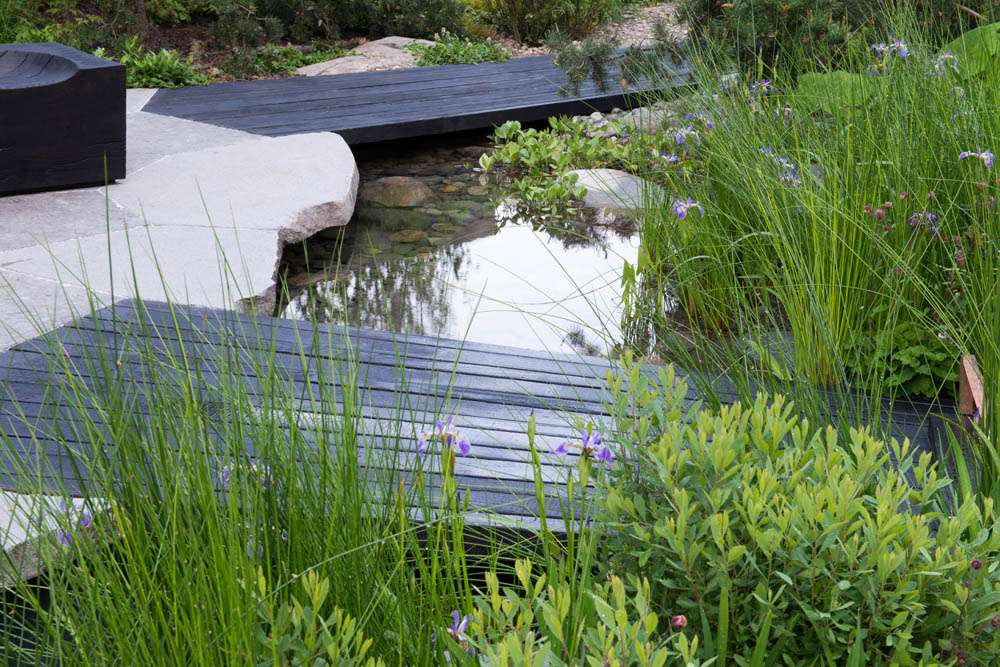 About Jonathan Blackburn
Jonathan Blackburn is a specialist, award winning garden joiner and sculpter.
In 2017 Jonathan's studio were part of the Landscape Associates construction team for Charlotte Harris's Royal Bank of Canada show garden (pictured left), which won a gold medal at the RHS Chelsea flower show. This year also saw the studio awarded "Best of houzz Design 2017"
All Jonathan's pieces are hand built in his Oxfordshire workshops to the most exacting standards. Each design is underpinned by a thorough knowledge of materials and joinery so that each object is built using appropriate techniques, to achieve beauty and ensure durability. He uses sustainable materials and local suppliers wherever possible. For example, all his oak is sourced from Oxfordshire woodland and all his exotic timbers are sourced from FSC approved suppliers.
About EXANTE
EXANTE is a wealthtech company providing centralised trading solutions and B2B financial infrastructure; it creates value through technology. EXANTE's proprietary trading platform enables direct market access to a wide range of financial instruments including stocks, ETFs, bonds, futures, options from a single multi-currency account.
EXANTE celebrated its 10th birthday in 2021, which was a massive accomplishment for a FinTech, especially in the brokerage space. Therefore, the company wanted to do something special to celebrate and mark the occasion. EXANTE has decided to sponsor the RHS Chelsea Flower Show in order to meet with its existing clients, connect with new clients, and create something special that will go down in the company's history.
The garden is a visual representation of its values as a company –  showing resilience, community, connection, transparency and solid foundations.
EXANTE decided to work with Taina because of her experience, creativity, enthusiasm, flair, and passion for this project. We knew that we could trust Taina to bring our vision to life, and she hasn't failed us!
"Like flowers and plants which flourish and grow, we wanted to create a unique space in which nature and people can connect, EXANTE provides a platform that connects people and financial markets by offering innovative products and fully customisable services to help grow wealth. We felt that the seasonal nature of plants and wildlife was an excellent representation of the cyclical nature of financial markets," said Alexey Kirienko, CEO of EXANTE.
"At EXANTE we pride ourselves on our forward-thinking, our ability to connect different people and markets globally, and our high level of customer service ‒ all values that we believe are also true of Chelsea. This is why we're delighted to be sponsoring our first ever garden at Chelsea, but hopefully not our last. We hope that our garden will bring true sanctuary to people's busy lives. Our designer has created a spectacular and captivating space that will draw your senses and open your imagination," he added.
We are incredibly excited that the garden will be relocated to University College Hospitals London (UCLH) Grafton Way third-floor garden space (pictured above) following the show. The garden was officially opened by HRH The Prince of Wales in March 2022 and is a wonderful outdoor escape for patients receiving treatment for blood cancers. The EXANTE team voted to donate the garden to a UCLH hospital because a couple of our team members have had treatment at the hospitals and know how valued and beneficial an outdoor space will be.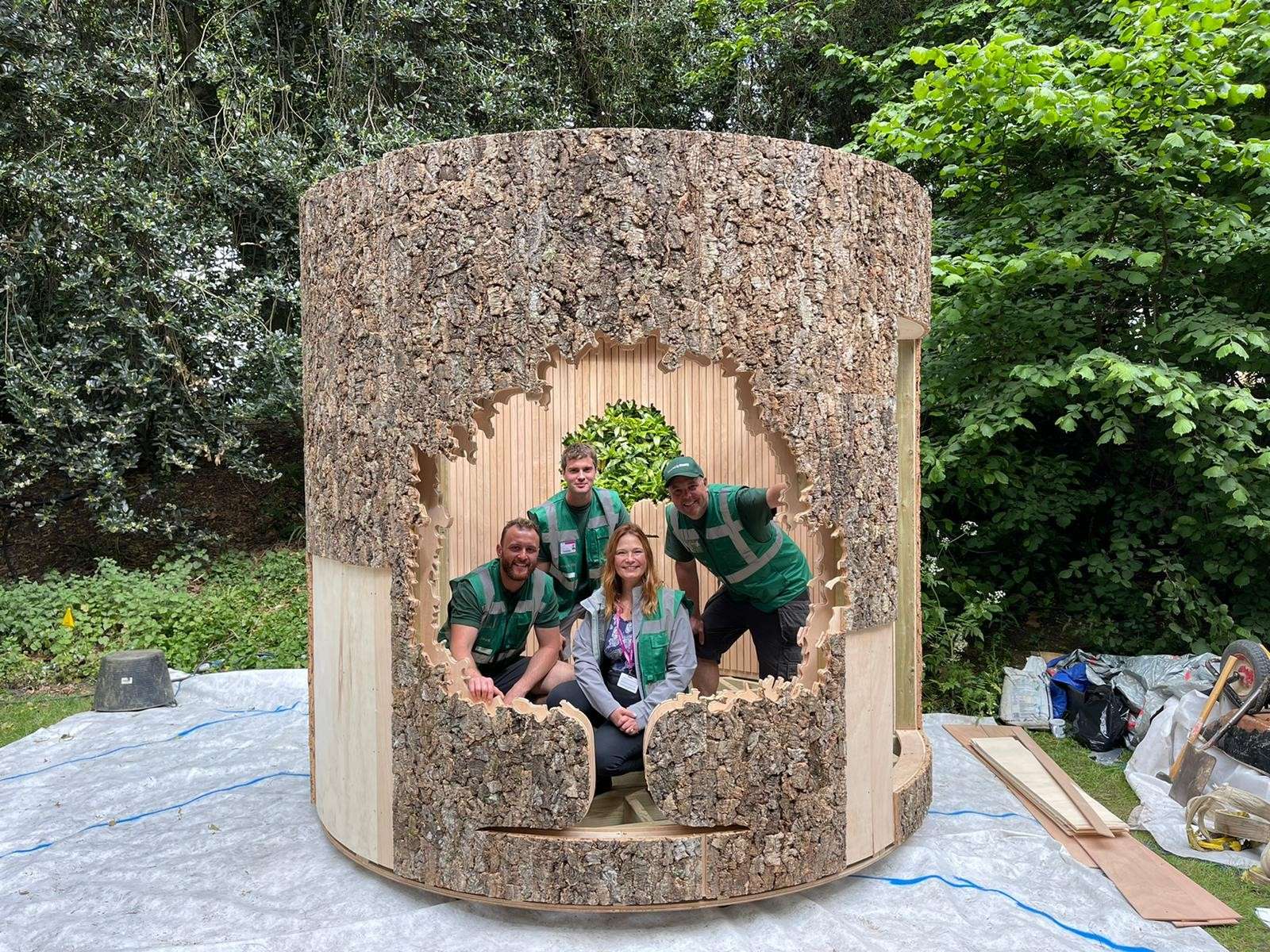 What Our Team Have Said
Liz Nicholson, Managing Director, comments: "The Nicholsons Lockhart Garratt team are absolutely thrilled to be working with Tania on such a nature inspired garden.  The design is visionary and representative of more natural spaces that we should value in this time of climate change."
Richard Holt, Senior Landscape Contracts Manager comments, "This garden is especially exciting for me as it reflects the sustainability and 'gentle' touch philosophy we hold dear at Nicholsons Lockhart Garratt. To be designed by such a well-respected, environmentally credible designer is a real testament to our company culture and values. The fact that the garden will live on at UCLH cancer ward is just fantastic and surmises the whole ethos of this project."
Nicholsons is accredited by the following official organisations:
Approved contractors of the Safe-contractor scheme, Nicholsons are also accredited with CHAS and Arboricultural Association. The Company are also members of BALI and recently won awards as Cherwell Employer of the year 2016, Cherwell Established Business of the Year 2014, as well as being finalists in the Oxfordshire Business of the Year awards in 2013 (Energy and Environment Award).