Biosecurity Update – November 2019
October to April marks the UK winter planting season and sees a flurry of activity across suppliers, nurseries and gardens nationwide. However, as exciting and colourful as this time of year is, increased planting brings with it increased plant movement, and an increased likelihood of biosecurity risks along with it.
Horticultural news is often dominated by pests and diseases, with announcements of new outbreaks regularly at the forefront of horticultural media attention. Whilst it is important to keep biosecurity risks in perspective (avoiding healthy trade completely could be disastrous in the short term to the UK's plant market), it is also essential that biosecurity safety measures are taken at each step of the supply chain to ensure risks are reduced and to be absolutely certain that, as a business, due diligence is carried out. The consequences of importing infected material could devastate a business, garden or woodland. A recently confirmed case of Xylella fastidiosa in the south of France resulted in all trees and plants vulnerable to the bacterium within a three-mile radius being destroyed and burned.
With so much at stake, it is easy to understand why we have appointed an internal Biosecurity officer and are in close liaison with DEFRA to ensure we are up to date with current threats and risks.
We have also revisited our supply chain to consider and manage each risk so that our customers can be confident they are buying healthy, pest- and disease-free plants.
Nicholsons plants fall into three categories:
Grown on site in the nursery
Bought from UK suppliers
Imported from European suppliers
Plants that are grown in the UK are much less likely to present biosecurity risks of the same magnitude as their European counterparts. Many of the pests and diseases found on the continent are not yet established in Britain, and buying UK grown plants from trusted UK suppliers presents far less exposure to European biosecurity risks. Thorough plant inspections are always carried out at Nicholsons (as standard) for plant arrivals. If delivered plants do not meet our exacting standards, plants are rejected immediately, and depending on the nature of the fault, may be quarantined before being returned to the supplier, or destroyed immediately on site.
The plants grown on our nursery are cared for by our dedicated nursery team, who receive regular biosecurity updates. Under the watchful eye of our Head of Plants, Merlin Brooke-Little, any new threats from biosecurity hazards are discussed immediately with the team so they know what they should be looking for. Stock inspections range from weekly to daily to ensure all plants are thriving and at optimum health.
Nicholsons also aim to reduce our biosecurity risk by sourcing UK grown plants wherever possible. 10 years ago, approximately 10% of our plants were UK sourced, compared to 62% last year. The next 12 months sees a procurement target that 75% of our plants will be UK sourced. Our plant buyers visit national nurseries and growers throughout the year to ensure we are sourcing top quality, healthy plants to sell and plant.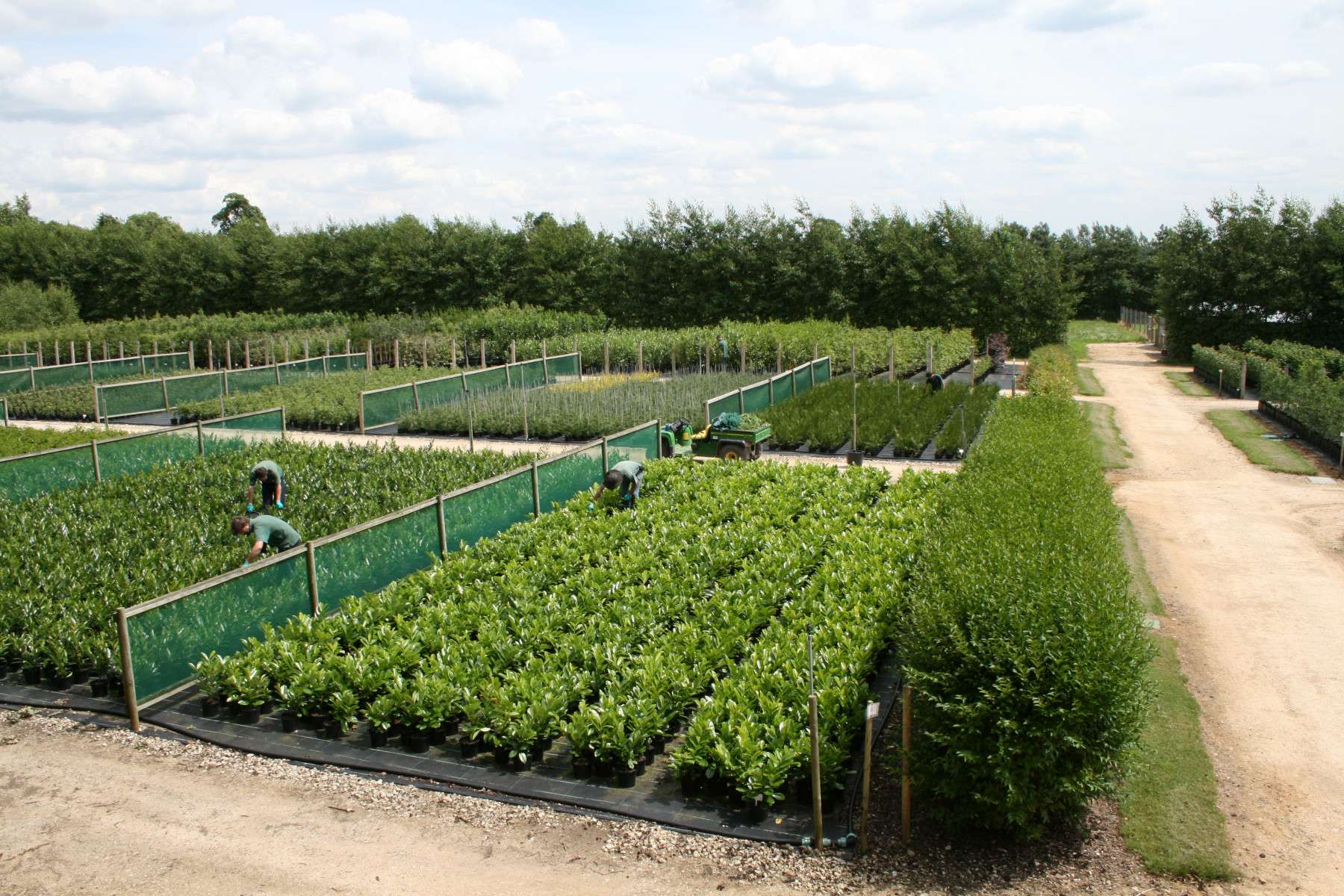 When required, and if legal to do so (biosecurity import restrictions change constantly), we source trees from our trusted suppliers in Europe – always ensuring these go through rigorous checks to ensure the plants are grown to the same standard they would be on our own nursery. We have been trading with some of our suppliers for over 30 years but if we feel their practices are not in line with our own ethos and high standards, we will challenge them.
European deliveries are subject to increased levels of scrutiny. Our Goods In team receive regular updates on new risks, and our Biosecurity officer, Nathan Fall, regularly attends the inspection of deliveries to ensure all members of the team are clear on what they should be looking for, and to be as certain as possible that the plants received are healthy.
After this year's nationwide outbreaks of Oak Processionary Moth, our September issue looked at a potential new threat in Europe, Pine Processionary Moth, and also considered the impact of new plant passport regulations coming into force this December. This month, we take a deeper look into Ash dieback with a presentation from Nathan Fall. A second presentation with more information about Bio-secure Planting (by Merlin Brooke-Little) can be found on our website here. We will continue to explore biosecurity risks in upcoming issues, and all historical articles can be found in the Technical Briefings section of our website.