N I C H O L S O N S' Arb Team: Heroes In Lockdown
The lockdown has brought little respite for our tree care team. With Ash Dieback still posing problems nationwide, the team have been working hard to keep our roads and public spaces safe from the potential dangers posed by damaged trees.
The presence of Ash Dieback combined with the arrival of Coronavirus has led to complications for any teams who usually work in close contact with each other, as is the nature of tree work. However, Arboriculturists also have a Duty of Care to avoid causing harm to others through the management of their trees. With Nicholsons acting as the Duty Holder to many trees that require careful management to remain safe, it was clear that there were some jobs that would not wait for a global pandemic to pass before they needed attending to. Whilst the country went into lockdown and many businesses closed their doors, our Arboricultural team focused on reviewing their procedures, following the government's social distancing guidelines and taking guidance from the Arboricultural Association to ensure they were able to continue operating on jobs that posed immediate risks, such as this roadside safety job (shown to the right).
What is Ash Dieback?
The Ash Dieback (Hymenoscyphys fraxineus) fungus originated in Asia and was introduced to Europe about 30 years ago. Damage to its native hosts Fraxinus mandshurica (Manchurian ash) or Fraxinus chinensis (Chinese ash) are minimal, but it devastates Fraxinus excelsior (European ash), which has no natural defence against the fungus.
Ash Dieback was first recorded in the UK in 2012 in the south-east of England. It is unclear how the disease first crossed the channel, although the spores of the fungus can be carried in the wind, so a natural, air-borne arrival is possible. However, it is more likely that it was inadvertently imported on ash saplings as the UK used to import thousands of ash trees from infected parts of Europe until a ban was introduced in 2012.
Ash Dieback can affect ash trees of all ages. Younger trees tend to succumb quicker, but all trees will show the same symptoms. Leaves develop dark patches in the summer, which then wilt and discolour to black and may shed early. Dieback of the shoots and leaves is visible in the summer. Lesions develop where branches meet the trunk, often diamond-shaped and dark brown in colour with the inner bark showing a brownish-grey under the lesions. New growth may start from previously dormant buds further down the trunk, which is known as epicormic growth and is a common response to stress in trees.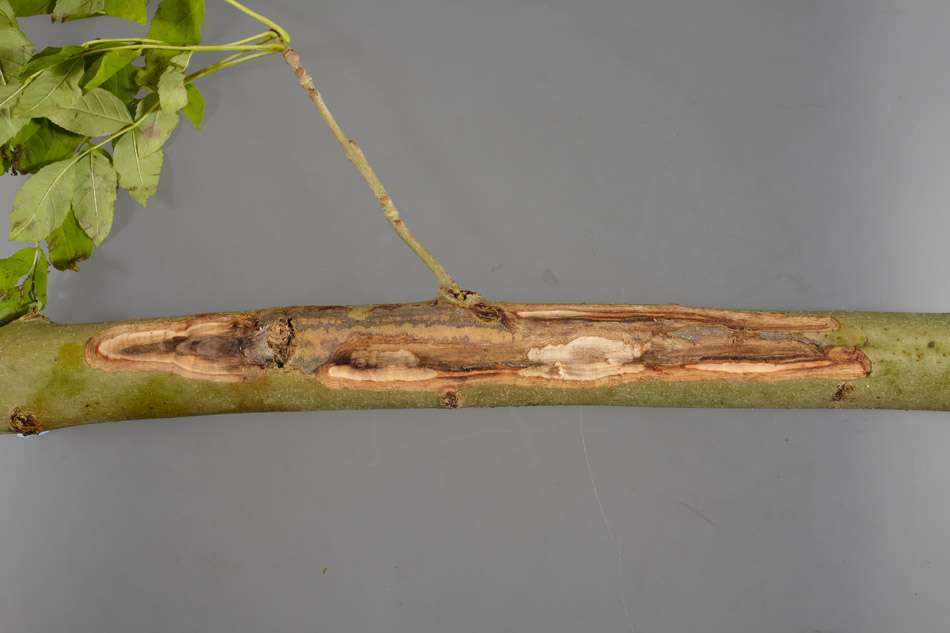 Ash Dieback is forecast to ultimately infect 95% of woodland ash – of which 85% are expected to die within 15 years of infection. The disease impacts the structure of the tree, stopping water and nutrients reaching the tree and reducing cell wall thickness. As a result, this weakens the strength of the timber and greatly increases its brittleness, consequently increasing the chances of the tree falling and causing disruption or injury. Research by the Tree Council has estimated that this will result in 52.5 million dead ash trees in the UK, meaning tree surveying and contract work has never been more important to avoid damage to property, vehicles and danger to life from falling branches.
In addition to the short-term problems caused by infected trees, the long-term impact on the UK landscape and biodiversity of our woodlands is unimaginable. In addition, ash makes up a large proportion of hedging runs, meaning the death of the species will result in a break in the connections between habitats linked by hedgerows. Ash Dieback is predicted to cost British society over £15 billion.