All in the detail: Decorating your garden this Winter
It's all in the detail…
When we think about winter gardening and how to make the garden look better we tend to focus on the plants and the border structure, which is clearly the most sensible way forward… however what if we think outside the box? Whether you already have the structure and the winter plants in situ, or perhaps if you don't care much for whether you garden stays green throughout the seasons, there are still things you can add to the garden over winter to add a bit of interest or talking point from the kitchen window…
A focal point can be anything from a piece of sculpture, to a beautiful tree, to a water feature. It's worth thinking about your garden as an exterior room of your house. You wouldn't just put a sofa in the lounge and be done with it—you would add colour or maybe pattern, various textiles and accessories, and photographs, paintings or other adornments to make it look beautiful and feel lived-in. If you start applying these rules to your garden, the possibilities are endless.
Garden Art and Sculpture:
Obviously some garden accessories are more weather-dependant, but garden art and sculpture is fine in the garden all year round. If you like to keep things simple, Rosara do a striking Zinc Leaf Ball that could be placed on patios, along pathways or even dotted throughout borders, so when your herbaceous plants die back in the winter the Zinc Leaf Balls become exposed… http://www.rosara.co.uk/zinc-leaf-ball-small.html
If you fancy something a bit more extravagant, David Harber have a stunning range of garden sculptures and water features which look totally amazing when carefully placed.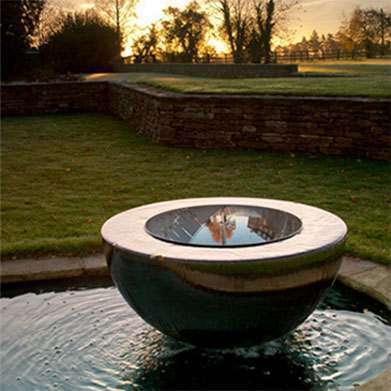 Obelisks:
Obelisks look great when placed throughout large herbaceous borders and keep structure present all year round, regardless of their surrounding plants. Rosara do a gorgeous large metal obelisk which would suit the style of pretty much every garden http://www.rosara.co.uk/metal-obelisk-large-200cm.html
Rain chain:
A beautiful addition to any shed gutter! They have been used for hundreds of years in Japan to transport water from the roof of their homes into a drain or container, instead of downspout. Rosara do a stylish verdigris rain chain http://www.rosara.co.uk/verdigris-rain-chain.html
Containers:
Choosing some huge, unusual pots is a great way of adding interest to a terrace or patio and will stand out beautifully in a winter garden, even if you choose a deciduous tree to plant in it. Rosara have a fantastic range of planters in varying materials, sizes and  styles http://www.rosara.co.uk/planters
Garden Gates:
I got this idea from a good friend of mine. As a decorative feature, why not find an unusual old gate and fix it to a fence or wall (so it's like a piece of art, rather than adding a new hole in the boundary…) You could either paint it up beautifully or leave it old and distressed and grow climbers around it. In the summer it will almost disappear into the border, but in the winter it will be revealed as an intriguing feature suggesting a secret garden (or a Narnia-esque land, if you have some imaginative children…!)
If you don't fancy something that eccentric, it's certainly worth thinking about the appearance of any existing garden gates and fences. Winter is the perfect time for new lick of paint, whether it be bright unusual colours on garden gates, or something a bit more sensible and contemporary like a charcoal grey colour on your fences (which happens to look stunning as a back-drop to mass Hydrangea Limelight planting in the summer), there's no reason for the garden to look drab and dreary, even it isn't quite a dreamy winter wonderland…
Visit http://www.rosara.co.uk for some delightful ideas and inspiration.